In 1989, Mazda changed the sports car landscape when it debuted the MX-5 Miata at the Chicago Auto Show. Now 30 years later, it's back in the Windy City to launch special edition that celebrates the milestone.
Simply named the 30th Anniversary, it offers a unique take on the MX-5.
The most obvious of these is its color which goes by the name Racing Orange. According to Mazda, it's a throwback to the 1989 MX-5 Miata Club Racer. However, that car was yellow, not orange, so it's hard to see the connection. Regardless, it's still a fantastic color on the MX-5 and looks mighty similar to the orange on the 787B.
The hue carries over to other parts of the car too. The brake calipers and interior vent louvers also get a coating of Racing Orange paint. The bespoke Alcantara RECARO racing seats also sport piping in a similar orange as well.
To offset some of the orange, the 17-inch Rays ZE40 wheels are painted a dark gunmetal grey. As an added bonus, the wheels are also a nod to the Global MX-5 Cup Car.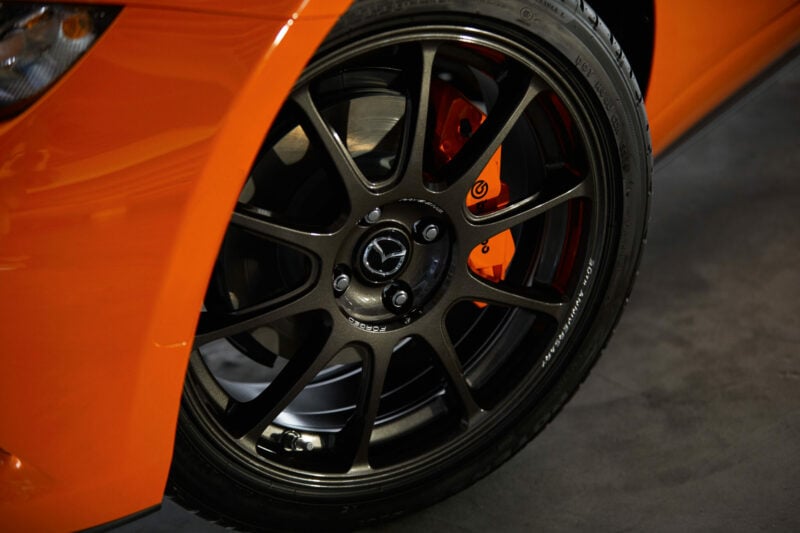 As for the powertrain, it goes largely untouched. However, its 2.0-liter SKYACTIV-G makes use of the new-for-2019 improvements bringing its output to 181hp and 151lbft of torque.
Even if there isn't more power, there's some choice upgrades to bump up the smiles per mile. The suspension gets Bilstein-tuned dampers along with a strut brace to ratchet up the fun on twisty roads. There's also front Brembo brakes and a limited-slip differential.
As far as other options, there aren't many. Since the 30th Anniversary uses the Grand Touring spec car as a base, it already comes with a decent kit. Pretty much the only decision buyers are left with is whether they want the soft top or the RF version and which transmission they want.
If you're keen on ordering one of these, you'll need to act fast. Mazda is limiting the edition to just 3,000 units. Of those only 500 will make it stateside while 600 head to the UK.
Pricing for the 30th Anniversary does command a bit of a premium too. The soft top model starts at $34,995 for the six-speed manual and goes up to $37,995 for an automatic RF.
See more articles on Mazda and Mazda MX-5.