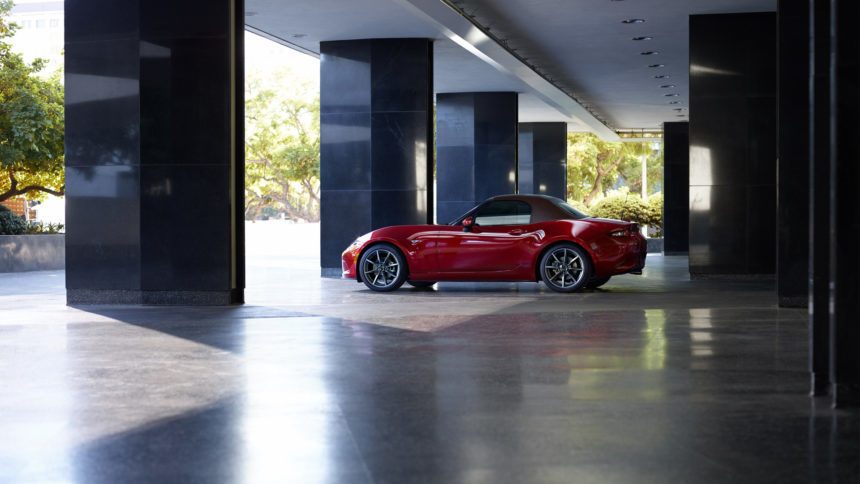 Mazda showed off its updated MX-5 Miata and it has a bit of a surprise under the bonnet.
Anyone who's ever driven an MX-5 knows power really isn't its thing. Instead, it's all about the thrill of driving and taking a corner like the car is on rails. But it still does have a bit of a reputation as a slow car.
Mazda listened and the new 2019 MX-5 Miata packs more of a punch.
No, it's not something that will suddenly contend with the Camaro, but it does turn the dial up a bit. With its updated SKYACTIV-G 2.0-liter engine, it's putting out 181hp, up from the 2018's 155 ponies. It also gets a slight boost in the torque department too, taking it from 148 to 151lbft.
The real cherry on top though is the redline. The 2018 had a fairly pedestrian 6,800rpm limi, but the 2019 will let drivers wring it out to 7,500. For a driver's car, this is huge and will undoubtedly make runs down the perfect road even more fun.
To further immerse the driver, the exhaust system also gets a rework. As a result, the car now produces a richer tone. We assume this is marketing speak for louder and fuller.
In addition to the performance improvements, Mazda also made the new MX-5 safer. These new features include things like a reverse camera and automatic city-braking.
Even with added safety features, the car still adheres to the Gram Strategy. This means the car is still lightweight and only gained seven pounds overall. To make this possible, engineers swapped out thing like the steel steering shaft with an aluminum one.
Finally, Mazda is also offering a few new features for 2019 as well. The most notable is the available brown canvas top. We weren't exactly sold on it, but after looking at the pictures it gives the car a classic roadster look.
In addition to the roof, it also gets new wheels, redesigned cup holders, and other driver comfort features.
The 2019 MX-5 will go on sale this fall in the US. No pricing or package info is available at this time, but expect it to be roughly the same as the 2018 model.
More Posts On...