Serious racing game players have some serious set-ups. We're not just talking about a driving wheel clamped to a desk in a spare bedroom either. No, we mean full-on Gran Turismo driving pods, and half of an Opel Astra.
That all seems a bit extreme, but the UK arm of Mitsubishi Motors has gone even further. It's built a two-player sim-racing rig into a complete, roadgoing L200 pickup truck.
Mitsubishi calls it the L200 eSports Concept, and it's the winner of an online competition called "Truck King Battle". The carmaker invited entries for off-the-wall truck designs from its UK dealerships in January. This version of the L200, a suggestion from Joanne Tulloch of the Livery Dole retailer in Exeter, won by scoring the highest online engagement during the competition.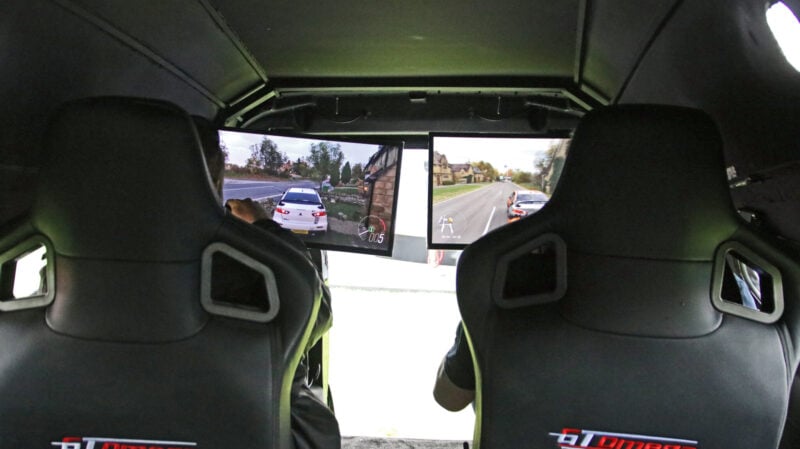 The L200 eSports Concept has a pair of driving rigs in the bed area of the pickup. Each has an XBox One (running Forza Horizon 4, at least in the images), with a Logitech G920 wheel, pedals and shifter, along with a racing seat. There's a pair of curved, 24-inch LED screens on the inside, and another pair of 22-inch screens that fold out to show the action to anyone wandering past.
Fitting two functional driving seats into a pick-up truck isn't especially easy. Mitsubishi gave Ralph Hosier Engineering the task of modifying the L200 to suit. As a result, the truck has gained some 31 inches to the chassis length, along with a three-inch increase to the width. A special high version of the load bed cover adds some much-needed headroom too. There's also a set of fold-down steps to gain access to the rear.
But seats and wheels alone don't make a driving rig. To help ensure you don't need to leave the truck, Mitsubishi has fitted a coffee machine and a refreshment bar. Sadly, there's no other "convenience" facilities, so you'll have to park near a toilet block if you don't want to venture too far.
The L200 also gets a 150-watt solar cell mounted to the roof. This charges four 105Ah deep-cycle leisure batteries, which can run everything for up to eight hours, so it's all environmentally friendly.
Other external clues include a roof-mounted light bar, rose-gold Speedline Mamba alloys — with chunky off-road tires — and other rose-gold details in the badging and decals.
Mitsubishi hasn't put a price on the L200 eSports Concept. However a regular L200 hard top model comes in at £38,000 ($50,000), so this might come in as the most expensive way to play Forza Horizon 4 we've ever seen.
More Posts On...