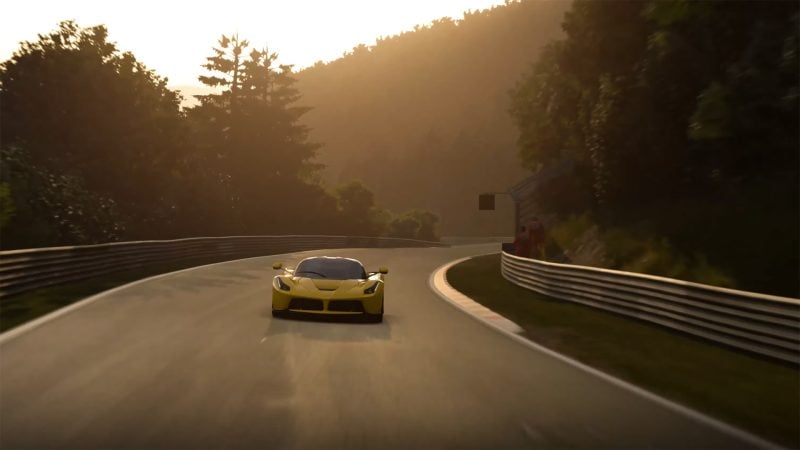 Update: The videos have now been removed, though we managed to preserve them on our own YouTube channel first.
Update (November 9): As expected, the first of the two videos has now been officially released.
Update (November 11): Also right on schedule, the second of the two videos now has an official release.
Two more of the "Behind the Scenes" trailers for Gran Turismo 7 have emerged, well ahead of what we expect their scheduled release dates to be. This time the clips focus on vehicle personalization and the tracks of GT7, though you'll need to be pretty handy with Spanish to keep up.
The clips have been uploaded to the public channel of the Latin America arm of a marketing firm called "Solutions 2 GO", which suggests the company is involved in the marketing strategy for GT7 on the continent. They've not been made available on any local PlayStation channel, or anywhere else, so this is likely just a timing slip-up.
The first of the two videos — which are titled "Zero to Sixty" rather than "Behind the Scenes" — is called "Personalization" and deals with aspects of vehicle tuning.
GT7 sees the return of tuning parts, an aspect of every main Gran Turismo game until GT Sport. Players can purchase and fit all manner of components to tune and to personalize their vehicles, from new engine internals to exhaust parts, suspension and braking, and even superchargers.
According to this video clip, GT7 will offer the biggest number of tuning parts ever seen in a Gran Turismo game, so we can't wait to find out more about this nearer to launch.
The video also briefly gives a glimpse of the new wheel selection menu screen. Rather than a single, long line of wheels, there's far more on-screen at any one time, and it looks like players can buy wheels directly from a specific store rather than waiting for them to appear in the Mileage Exchange. That could indicate that the Mileage Exchange itself won't appear in GT7.
Again in the interview-off-camera format, Kazunori Yamauchi speaks about the game's tracks in the second video — though if you're hoping for a confirmation of a full track list, you'll have to wait a while!
Initially, Yamauchi talks about the laser-scanning process, but he goes on to say that he feels GT7's circuits have reached a stage of "tangible realness". There's also a reference to changing weather conditions and changing light, although we don't yet know which circuits that will apply to.
He also mentions that the Nurburgring is his favorite circuit, real or fictional, saying he feels like he's entering a totally different world whenever he drives it.
The clips also give us a look at some more returning cars, including the Ferrari La Ferrari, and Aston Martin's One-77 and Vulcan. As for those sneaky light traces, they appear to draw out the Deep Forest and Apricot Hill maps once again.
We'll likely see official English-language releases of these two videos next week, given the rate they've been coming, so please act surprised when they land!