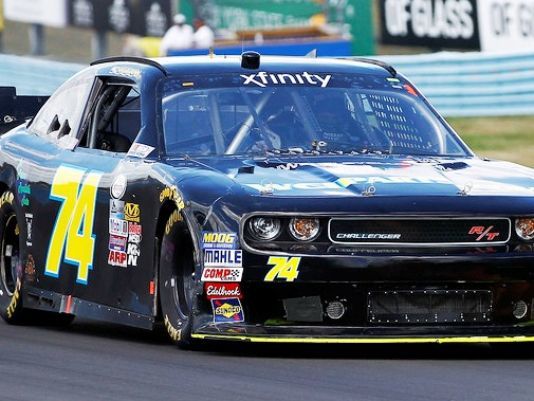 Earlier this month, GT Academy winner Nicolas Hammann made his NASCAR debut in the Xfinity series. Competing at the Zippo 200 Watkins Glen International, the American managed a 28th place finish after an oil leak plagued his race. Although not ideal, his placing did put him ahead of a good few NASCAR veterans including NASCAR sprint cup champion Kyle Busch, although Busch did have an accident himself. Hammann's Xfinity journey isn't over yet however — he'll race this weekend in the Road America 180.
This is a particularly special race for Nic to compete in, as he grew up just 5 miles from Road America dreaming that he could one day race there in a professional series. Hammann's family run an auto mechanic shop in Elkhart Lake. One day he had a chance run-in with Mike Harmon — the part-time driver of the #74 car Nic will pilot — and it opened up the door for his dream homecoming race:
"I fixed his trailer tire and he gave his business card and said 'if you're ever down in Charlotte, give me a call,'" Hammann said.
Cut a few years later to 2016, and Nic did use that business card to ask if he could race the #74 for Saturday's event, citing that the many laps he had done at the local circuit would allow him to aim for a top 20 finish – that was enough for Harmon to take a chance on the aspiring racer. "It's amazing that a business card made the difference," Nic commented.
The Road America 180 is the 23rd race in the Xfinity calendar, comprising 45 laps on the legendary circuit. The race will begin 3PM local-time and will be broadcast on NBCSN. We wish Nic all the best this weekend and hopefully he can achieve that Top 20 finish he is aiming for!
More Posts On...
The original comments for this post are no longer available.