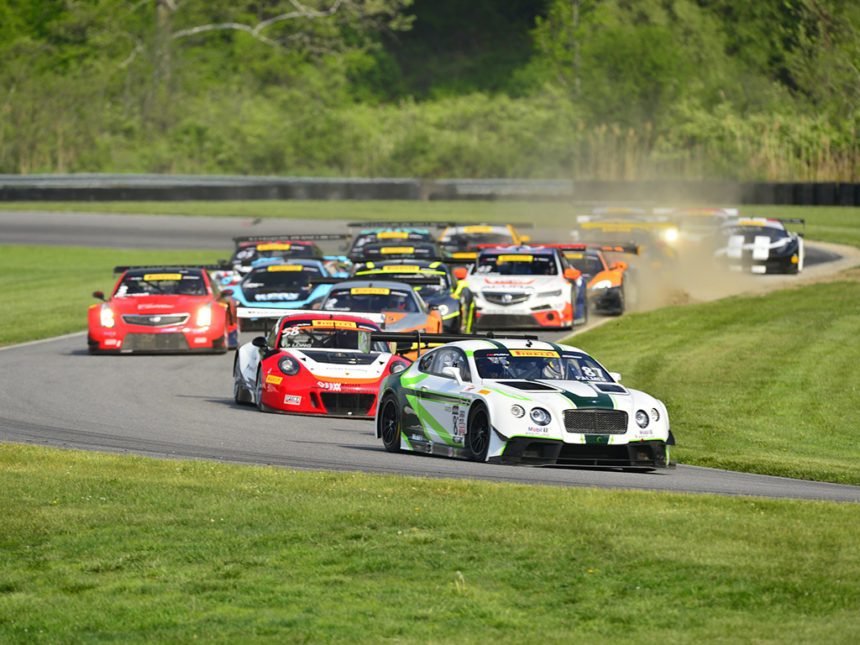 What a difference a month makes. When we last caught up with the Pirelli World Challenge after Round 7 (here), Johnny O'Connell and Michael Cooper were leading the points tally in their pair of Cadillac ATS-V.R's, followed closely by Alvaro Parente in a McLaren 650S GT3. A significant gap existed between Parente and the two Porsche drivers that rounded out the top five – Michael Lewis and Patrick Long. 2011 GT Academy winner Bryan Heitkotter sat in ninth, while his teammate JD Davison slotted in directly behind Patrick Long.
The first race of May took place at Canadian Tire Motorsport Park, in Bowmanville, Ontario. Patrick Long qualified at the top of the pack, with Andrew Palmer in the #87 Bentley Team Absolute Continental GT3. Behind them Ryan Eversley (#43 Acura TLX-GT) and Adderly Fong (#88 Bentley) filled the second row, while Heitkotter's GT-R occupied fifth, paired with the #2 Audi R8 LMS of Kyle Marcelli. JD Davison lined up behind his teammate in seventh, and points leader O'Connell started tenth.
Round 8 was quick and drama-free: the final finishing order of the top twelve cars was identical to the starting grid, save for Heitkotter and Davison swapping places, and Andrew Davis (#76 Porsche 911 GT3 R) just edging Cooper out for tenth. To his credit, Davison earned the Cadillac Best Move of the Race award for his pass on Marcelli. Long hadn't won since the season opener, so was obviously excited to be back on the top of the podium:
"It's ironic how things happen sometimes in the sporting world. From a points perspective, it was a strong day for Porsche and myself. It gives us a fighting spirit for the championship with those top three guys. It's wild how racing works. You find the highs and lows linked together. It's similar to Austin this year when we had a win and then in race two we ended up in the fence on lap one."
That wouldn't be the end of the Porsche driver's celebrations that weekend. Long would again qualify on pole for Round 9, though it wasn't smooth sailing. The track was damp thanks to a quick shower pre-race, and a run-in at Turn 4 on the first lap sent both Adderly Fong and Ryan Eversley back to the pits to retire.
The caution flag went out, and JD Davison was able to slot in behind Long in second, with the Bentley of Andrew Palmer in third, followed by Marcelli and Heitkotter in fourth and fifth, respectively. This order would remain the same for the remainder of the race, but a post-race drive-through penalty of a whopping 35.6 seconds was handed to Davison, dropping him down to 11th in the final standings. Alvaro Parente was therefore bumped to a fifth-place finish, leading to an incredibly close race in the championship as the teams headed to Lime Rock:
Patrick Long – 761
Alvaro Parente – 761
Johnny O'Connell – 756
Michael Cooper – 751
Andrew Palmer – 638
JD Davison – 635
Kyle Marcelli – 618
Bryan Heitkotter – 596
Michael Lewis – 569
Andrew Davis – 527
Lime Rock never hosts a race on Sundays, so Round 10 kicked off festivities a day early last weekend, on Friday. Alvaro Parente started on pole, but couldn't hold the position against the hard-charging Bentley of Andrew Palmer heading into T1. Slotting in behind him and rounding out the top five were Long, Marcelli, and O'Connell.
Roughly 10 minutes into the race – and again at T1 – Parente re-passed Palmer for the lead, and never looked back. The lineup remained largely unchanged for the most of the race, until Palmer ran wide due to contact with the fast-approaching Porsche of Patrick Long, who received a drive-through penalty for the incident. This saw Canadian Kyle Marcelli promoted to second, where he would cross the line, making this his best finish this season. Johnny O'Connell returned to the podium after a dry spell, with Fong and Palmer just behind in the Bentleys. Bryan Heitkotter and JD Davison would go on to finish 10th and 12th, respectively.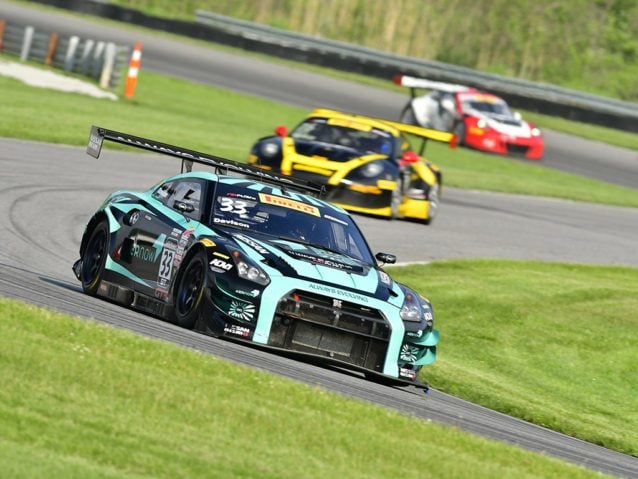 Round 11 started on a sombre tone. During warm-up runs early Saturday, a serious accident involving Palmer's #87 Bentley Continental and GTA driver Jorge de la Torre's #4 Aston Martin V12 Vantage saw both drivers airlifted to nearby Hartford Hospital. It's there that they continue to receive treatment, with Bentley confirming Palmer has sustained head injuries, while Aston Martin stated Jorge received numerous fractures and bruising of the torso. We wish both drivers a speedy recovery, and our thoughts are with them and their families.
Parente once again started on pole, and while he would be followed closely by Long throughout the race, neither driver would change positions for the entire 50-minute race length. O'Connell would hold onto third for the first half of the race, before succumbing to a flat tire that dropped him to an eventual 17th position. This promoted Marcelli to 3rd, which he would hold onto until the checkered flag, making Lime Rock his best weekend yet.
Eversley continued to put in a solid effort for the Acura camp, bringing the TLX-GT home in fourth place. JD Davison gave the GT-R its top finish of the weekend in fifth, all the more impressive considering he started way back in 13th. Nipping at the big Datsun's heels was Adderly Fong in the #88 Bentley, with Heitkotter finishing a few seconds back in 7th.
Thanks to the double-win at Lime Rock, Parente now enjoys a significant lead over the field:
Alvaro Parente – 995
Patrick Long – 932
Johnny O'Connell – 887
Michael Cooper – 867
Kyle Marcelli – 806
JD Davison – 777
Andrew Palmer – 718
Bryan Heitkotter – 691
Ryan Eversley – 661
Andrew Davis – 638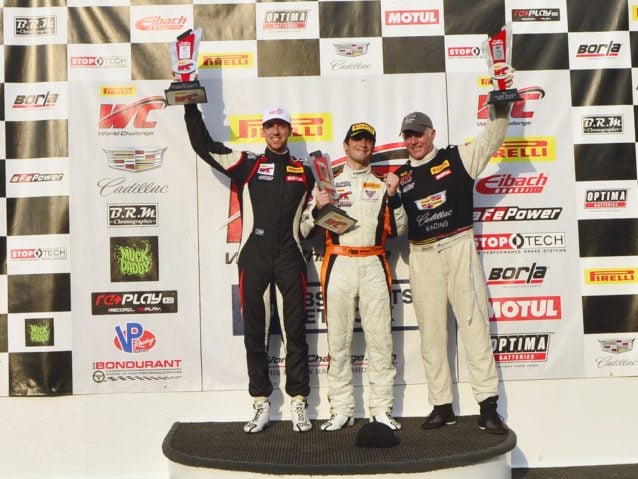 The drivers now get to enjoy a much-deserved break until the end of this month, when the Pirelli World Challenge returns to the high-speed Road America circuit in Elkhart Lake, Wisconsin.
More Posts On...
The original comments for this post are no longer available.