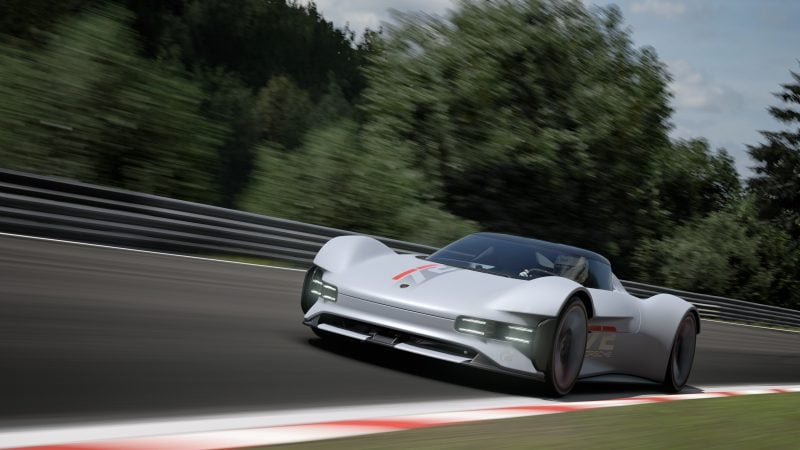 Porsche has officially taken the covers off its Vision Gran Turismo car, designed specifically for Gran Turismo 7 when it launches on March 4.
The VGT is intended to be a vision of Porsche's future design directions while staying recognizable as a Porsche model today. In order to do this, Porsche has taken inspiration from the Taycan.
That includes the signature quad-LED headlights, and what Porsche refers to as a "purist" front end. Heading round the back reveals the full-width tail light bar you'll find on the Taycan and also more recent models of the 911.
Like the Taycan, the VGT will be fully electric, although Porsche hasn't revealed any specifications for the car at this stage. If it draws from the road car, it'll likely mean a pair of electric motors — one mounted to each axle — delivering 760hp, although we expect a little more will be available for the VGT.
Update: Porsche has now stated that the VGT delivers a peak power of 1,100hp, with 1,274hp available with overboost and launch control. However no motor configuration information is available at the moment.
Should the entire drivetrain be inspired by the Taycan, that will also mean a single-speed geared drive on the front axle, but a two-speed transmission on the rear — and the preview clip seen earlier in the week certainly sounded like a gearshift was involved. However we'll have to wait and see in both departments.
The virtual car will use a body structure made from a carbon/titanium mix, helping to offset the weight associated with electric motors and batteries. Again, no specifications are available just yet, but given the two-seat nature of the car we're not expecting it to trouble the scales too much.
Update: Porsche has, in addition to the motor power information above, also revealed that the car will accelerate to 100km/h (62mph) in 2.1s, and to 200km/h (124mph) in 5.4s. That suggests a total vehicle weight somewhere below 4,000lb (1815kg) but we'll need to wait for official confirmation.
One interesting detail, revealed in a Porsche presentation you can see below, is that the rear light bar is a movable element which acts as a rear wing and air brake. We've yet to see this in action though.
Access to the cockpit comes by way of a front-hinged glasshouse. There you'll find a fully vegan interior, using only sustainable, non-animal sourced materials.
Each of the two seats looks to be directly moulded into the vehicle structure, with the pedal box, wheel, and binnacle adjusting to meet the driver, and HANS mountings.
Ahead of the driver there's a racing steering wheel and a curved hologram display for the instrument cluster. There's three individual dials, which appear to show battery capacity and range, speed, and what looks like temperature — possibly in the motors, tires, or brakes.
We'll likely see the Porsche Vision GT as a launch day vehicle, given that it's one of GT7's cover cars, which means it'll be available on March 4 on PS4 and PS5 versions of the game.
Hopefully there'll be some more information coming about the VGT in the near future. However in the meantime Porsche has created a pretty lengthy introductory video for the Vision GT — at just over 13 minutes — and you can catch it all in full below:
See more articles on Porsche and Vision Gran Turismo.