Update: We've updated this article to reflect the Xbox Series S announcements, and the more recent PlayStation 5 price and date reveal.
After what's seemed like an age of waiting, the other shoe has dropped. We finally know what both of the major players in the next-gen console wars are packing under the hood and, save a few minor details, they're on the start line and waiting for the tree to go green.
With Microsoft's Xbox Series X (or just Xbox) and Sony's PlayStation 5 now almost ready for the "Holiday 2020" rumble, we've put together a handy guide to all the key specs. If you have no particular console affiliation, or just want to know about the comparative tech inside each box, read on.
We'll be updating this article continually as more information becomes available.
CPU: AMD vs. AMD
Both consoles are using custom main processors developed by AMD with the Zen 2 architecture. The Xbox version runs at higher raw clock speeds, of up to 3.8GHz — reduced to 3.6GHz with simultaneous multithreading (also known as "hyper-threading", though that's an Intel property) — while the PS5 has a 3.5GHz absolute cap.
However, Sony's processor has an unusual boost mode which varies processor frequency to maintain constant power requirements. In principle it should operate at its peak in all but the most strenuous circumstances, where it will slightly underclock.
GPU: AMD vs. AMD
Like the CPU, both consoles will feature AMD GPUs, based on the forthcoming RDNA 2 architecture, but they are a little more different in specification. The GPU in the Series X packs 52 Compute Units (CU), and clocked up to 1.825 GHz to give a theoretical compute peak of 12 TFLOPS. That dwarfs the PS5's 10.3 TFLOPS, which come courtesy of a GPU with 36 CUs, but a higher clock speed of 2.23 GHz.
It's advantage Xbox on raw computational power — by 20% — but Sony insists that, all other things being equal, a higher clock speed brings more advantages than more CUs.
Memory: 16GB of GDDR6 for all
Again, the two consoles are running pretty similar memory specs. Both will pack 16GB — double that of their predecessors — of GDDR6 memory. Sony's offering is pretty straightforward, with the 256-bit memory able to shovel 448GB/s across both CPU and GPU. Series X has two pools, with 10GB of 560GB/s "optimal" memory, and 6GB of 336GB/s "standard" memory. The console's OS accounts for 2.5GB of standard memory.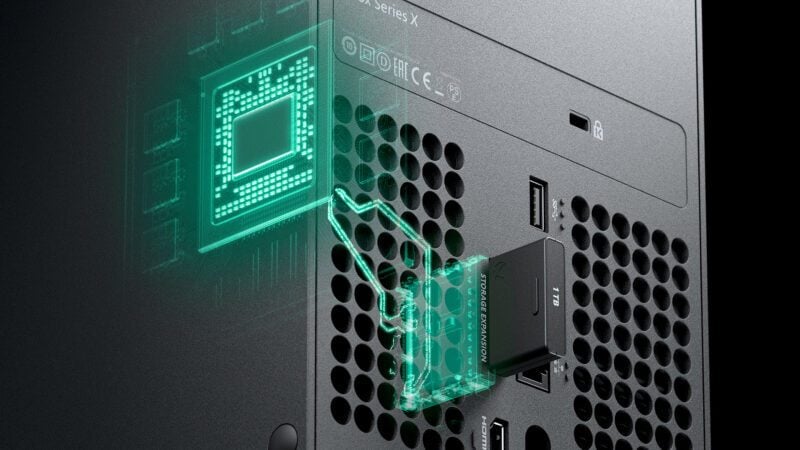 Storage: Solid State
Microsoft and Sony have gone for a similar approach in storage, but the two are almost literal worlds apart in outcome. The Xbox Series X uses a neat, custom 1TB, NVMe-type SSD, capable of data transfer rates of 2.4GB/s. If that's not enough, you can buy another, identical one — made by Seagate in partnership with Microsoft — and plug it into the back of the console. Both use a PCIe 4.0 connection directly to the CPU.
For complex reasons, Sony has opted for a smaller, 825GB drive, also of the NVMe type. However, this feeds into a custom, 12-channel flash controller to deliver data transfer rates of up to 5.5GB/s of raw data — coming up on nearly 9GB/s when decompressed with the PS5's new Kraken compression software. You'll be able to expand the PS5's storage with any off-the-shelf M.2 SSD, so long as it physically fits and can at least match this data transfer rate. That said, no such drive currently exists, but Sony will advise consumers of what will and won't work when they do.
Video Output: 8K, 120fps, Real-Time Ray-Tracing
The difference in GPU approaches doesn't seem to have any particular effects on what the consoles will display. Both consoles promise the same three targets: 8K resolution, 120 frames per second, and real-time ray-tracing.
This ultimately means resolutions and refresh rates twice what was possible even on the PS4 Pro and Xbox One X, if your display will support it. Microsoft has gone into a bit more detail on the topic, covering the HDMI 2.1 standard output, and the console's ability to force the display into its lowest latency settings.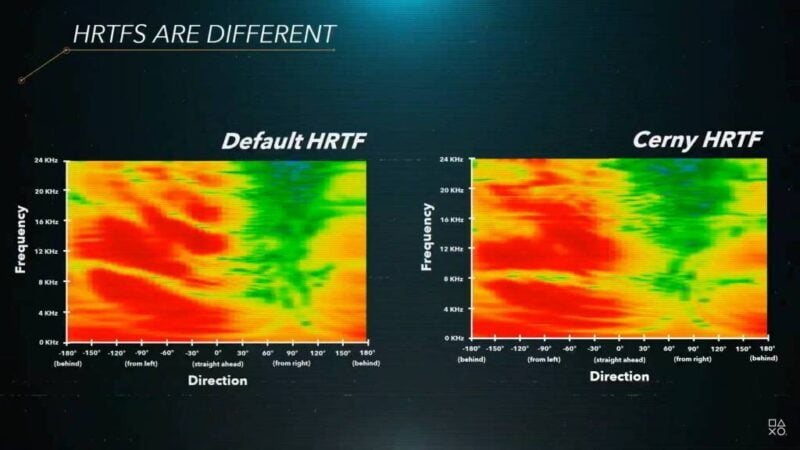 Audio Output: Tempest 3D vs Project Acoustics
Audio is a major focus for both consoles this time too. We don't know that much about Microsoft's "Project Acoustics" right now, but it seems that the approach is to use ray-tracing techniques to accurately simulate sound wave propagation, though a custom audio chip.
Meanwhile Sony has delved pretty deep into the topic. It's revealed that its "Tempest 3D AudioTech" system will also use a dedicated custom chip, based on a stripped-down AMD GPU compute unit and broadly as powerful as an entire PS4 CPU. The technology aims to recreate how sound travels into the ear, using something called a 'head-related transfer function' (HRTF) measured from over a thousand points around a human head. PS5 will ship with five default HRTF profiles, to cover as many users as possible.
Backwards Compatibility
Sony's approach to BC has been a little chaotic across console generations, from full BC in the PS2 to none in the PS4 — and some, depending on your console, with PS3. PS5 will support 'the overwhelming majority' of PS4 and PS4 Pro games at launch, though Sony is testing on a title-by-title basis to see what, if anything, falls through the net and why. You're out of luck for previous generations of PlayStation games though.
However BC remains a strength for Xbox Series X as, once again, the console will support the same suite of around 600 Xbox titles from the original console and the 360 generation, and everything from the Xbox One days.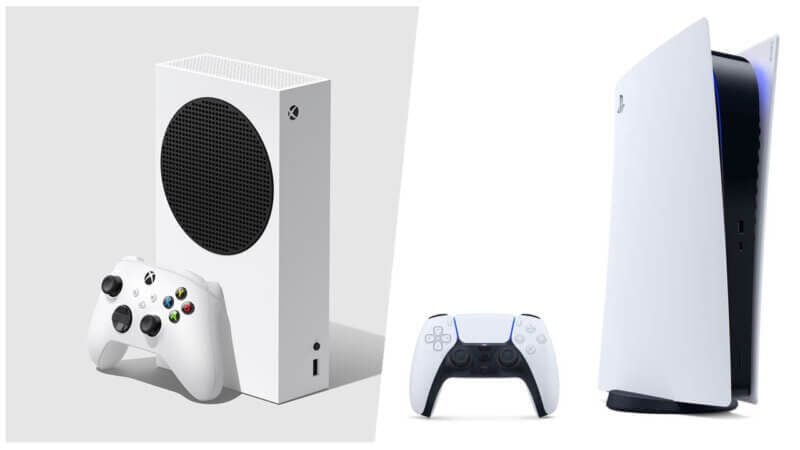 Entry Level Models
Both Sony and Microsoft will produce two different consoles this time round, with PS5 and XSX both getting a cheaper sibling. However they appear to have gone for very different angles.
Sony's budget offering is the PlayStation 5 Digital. This is a PlayStation 5 without the BluRay drive, and a slightly different shape on the casing, but which is otherwise identical to the regular PS5.
Microsoft has opted for a wildly different tack. It'll produce the Xbox Series S to accompany the Series X, which is both a smaller and less powerful version of the next-gen machine. You can see exact differences in our table above, but the upshot is it's the same sort of technology in the Series X but with less RAM, an underclocked CPU, a downgraded GPU, and no 4K capability. It also does without an optical drive.
Price and Date
We do, at last, have prices and launch dates for both consoles now, and they're pretty much arriving together. The Xbox consoles arrive first, on November 10, followed by the PS5 on November 12. However that latter date is only applicable to the USA, Canada, Mexico, Australia, New Zealand, and Japan. Everywhere else in the world will have to wait a week — November 19 — for their PS5.
Prices are similar too. Both of the top model consoles come in at $499 (£449/€499), which should make for an interesting battle. The Digital PS5 comes in some $100 less, at $399 (£359/€399), perhaps aimed at getting consoles into homes quicker and making more money off the digital purchases. Least expensive of all is the Xbox Series S, at $299 (£250/€299), though the S is markedly less powerful.
We'll update this article as we get more information.
See more articles on PlayStation 5 and Xbox Series X.
More on Gaming