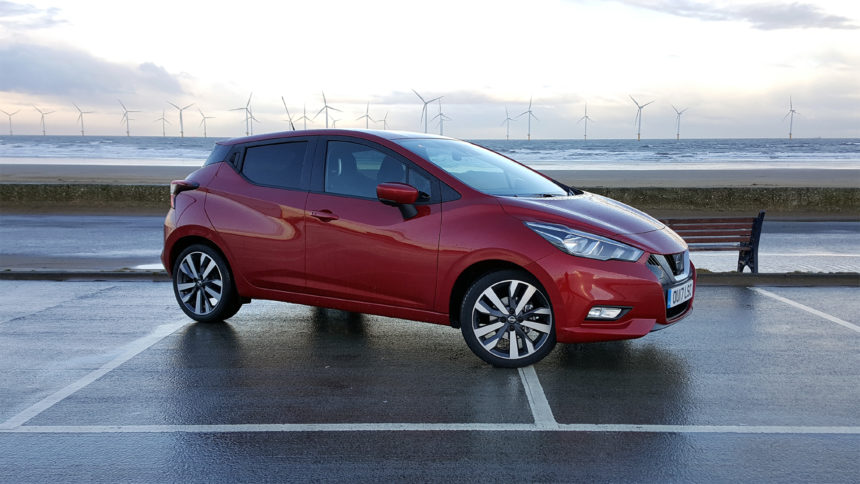 If you grew up in Europe in the 1980s, chances are you've spent a lot of time in a Nissan Micra. The boxy hatchback was a firm favorite for driving schools and mums. It was easy to drive, easy to park and, unfortunately, never that good.
To be fair it didn't have an easy life, competing against the likes of the Ford Fiesta and Vauxhall Nova (or Opel Corsa A). These were not only dynamically superior, but also tapped into the thirst for hot hatchbacks. All the Micra had to offer was its gaudily patterned seats. Nevertheless, it was cheap and sold rather well.
Despite a brief attempt to capture a youth market, with the bubbly K12, the Micra has remained a distinctly "grey pound" car throughout its life. You may even have forgotten that the car existed for the last seven years, so dreary was the K13 version. Buyers certainly did – the Micra had been on the edge of a top ten car for years, but the K13 sank without a trace.
But Nissan is a company on a bit of a roll at the moment. It's undergoing a swell of modernization to its range, brought in by the remarkable success of its Qashqai. So has it influenced the latest version of the Micra? We've spent a week with the new car to find out.
That's a Micra?
You'd scarcely believe it, but yes. It's never been a particularly interesting car to look at, K12 aside, so this sharp-looking new car is quite a deviation from the norm.
We're not sure how the design will age. The Micra is certainly of its time, from the long, pedestrian-friendly nose to the "floating" roof with blacked-out C-pillar, but right now there's few superminis that look quite so modern.
Okay, so what's new?
All of it. It should be relatively apparent that it's a clean-sheet design, and the new Micra is absolutely unrecognizable from the old one inside and out.
The Micra is now based on the same platform as the Renault Captur and Clio, and so closely related to the now-retired Juke. It's an important change, as the old car was more similar to the developing-market Nissan Tiida and built in India. The new combination now comes from Renault's factory in France, another big tick in the plus column.
Nissan is rather keen on an assistive technology approach to its crossovers these days, with cameras and sensors everywhere. The Micra isn't left out, and Nissan fits it with standard safety kit like autonomous emergency braking, hill start assist and an electronic chassis control system.
Sounds like a promising change of direction?
To an extent, that's true. Key here is that Nissan hasn't necessarily abandoned what made the Micra so popular previously, rather taken a different approach to remove the shortcomings.
Let's take "easy to drive" as a key characteristic. Old Micras were not necessarily any good to drive, but they weren't a chore. The light steering was predictable on any road at any speed, but perhaps most at home nudging around a crowded car park. This new Micra retains every bit of that, for better and for worse.
There's no fuss or drama to driving the new Micra, whether at 70mph or just seven. Dynamically it's still down behind the class best, but there's plenty of grip for most situations. For the few days we spent with it, we had snow and ice on the ground and the Micra had no more issue with it than most cars of its kind.
On a straight road, whatever the speed, there is a curiously unsettled sensation from the rear of the car. It's a constant, small jiggle across the back axle, more noticeable after speed bumps — which is curious as the Micra uses a torsion beam derived from that of the Qashqai. That aside, the little Nissan exhibits pretty faultless road manners.
It also retains the typical power options of a Micra. There's never been a true production hot Micra — the K10 Super Turbo was a Japanese-market March — and the three engines available range from 70–90hp. Our car is the 0.9-liter turbo, using the same engine you'll find in the Renault Twingo and Dacia Sandero.
As we discovered in the latter application, this three-cylinder unit is quite the buzz box. Under load, it sounds like someone trying to cut through corrugated steel with a jigsaw. You'll be putting it under load quite often too, as even with this 88hp engine representing the most powerful Micra, it doesn't really translate into that much forward motion. It's at least characterful, and it's not too intrusive on the cruise even though the Micra's manual gearbox only has five forward speeds.
It's not especially frugal — often the case with these small turbo units — but it is surprisingly consistent with it. Mid-40s mpg seemed to be possible everywhere, tipping up towards high-40s with a reasonable stretch of motorway driving.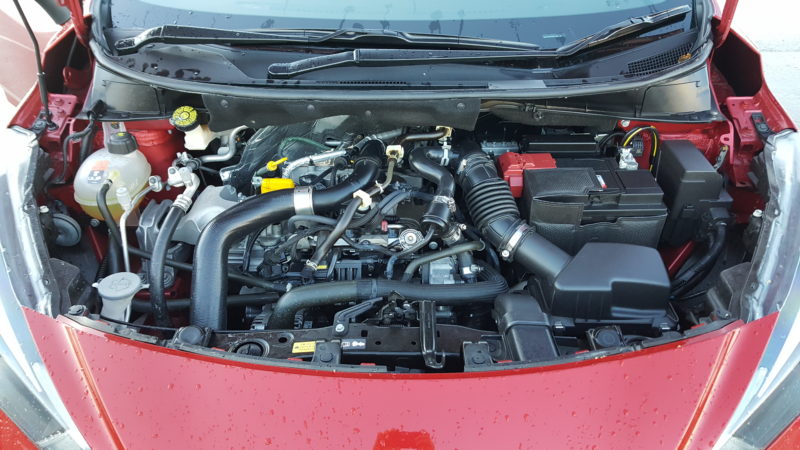 Isn't the Micra famous for its cheap interior?
Oh yes. The last generation car wasn't memorable for much, but the interior quality was risible. We think the plastics might have come from old, melted down Sega Megadrives.
So if you thought the transition on the outside was dramatic, wait until you get inside the new Micra. We're going to stop short of calling it spectacular, but it's among the better-looking, better-feeling interiors in the sector. Considering where it came from before, there's certainly a wow factor.
Dig about and you'll still find some less glamorous materials, but that's true of the entire class; margins on a supermini are small, so you'll always find some money-saving. What you can see seems pretty high-quality and though it's no more than skin deep, it shows Nissan spent a great deal of thought to not repeating its mistakes.
There's plenty of personalization options — a lesson Nissan learned from the Juke — but our car is better for the more laid-back approach. We've got heated black cloth seats with gray inserts, gray synthetic leather trim on the dash upper and center console, and oodles of satin silver.
Visually, the NissanConnect infotainment screen is showing its age a little, but in this latest version we've got no quibbles about the functionality. It's a 7-inch screen here, with navigation, DAB digital radio, reversing camera, and USB and Bluetooth connectivity. This Tekna grade car adds in a Bose audio pack with six speakers, and it's a pretty nice system.
Nissan's current schtick is safety — a laudable peg to hang your hat on. This means that the Micra comes with standard safety equipment you might still not see on many D-segment cars.
Our little car packs in autonomous emergency braking with pedestrian detection, lane departure warning and intervention, traffic sign recognition, automatic headlights with high beam assist (actually, this doesn't work all that well, which is a surprise given how good the related Infiniti system is), electronic brake force distribution and assist, tire pressure monitors and automatic hazard lights. Just in case that isn't enough, Nissan fitted the Vision+ pack to our Tekna, which adds a 360-degree reversing camera with moving object detection. Intelligent trace and ride control are standard-fit on all Micras.
Just in case you still manage to muck it all up, the Micra also includes six airbags and ISOFIX seat points on three of the four passenger seats. It's an impressive list.
Less impressive is the rear seat accommodation. We have to concede that nothing in this class is supremely roomy back there, but the Micra is quite tight compared to the class leaders. Front seat space is difficult to argue with and there's plenty of storage about the cabin too. A 300-liter trunk is about par for the class.
Who'll buy a Micra?
It's going to take Nissan a little time to recapture that youthful spirit of the mid-Noughties Micra and do away with the general… older population image the car acquired. The new styling will go a long way towards that, but it's still a car that will appeal to a more mature buyer.
The fact that it is so well-equipped with safety gear and still so easy to drive is almost the ideal recipe. It's a car for downsizers — people who've had a larger car because of their larger offspring, but no longer need such a vehicle because the kids have moved out. By providing such a Qashqai-like experience, Nissan has just about guaranteed that people who no longer need a Qashqai can move straight into a Micra. And there's a lot of Qashqai owners out there.
What else would they buy?
It's perhaps the most densely populated sector in the European market, and there's a key trio of models that always sits in the top ten of all cars sold in just about every country. That's the Ford Fiesta, Vauxhall/Opel Corsa and Volkswagen Polo. All but the Corsa were updated very recently, but all provide very stiff competition.
The brief disappearance of the Micra from public consciousness has lead to myriad other rivals. These include the Honda Jazz, Toyota Yaris, Peugeot 208, Mazda 2, Skoda Fabia, SEAT Ibiza, Citroen C3… you get the point.
Not all are direct cross-shops with the Micra. Nissan reportedly benchmarked the Fiesta and Polo in the Micra's development, but in terms of styling, price and market sector it's likely that the keenest rivals will be the Citroen, Honda and Mazda.
What's the conclusion?
The Micra was the last bastion of old Nissan. It was peak boring, among a range that had some truly dreary cars — the Almera Tino, the Note and the Pixo — and must have been quite jarring for Nissan dealers to have sitting alongside the Qashqai, Leaf, Juke and 370Z.
Somehow, Nissan has managed to make one of the largest leaps forward on a model that we've ever seen. Other manufacturers might have changed the name entirely, such is the difference. Yet Nissan has kept most of what positives the old car had and transferred them onto a whole new bunch of positives.
Certainly it's a little pricey in this specification, and it's not the dynamic equal to the better B-segment hatchbacks, but it is at least able to compete in roughly the same playing field now. We're not sure it's quite enough to break into the top five cars in this class, but it's not so far away. Considering that the previous model was firmly rooted into the bottom three, it's a truly remarkable change.
Verdict:
Nissan Micra Tekna
A remarkable turnaround that brings the Micra back into the picture after far too long away.
Learn more about
how our rating system works
.
Quick Facts
Engine
0.9-liter petrol turbo
Power
88hp (90PS, 66kW), 103lbft (140Nm)
Layout
Front-engine, front-wheel drive
Top Speed
109mph (175km/h)
More Posts On...