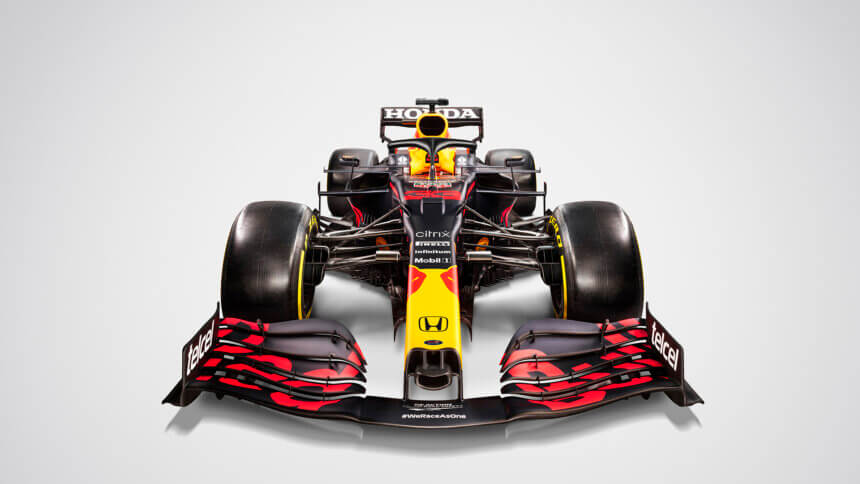 Red Bull is the latest team to unveil its car for the 2021 Formula One World Championship, taking the covers off the RB16B today.
As the name might suggest, the RB16B is effectively a development of last year's championship runner-up machine, the RB16. With a significant part of the regulations frozen for 2021, teams are carrying over the 2020 chassis and a large proportion of components into their 2021 cars. The rules aren't entirely static though, with some enforced changes to reduce the amount of downforce, and teams can spend up to two development "tokens" to improve their cars this season.
As with the other cars unveiled so far this year, the mandated changes are fairly apparent. The car's floor again tapers towards the rear and is no longer adorned with vents and slots, though we can see a small winglet on the outside edge ahead of the rear tire. Although we can't see it in these images, the diffuser vanes will be shorter too.
Where other teams have been frank about where they've spent their tokens, Red Bull is a little more coy. We can see some subtle changes to the floor just behind the barge boards — five vanes instead of four — the "cape" section underneath the nose section, and to the nose itself. The front wing also appears to have slightly less outboard loading than before.
One change Red Bull does flag is a new Honda engine for this season. This will be Honda's last engine in F1, as it leaves the sport at the end of 2021, though Red Bull will continue to build the engine itself under the Red Bull Powertrains banner. It looks like the RB16B's bodywork is different to accommodate the new power unit, with a slightly enlarged airbox and wider haunches below the bull logo.
Of course there's another major difference at Red Bull this season, as former McLaren and Racing Point driver Sergio Perez joins the team to replace Alexander Albon — now the team's test driver — alongside Max Verstappen. This driver pairing accounts for all but one non-Mercedes win in the 2020 season, and the RB16 was usually the only major challenger for the Mercedes team; expectation for the RB16B is pretty high as a result.
Next week will be the busiest time for F1 car launches, as four of the remaining six cars will make their debuts. Haas is the only team yet to confirm a launch date for its car, and Ferrari will reveal the SF21 just ahead of the three-day official F1 test in Bahrain next month. The schedule is as follows:
March 2 – Alpine A521
March 2 – Mercedes W12
March 3 – Aston Martin
March 5 – Williams FW34B
March 10 – Ferrari SF21
TBC – Haas VF-21
More Posts On...