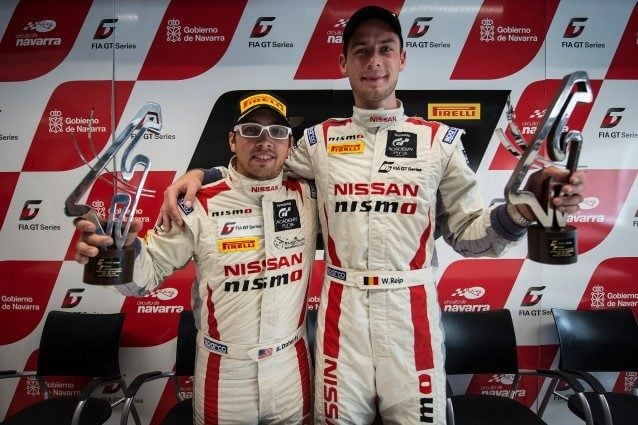 Round five of the FIA GT Series at the Circuito de Navarra in Northern Spain delivered a Pro-Am podium for Nissan GT Academy Team RJN when Wolfgang Reip and Steve Doherty took second place in the headline race on Sunday. Wolfie and Steve won GT Academy Europe and USA respectively in 2012 and just 12 months on are battling for top honours in an international category.
It was a difficult homecoming for Spaniard Lucas Ordonez who was racing at home for the first time since winning GT Academy in 2008. He and his team-mate Alex Buncombe had to settle for fifth place in Pro-Am in the main race after fighting at the front throughout the weekend.
Although Al and Lucas were both fast during qualifying a turbo problem meant that the duo would start from 10th place after an overnight engine change.  This change also incurred a drive through penalty so they would have a mountain to climb in the qualifying race.
Lucas made an incredible start, storming through from 10th to third by turn one. By the end of the race – and after taking the penalty – they had earned a 13th place grid position for the main race, while Wolfie and Steve had taken 11th place, setting themselves up for a strong run.
In the dry conditions of the main race the two Nissan GT-Rs were on top form.  This time it was Steve Doherty's turn to make the storming start. The American driver showing everyone how it is done when he went from 11th to fifth and then pestered Frank Stippler in the Audi before slipping past for fourth. By lap 10 Steve was in third place overall.
Behind him Alex Buncombe was on a charge after moving up to ninth at the start and then gaining two more places when a pair of scrapping cars in front of him ran wide, allowing the Nissan to cruise on by.
By the time the pit window opened Steve and Al were running in first and third places in Pro-Am.  A communications problem meant that both Nissans pitted at the same time and it was the Ordonez/Buncombe GT-R that lost out.
After the pit stops Wolfie, now aboard the No.32 GT-R, was in seventh place and Lucas, in No.35, was lying in 14th place. Wolfie wasn't done yet and he passed Marc Basseng's Lamborghini for sixth place before cruising to the flag and another podium finish.
"I got a great start today, passing about six cars," said Steve. "The car felt really well balanced so it was a lot of fun to be able to chase down the Audi in front of me and then take fourth position.  I was third overall by the end of my run and first in Pro-Am so I feel good about my performance today. It's nice to go home from a weekend like this with a trophy."
"It's disappointing not to get a good result in Spain," said Lucas. "I pushed hard at the end so I could get a fast race lap so we finished on a positive note. It's a shame that we couldn't get the result we wanted but I'm really happy to see Steve and Wolfie performing so well. I won't forget the start of the qualifying race in a hurry, going from tenth to third with my eyes open very wide! All in all we had some highs and lows and I had a very warm welcome from all of the fans here."
"That was our best race yet in the FIA GT Series," said Nissan's Director of Global Motorsports, Darren Cox. "All of our GT Academy winners have a breakthrough moment in their first year of racing.  Wolfie's came at the Spa 24 Hours and Steve's came today.  To go out there and go head to head with people like works Audi drivers in your first year of racing shows how quickly our winners mature."
The final round of the FIA GT Series is scheduled to take place on 23-24 November at the Baku Circuit in Azerbaijan.
More Posts On...
The original comments for this post are no longer available.