If you're stuck indoors with your kids right now, and need something for them to do, Rolls-Royce might have the answer to your prayers.
The Rolls-Royce Young Designer Competition is inviting entries from cooped-up kids all around the world. All they have to do is draw up a fantasy design for the Rolls-Royce they'd want to own 20-30 years down the road. It's open to children up to 16 years old, anywhere in the world — though there are extra prizes for one UK-based entrant.
Rolls-Royce actually hosts such a competition every year, but usually it's only open to the families of Rolls-Royce employees. It runs as part of the Family Day Celebration, held at Goodwood, for the company's employees and their relatives. Given the current global situation, the famous marque has chosen to extend the competition to all children.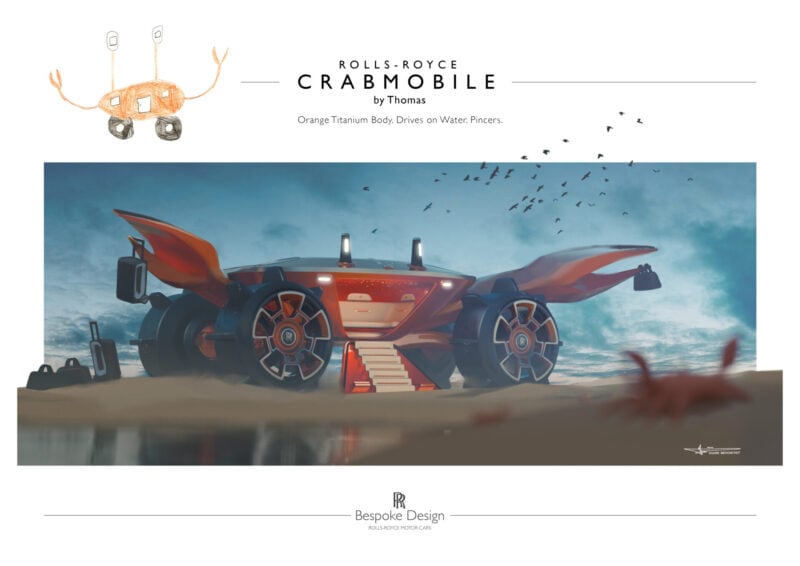 Once entries close on May 18, Rolls-Royce's design team will get to work judging. It will then select a winner, which it will render as if it were a real concept car — as you can see from the 2018 entry above, which likely contains a safe to protect the secret formula from Plankton.
One UK entrant will get two further prizes. Firstly, Rolls-Royce will donate a Greenpower electric car kit to their school. This prize, worth at least £1,350 ($1,700), will allow the school to be involved in the Greenpower Challenge — a STEM program revolving around small electric vehicles. In addition, the winner will get a chauffeur driven trip to school for themselves and a friend in a Rolls-Royce Phantom, once schools return to normal.
Runner-up entries will also receive a hand-signed certificate from Torsten Muller-Otvos, the CEO of Rolls-Royce Motor Cars. All you need to do to participate is be under 16, have some drawing materials to hand, and to upload your entry to the official Young Designer Competition website.
More Posts On...