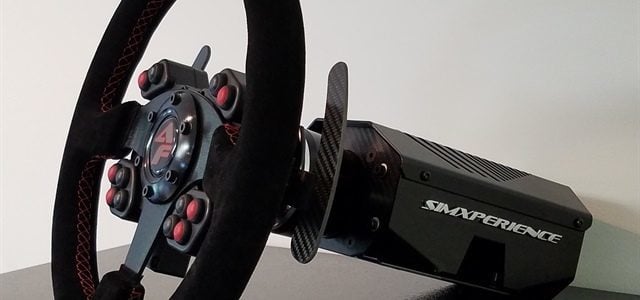 SimXperience has announced the second generation of its highly-realistic racing wheel, the AccuForce Pro V2. The company is also giving five lucky people the chance to try it out!
The racing wheel market is rather crowded at the moment. Thrustmaster, Logitech, Fanatec and countless other companies are designing and manufacturing wheels that are getting more realistic, and in most cases, more expensive.
But SimXperience has traveled down a different path. The direct-drive V2 is in fact cheaper than the first generation of the AccuForce Pro, but quality has reportedly not been sacrificed. Improvements in the design and manufacture of the wheel has resulted in an impressive price drop of between $450 and $700.
Three different version of the V2 will be available:
AccuForce Pro V2 "Complete" ($1299)
AccuForce Pro V2 "Your Way" ($899+)
AccuForce V2 DIY ($704)
In the crowded world of racing wheels, one needs to differentiate itself. With the V2, SimXperience has taken a non-conventional route. To talk to the PC, most racing wheels in the industry will communicate between two different circuit boards. But by engineering an integrated motor controller that talks directly to the PC, the V2 can offer lower latency, a better response and deliver a more realistic feel to the player.
Still think the above prices are a bit expensive? SimXperience is giving five people the chance to test out the new V2. Testers will need to pay shipping, plus a $699 deposit that will be refunded. They will also be required to give detailed feedback on the wheel. You can apply for the chance to test it here.
A release date for the AccuForce Pro V2 has yet to be announced. Unfortunately for console players, the wheel will only work on the PC — although there may be workarounds.
To find out more about the AccuForce Pro V2, check out the SimXperience website.
See more articles on Direct Drive.