If, like us, you were watching Sony's keynote presentation at the 2020 Consumer Electronics Show in Las Vegas yesterday, you'll have noticed some astonishing numbers regarding the PlayStation 4.
Jim Ryan, president and CEO of Sony Interactive Entertainment, commented on the PS4's lifetime sales figures, as it cemented its place as the second best-selling games console in history — behind only the PS2. With 106m consoles out in the world, and its replacement just around the corner, the PS4 is unlikely to catch up by the end of its life but it is nonetheless a success story.
More interestingly, Ryan stated that the PlayStation 4 had sold 1.15 billion games since launch. That equates to 10.8 games per console but, more importantly, pushes the PlayStation family over an almost unbelievable threshold: the PlayStation family has now sold five billion games.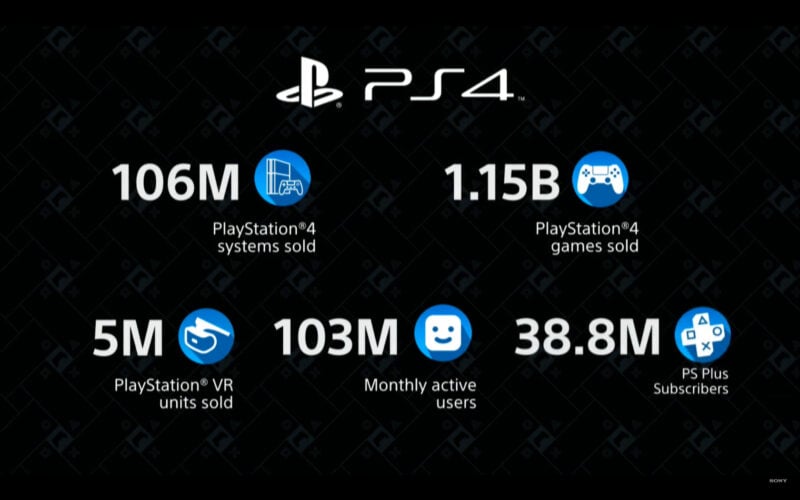 You probably won't be too surprised to learn about the distribution of those games by device. Leading the way, still, is the PlayStation 2, which accounts for some 1.54 billion of those all by itself. The PlayStation 4's 1.15 billion is a worthy second place.
Running in third is actually PlayStation's black sheep. While PS3 might have the lowest console sales of any home PlayStation — still ranking fifth on the all-time list — it had the best attach rate. Players bought 11.4 games for each PS3, so it racks up almost a billion sales, sitting at 999 million. The original PlayStation sits fourth, with 962m game sales across its 12-year lifespan, or around 9.4 games per console.
Of course the PlayStation isn't just a home console, and the original PlayStation Portable (PSP) adds around another 330m to the total. The PS Vita had a much less charmed life, and accurate figures are pretty hard to find, but it managed to shift around 40m-60m across its existence. That important last few million means the total adds up to a remarkable 5.02 billion games sold, over the 25-year life of the PlayStation brand.
With the PS5 era just around the corner, it's another important milestone in the PlayStation's history.
See more articles on PlayStation, Sales Figures, and Sony.