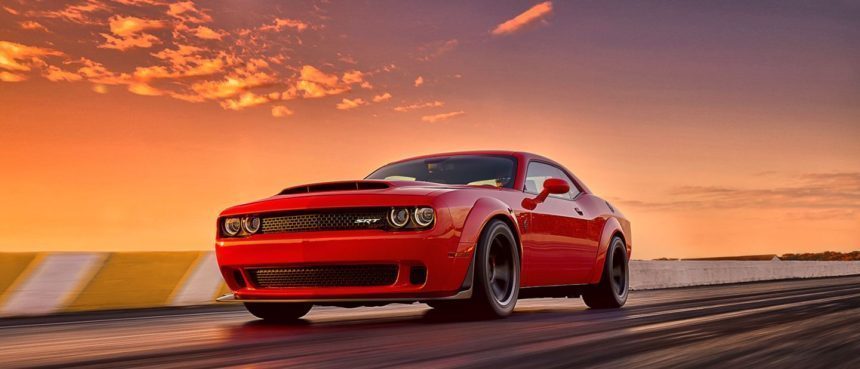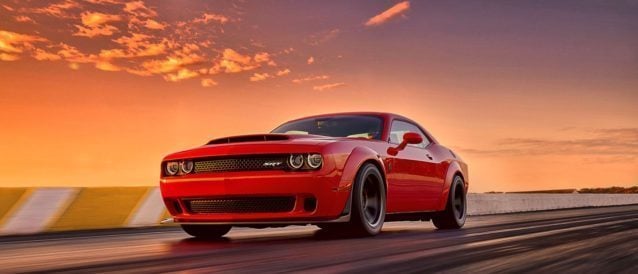 Deep within the realm of hell Dodge pulled out the Demon, the fastest Challenger ever made, and currently the most potent muscle car built for a road-going use.
The specifications are not to be messed with. With the help of a 2.7 litre supercharger, the strapping 6.2 litre HEMI V8 engine now musters 840 HP and 770 lb-ft of torque. These values allow the Demon to propel itself from 0 to 30 mph in a single second, and hit 60 a moment later (2.3 seconds). This is a new record for a production car flying in the face of the Bugatti Veyron.
As confirmed by National Hot Rod Association, the Demon can complete a quarter of a mile in 9.65 seconds, another world record for a production car. In order to achieve all this feats, the car was given a taste of advanced technologies and drag racing-orientation. Nitto's special street-legal radials size 315/40 R18 (rear axle), After-Run Chiller, Drag Mode suspension tune and launch assist are some of them.
Tim Kuniskis, Head of Passenger Cars (Dodge, SRT and Fiat Chrysler North America) has explained:
"With Demon, our goal was to build a car that would tattoo the Dodge logo into the subconscious of the general market, beyond even our loyal enthusiasts. To do so, we had to set records that have never been set before, do more than has ever been done before, go beyond even the legendary Hellcat. The result: an 840-horsepower, 9-second muscle car unlike anything that has ever come before it."
For those unaware, the mighty Hellcat editions of the Challenger and the Charger used to be Dodge's performance flagships, as far as raw power was concerned. This has changed now as the Demon raises the bar even higher, outclassing every other product Dodge has built to date.
The Demon is currently a holder of many firsts, the most perceptible ones being:
Highest horsepower V8 engine ever produced for a production car
First-ever front-wheel lift in a production car (2.92 feet). Listed in Guinness World Records
Highest G-force acceleration on a production car (1.8 g)
Fastest 0-60 mph production car (2.3 seconds)
Fastest quarter-mile time (9.65 seconds)
Initially revealed at the 2017 New York Auto Show, the production of the car will commence this summer already, with first examples scheduled to be delivered later in autumn. A limited run of 3,000 cars for the United States and 300 for Canada suggest the Demon has already become the rarest Challenger ever built by Dodge, a collector's item automotive fans can aspire to.
The price of the car has yet to be announced, though the rumours suggest it should remain below $100,000. Whoever has the courage to commit with the purchase and confront the car will receive one full session at Bob Bondurant School of High-Performance Driving. Judging the power sleeping within the car, you'll need it!
More Posts On...