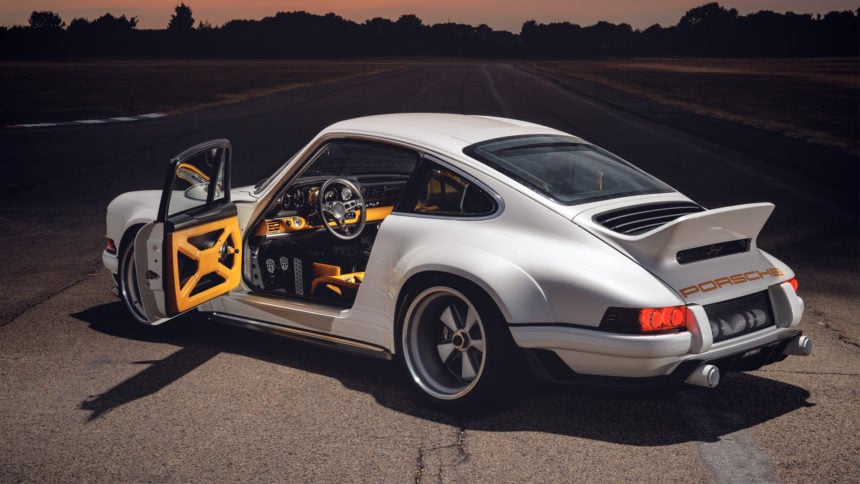 Singer took the cover off its newest creation at the Goodwood Festival of Speed. As you'd expect it's a thing of pure beauty with plenty of raw power to boot.
This latest creation sports the letters DLS – which stand for Dynamics and Lightweighting Study.
Like the previous Singer, the DLS uses a 1990 Porsche 964 as a starting platform. From there, the company works its magic combining some of the greatest hit from the history of Porsche.
Parts like the hood, bumpers, and turn signals all come from other models. However, this isn't simply a mix and match affair. Instead of just using off the shelf parts, Singer took near everything it could and crafted it from carbon fiber. Fortunately, this amounts to almost the entire car dripping with carbon fiber goodness.
Singer didn't reveal how lightweight the car is, but it may even be lighter than that last one, which tipped the scale at a mere 2,180lb.
To make the car even better, Singer once again returns to Williams for the power plant. This means a 4.0-liter flat-six with 500hp and a screaming 9,000rpm redline. Combining this with the car's lightness and the performance figures are probably pretty insane.
William did more than just the engine too. It also performed its magic on the suspension setup for the DLS as well.
To further enhance the handling characteristics, the DLS comes with some seriously meaty Michelin Pilot Sport Cup 2 tires too. These wrap around a custom set of Fuchs-style magnesium wheels to complete the classic look.
The interior is pretty much like the exterior — all carbon fiber. The center console, dash, and even the steering wheel are made from the lightweight material. Contrasting the black weave, there's also plenty of yellow to make it look exceptionally sporty.
Perhaps the crown jewel of the interior is the tach mounted front and center for the driver. While every other gauge blends in with a black background, the tach is a classy white with gold trim. It's small details like this that really make Singer stand out from the rest.
If you want to get your hands on one of these carbon fiber machines you're in luck. Singer will make 75 examples of the DLS for purchase. And the price? As low as $1.8 million, as Singer founder Rob Dickinson told Top Gear. "That's as cheap as we can do it for the madness that's gone into it," he explains.
Does anybody know the going rate for a kidney these days? Asking for a friend…
More Posts On...