The season of goodwill has begun, meaning Winter has made its return to Forza Horizon 4. The festive seasonal switch sprinkles a new helping of content and events across the UK.
A fresh selection of prizes are up for grabs in the Playlist at 50% and 80% completion. This week, an brand new and almost unknown Italian supercar takes the spotlight.
Let's dive in to what's in store.
An Italian Brand Reborn
The big debut is a supercar from a company that you'll be forgiven for never having heard of.
2018's ATS GT marks the resurrection of the ATS brand, after a hiatus of over fifty years. While the GT sports the styling of an Italian thoroughbred, underneath there lies a very British heart. The GT's running gear comes from a McLaren 650S, meaning a 3.8-liter twin turbocharged V8 pumping out 641hp. The GT may be the new kid on the block, but it has the firepower to run with the professionals.
Alongside the ATS sits its effective donor, the McLaren 12C. The first road car to come from McLaren (technically the McLaren that made the F1 was a different company) doesn't disappoint in the performance stakes. A 3.8-liter twin turbocharged V8 puts out over 600hp, with racing DNA evident everywhere you look.
Seasonal championship prizes include Jeep Grand Cherokee and a DeBerti Ford F150.
One of the standout prizes for this week is the McLaren 720S Spider. Built to offer open-top thrills, the 720S hardly loses any of its performance despite losing its roof. Its 4.0-liter V8 produces 710hp and it will give the Italians a serious run for their money.
You can acquire the 720S by winning the "Snow Going Back" championship.
The rest of the prizes for this week are below.
Snow Going Back
Series: Road Racing Series
Cars: Retro Sports Cars
Restrictions: C Class, 600 PI
Prizes: 15,000 CR, 25,000 CR, Mclaren 720S Spider
Monster Mash
Series: Road Racing Series
Cars: Rally Monsters
Restrictions: S1 Class, 900 PI
Prizes: 15,000 CR, 25,000 CR, Ford F150 DeBerti Design
Jeepers Creepers
Series: Dirt Racing Series
Cars: Evo vs Impreza
Restrictions: B Class, 700 PI
Prizes: 15,000 CR, 25,000 CR, 2014 Jeep Grand Cherokee
The Trial: Billy Snow Mates (Co-Op Championship)
Series: Cross Country Series
Cars: Classic Muscle
Restrictions: B Class, 700 PI
Prizes: Ski Hat
Winter Games – Series 16
Series: Playground Games
Cars: Offroad
Restrictions: D Class, 500 PI
Prizes: Chevrolet Colorado ZR2
Northbridge Speed Trap
Season Objective: 180 mph
Roman Ruins Danger Sign
Season Objective: 557.7 ft
Broadway Commons Speed Zone
Season Objective: 165 mph
Forzathon Events
Forzathon goes all American this week, with the spotlight shining of the 1969 Chevrolet Camaro SS. Grab the General's muscle icon to get things started.
Next up, unleash your Camaro's V8 grunt and earn 20 Great Speed Skills. Afterwards, hit the drag strip and take the Camaro to victory in 3 Drag Strip events.
To finish things off, leave your opponents in the dust and earn 5 Pass skills to complete this week's challenges.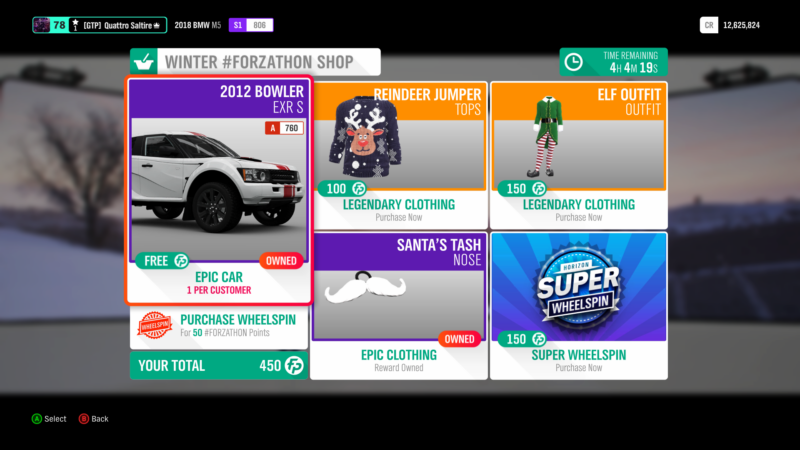 Forzathon Shop
The Forzathon Shop is doing things differently this month. As part of an Advent Calendar series, the shop will have a different car every day available for free.
At time of writing, the free car available is the 2012 Bowler EXR-S. Loosely based on a Range Rover Sport, the EXR-S has been giving an extreme off-road makeover. In order to conquer the snowy terrain, Bowler has fitted a supercharged, 5.0-liter V8, putting out 550hp.
You only have one day to pick up the Bowler as there'll be a new car available tomorrow.
If you're after some new avatar cosmetics, there's a festive selection with a reindeer jumper, Santa's mustache and an Elf outfit all available.
Feature image courtesy of Andy Voong.
More Posts On...