Snow has fallen over Britain once more in Forza Horizon 4. The new season brings a fresh batch of content and events for players to try and win.
Details on the content lineup for this week are down below.
Big Muscle and An Unusual Hypercar Up For Grabs
Winter brings a fresh update to the Festival Playlist. New prizes are also up for grabs for completing the season to 50% and 80%.
Prizes this week include an Arabian hypercar and a classic American muscle machine.
Our full lowdown on this week's challenges are below.
New Events
Prize cars are a varied bunch this week, with a slice of American history and an unusual hypercar available.
First is the 1967 Chevrolet Chevelle. This particular Chevelle comes with a beefy 6.5-liter V8 engine and churns out 375 horsepower. Players looking to make drag builds now have another classic option to add to their arsenal.
Up next is the W Motors Lykan Hypersport. This Arabian creation is one of the lesser known hypercars around, and is a rare beast with just seven units built. It still has the grunt to run with more mainstream hypercars; the 3.7-liter twin-turbocharged flat-six puts out 780 horsepower and lets the Hypersport hit close to 240mph.
Another of the prize cars is the Terradyne Gurkha. This 7.5-ton armored beast may not be the fastest off-roader, but it will break down just about any obstacle in its path. Players can acquire the Gurkha by winning the seasonal Trial event "Mud & Guts".
Full details on the rest of the events are below:
Lakehurst Modern Rally
Series: Dirt Racing Series
Cars: Modern Rally
Restrictions: B Class, 700 PI
Prizes: 20,000 CR, 30,000 CR, 50,000 CR
Winter Community Championship
Series: Dirt Racing Series
Cars: Sports Utility Heroes
Restrictions: A Class, 800 PI
Prizes: 15,000 CR, 25,000 CR, Wheelspin
Dodge, Duck, Dip, Dive and Dodge
Series: Street Scene
Cars: Dodge
Restrictions: S1 Class, 900 PI
Prizes: 15,000 CR, 25,000 CR, Quack! Wellies
The Trial: Mud & Guts (Co-Op Championship)
Series: Cross Country Series
Cars: Offroad Buggies
Restrictions: A Class, 800 PI
Prizes: Terradyne Gurkha
Winter Games – Series 8
Series: Playground Games
Cars: Offroad
Restrictions: A Class, 800 PI
Prizes: Karate Master Emote
Northbridge Speed Trap
Season Objective: 180 mph
Roman Ruins Danger Sign
Season Objective: 557.7 ft
Broadway Commons Speed Zone
Season Objective: 165 mph
Forzathon Events
Forzathon turns to Audi this week, with the spotlight on its smallest sporty car; the 2015 Audi S1. The first objective is simple; own and drive this little German hot hatch.
Next up, hit the streets with the S1 and win 2 Street Scene events. For the third objective, push the S1 to its limit and hit 155 mph. We recommend hitting the motorway outside Edinburgh for this one.
Finish up this week by taking your S1 off road and win 2 Dirt Racing Series events for the final objective.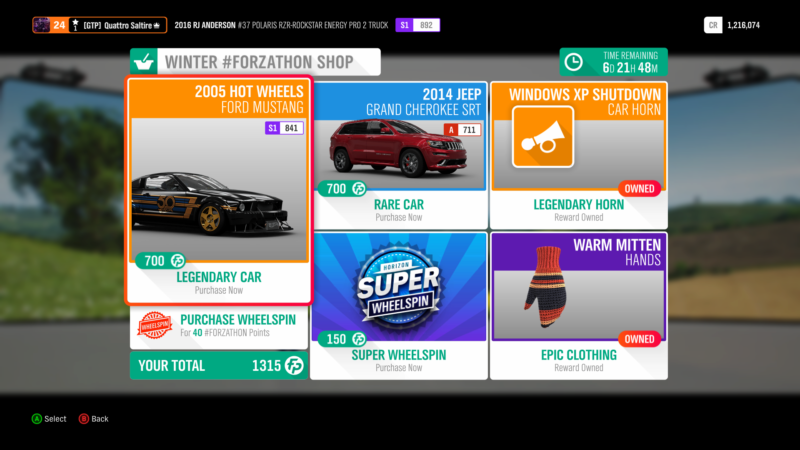 Forzathon Shop
The Forzathon Shop continues to be a really expensive one this week. The spotlight shop car is the 2005 Hot Wheels Ford Mustang. This car is a full scale version of the popular 1:64 scale toy car and features a special 50th anniversary paint scheme. Costing 700 Forzathon Points, it will burn a very serious hole in the points balance.
The other car is the 2014 Jeep Grand Cherokee SRT. This big SUV comes with a massive 6.4-liter Hemi V8 and churns out 470 horsepower. At 700 FP, we suggest looking to the Auction House instead or try to win one in the Wheelspins, where it is an exclusive car.
Novelty items this week feature the Windows XP Shutdown horn and Warm Mitten clothing item.
Feature image courtesy of taz.
More Posts On...