The snow has returned to the UK, marking a new Winter season in Forza Horizon 4 this week. As always, that means a brand new lineup of content for players to hunt for.
A new Festival Playlist update brings new and returning prizes for 50% and 80% completion. This week marks the debut of an extreme Ford pickup truck.
Our events breakdown is below.
DeBerti Rises to The Occasion
A special Ford F-150 pickup headlines the Playlist prizes this week.
Built by DeBerti Design, this F-150 PreRunner is designed to take on any weather conditions. Extensive off-road modifications allow the F-150 to batter the Winter landscape into submission.
There's also plenty of firepower for this beefy truck, as it produces 800 horsepower. Tackling the snow will be easy in this beast.
Alongside it sits the Cadillac Escalade. This is less designed for off-roading and more for cruising the city streets. A 6.2-liter V8 and 400 horsepower make this an imposing machine.
Seasonal championship prizes this week include the Hot Wheels Bone Shaker and a Forza Edition of the Lamborghini Aventador.
The stand-out prize this week is the BMW M3 GTR road car. This homologation special is one of the rarest M3s around, and is the first to utilize a V8. With 380 horsepower on hand, this motorsport-inspired E46 will be huge fun on the icy roads.
Players can acquire the GTR by winning the "Midnight Battle" championship.
The rest of the prizes are listed below.
Like a Boss
Series: Street Scene
Cars: High Rollers
Restrictions: S2 Class, 998 PI
Prizes: 15,000 CR, 25,000 CR, 1969 Ford Mustang
Down Under
Series: Dirt Racing Series
Cars: Aussie Rules
Restrictions: A Class, 800 PI
Prizes: 15,000 CR, 25,000 CR, Ford XB Falcon
Midnight Battle
Series: Street Scene
Cars: Porsche Cayenne, Porsche Macan
Restrictions: A Class, 800 PI
Prizes: 15,000 CR, 25,000 CR, 2019 Porsche Macan Turbo
The Trial: Lamborghini Cup (Co-Op Championship)
Series: Street Scene
Cars: Lamborghini
Restrictions: S2 Class, 998 PI
Prizes: Lamborghini Aventador FE
Winter Games – Series 14
Series: Playground Games
Cars: Rods and Customs
Restrictions: C Class, 600 PI
Prizes: Hot Wheels Bone Shaker
Copse Speed Trap
Season Objective: 182 mph
Rannoch Shelf Danger Sign
Season Objective: 574.1 ft
Carden Creag Speed Zone
Forzathon Events
The anniversary celebrations aren't stopping because it's winter. This week the spotlight is on the anniversary of Forza Horizon 3 and its hero car, the Lamborghini Centenario. Own and drive this special bull to get started.
Next, hit the streets and prove your bull's fighting credentials by winning 2 Road Circuit events. Show that your bull is king for the third objective by earning 5 Pass skills.
Finish up by earning 12 stars from PR Stunts to complete this week's challenges.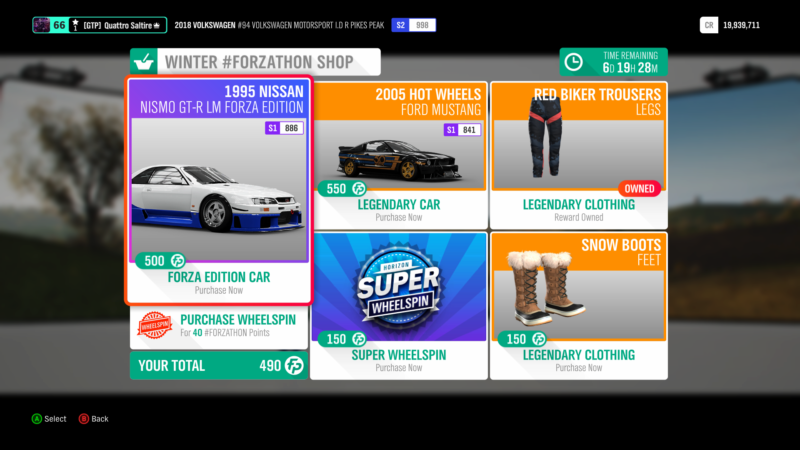 Forzathon Shop
Rare special cars are the order of the day in the shop lineup. Leading the way is the Nissan Skyline Nismo GT-R LM Forza Edition
Based on the R33 Skyline, this homologation special ditches the four-wheel-drive system and gains an aggressive widebody kit. The 2.6-liter twin turbocharged straight-six might make just 300 horsepower, but it will redline at a dizzying 10,000 rpm. The Forza Edition also comes with an Event Influence boost.
The Nismo will cost you 500 Forzathon points, meaning if you have yet to complete your Forza Edition collection, now is a good time to pick this up.
Joining it is the 2005 Hot Wheels Ford Mustang. Built to celebrate the Mustang's 50th anniversary, this special edition comes with extensive modifications.
Powering this pony car is a 5.8-liter supercharged V8, putting a massive 662 horsepower on to the road. In these conditions, this car will be a handful. At 550 FP, this will make a fun addition to your Hot Wheels collection.
This week's clothing items are the Red Biker Trousers and the Snow Boots.
More Posts On...