A new Summer season has rolled into Forza Horizon 4 this week. A fresh swathe of new content kicks off a new month following our preview for Series 13.
A new Playlist accompanies the seasonal switch, bringing new prizes for 50% and 80% completion. This week sees a pair of iconic Porsches and a curious new Italian supercar arrive in the UK.
Let's dive in to this week's events.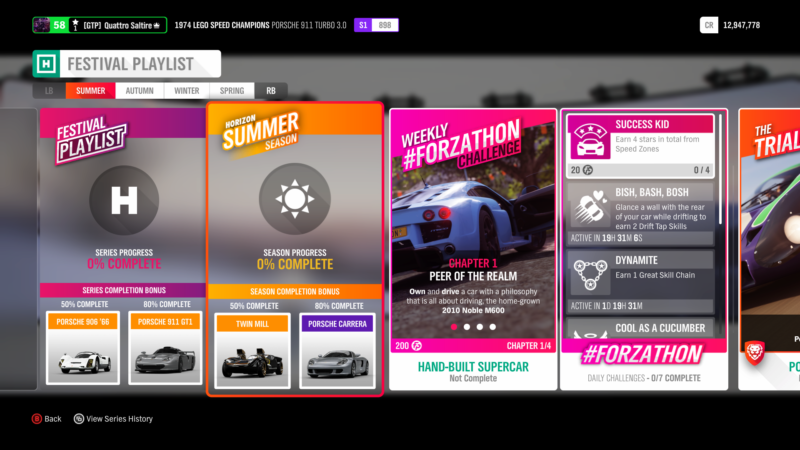 Stuttgart Takes Charge
Prizes this week largely center on the theme of Porsche. Leading the charge is the 1966 Porsche 906.
This small racing car proved very successful in sports car racing, taking class victories at Daytona, Sebring and the Targa Florio. Powering the 906 is a 2.0-liter flat-six making 210 horsepower. With a fiberglass body, the 906 weighs a healthy 1360lb, meaning it will make light work of the flowing UK roads.
Sitting alongside it is another Porsche homologation special, the 911 GT1. Designed to fit GT1 racing regulations, the 911 GT1 shares very little with a standard road going 911. The 3.2-liter twin turbocharged flat-six pumps out nearly 550 horsepower and pushes the 911 to a top speed of close to 200mph.
The summer season completion prizes are the 1,400 horsepower Hot Wheels Twin Mill, and the howling V10 Porsche Carrera GT.
Seasonal championship prizes are occupied by the 2011 Ford F-150 Raptor and the 2004 Subaru WRX STI.
One of the big prizes this week is the Porsche 917LH, one of the most iconic Le Mans cars of all time. The LangHeck (or Long Tail) version was capable of hitting 240mph back in 1970. Players can acquire this icon by winning the "Porsche Cup" Trial event.
Breaking the Porsche mould is the new Italdesign Zerouno. The first low-volume supercar from the Italian design house is a rare beast, with just five units that were ever made. The Zerouno borrows the 602 horsepower, 5.2-liter V10 from the Lamborghini Huracan, so it has speed to go with the style. The Zerouno can be won from the "Hype Tour" seasonal championship.
For those looking to test drive the 906, you can do so in this month's Rivals event.
The rest of this week's prizes are below.
Hype Tour
Series: Road Racing Series
Cars: Hypercars
Restrictions: S2 Class, 998 PI
Prizes: 15,000 CR, 25,000 CR, Italdesign Zerouno
Saloony Tunes
Series: Street Scene
Cars: Super Saloons
Restrictions: A Class, 800 PI
Prizes: 15,000 CR, 25,000 CR, Clown Mask
Summer Developer Championship
Series: Dirt Racing Series
Cars: Modern Rally
Restrictions: B Class, 700 PI
Prizes: 15,000 CR, 25,000 CR, 2004 Subaru WRX STI
The Trial: Porsche Cup (Co-Op Championship)
Series: Road Racing Series
Cars: Porsche
Restrictions: S2 Class, 998 PI
Prizes: Porsche 917LH
Summer Games – Series 13
Series: Playground Games
Cars: Offroad
Restrictions: A Class, 800 PI
Prizes: 2011 Ford Raptor
Horizon Drag Strip Speed Trap
Season Objective: 195 mph
Mam Tor Danger Sign
Season Objective: 1,010.5 ft
Ambleside Approach Speed Zone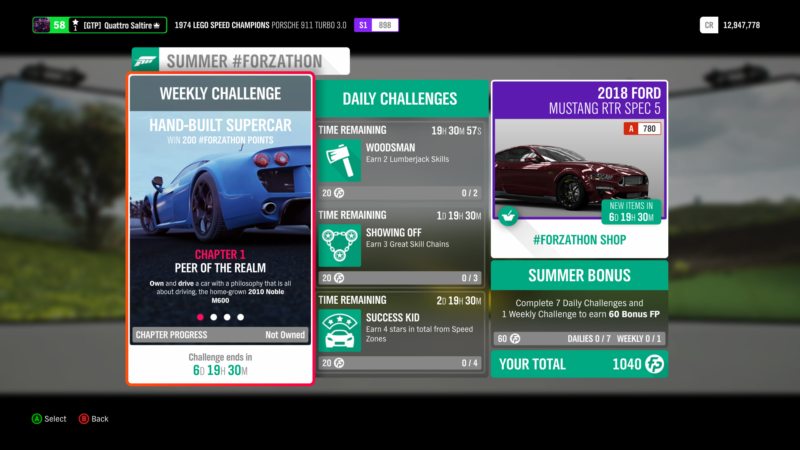 Forzathon Events
Forzathon turns to a home-grown supercar this week, focusing on the Noble M600. Start off this week's challenges by owning and driving this monster.
Next, take the Noble for a drive around Britain for a distance of 10 miles. With 650 horsepower, that distance should fly by. The third objective lets you loose to earn a total of 15 stars from PR Stunts.
Finally, unleash the M600's full potential and hit its top speed of 225 mph. The motorway outside Edinburgh should do nicely — for all of these challenges, really.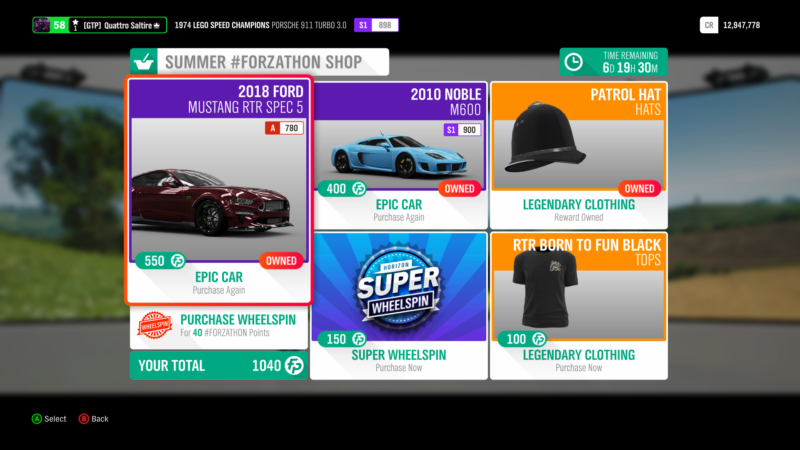 Forzathon Shop
V8 power is the name of the game in the shop lineup this week. Sitting at the forefront is the Ford Mustang RTR Spec 5.
Ford's legendary pony car has been given a makeover by the RTR team, with an aggressive wide bodykit and a host of suspension upgrades. It also retains the 5.0-liter V8 engine of the road car, with a meaty 460 horsepower on tap.
The RTR will set you back 550 Forzathon Points, which is cheaper than other cars that have appeared in the shop before. However, if you already have one, we advise spending those points on Wheelspins instead.
This week's Forzathon star, the Noble M600 also arrives in the shop this week. This Leicestershire supercar is Noble's answer to established rivals from Ferrari and Porsche. Costing just 400 FP, it could save you from forking out for one in the Autoshow.
This week's clothing items are the police Patrol Hat and the RTR "Born to Fun" black T-shirt.
Feature image courtesy of Drex124.
More Posts On...