If there's one thing we know about Land Rover owners, it's that they love to get out into the most inaccessible areas of the planet. Well, according to the press photos at least.
Even if owners only use them for the school run, Land Rover builds its cars to cope with anything. Sadly, other modern technology isn't quite so robust. For Land Rover owners, there's nothing worse than driving their Discovery through the jungle to find the Fountain of Youth only to drop their mobile phone into it when they get there.
With those intrepid adventurers in mind, Land Rover has created the Explore smartphone. Dubbed the "outdoor adventure smartphone", Land Rover has worked with the Bullitt Group for a tough mobile device.
Bullitt, which also makes tough phones for CAT, designs the Explore to cope with a huge range of temperatures. The Android device can withstand extreme humidity, thermal shock and vibration. It exceeds the IP68 standards, with water resistance — including salt water — to six feet. It's also drop proof to six feet, with Gorilla Glass and a factory fit screen protector.
Users can control the phone via a five-inch, Full HD screen, which they can operate with wet or gloved hands. Standard software includes weather information, mapping apps and a compass.
As standard there's a 4000mAh battery, capable of powering the phone in constant use for two days straight. An Adventure Pack includes an additional 3600mAh battery.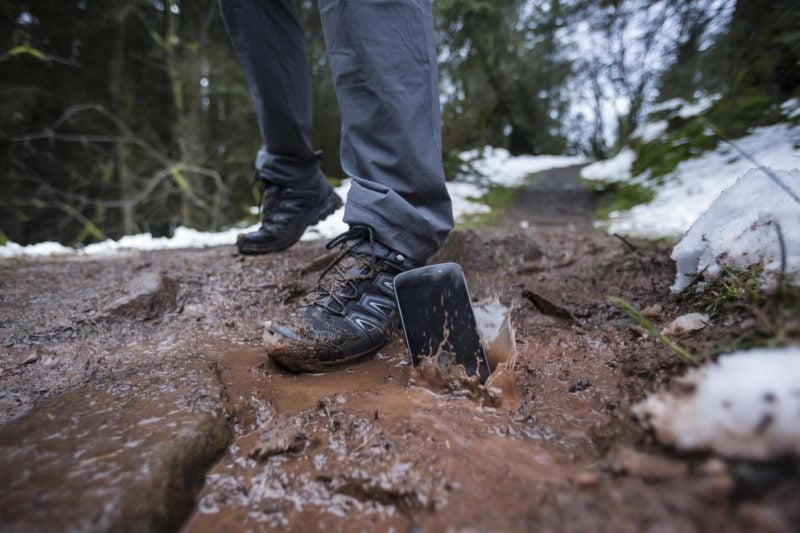 The phone features a 2.6GHz, 64-bit MTK Helio X27 CPU, with 4GB RAM and 64GB of storage, expandable via microSD. There's a 16 megapixel rear camera and an 8 megapixel front camera, for the all-important selfies.
Naturally, it's fully compatible with any Land Rover in-car apps too. It goes on sale in April 2018, from £599.
Which just leaves one question: How would it stand up to a Nokia 3310?
More Posts On...