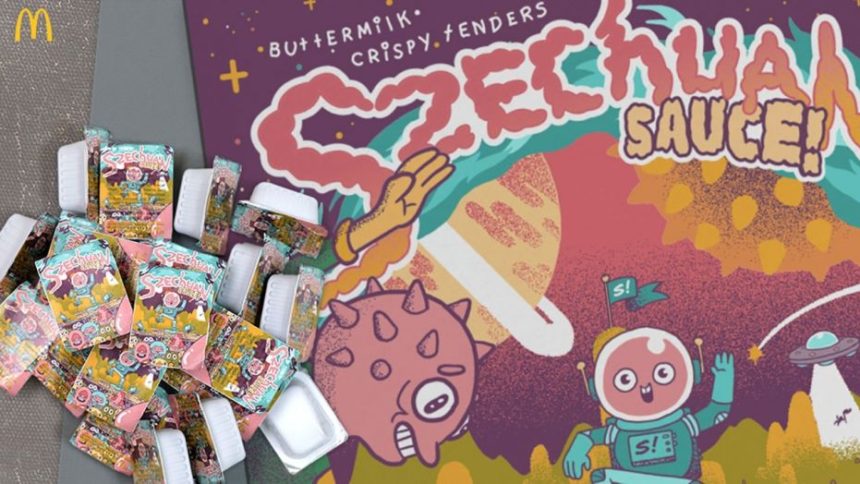 How much do you think a 2004 Volkswagen Golf GTI is worth? Assuming it's in decent condition with relatively low miles for its age? We'd guess somewhere in the $5,000 ballpark, but of course, we're wrong. The actual price of a 2004 GTI is one packet of McDonald's Szechuan dipping sauce.
This is all thanks to the craziness that ensued on October 7 when McDonald's offered the dipping sauce for just one day. As a result, people went nuts and suddenly an entire market sprang up. People swapped the sauce packet for insane amounts of money — or in the case of one Michigan women, a car.
For those who don't know about the Szechuan craze, allow us to fill you in on the backstory. Back in 1998, Disney debuted Mulan. In partnership with McDonald's, they offered a gooey teriyaki-based sauce called Szechuan Sauce to promote the movie. It came with a Mulan toy in every Happy Meal kids ordered with McNuggets. After a few weeks, the promotion stopped and the sauce faded away much like the disgusting McHotDog.
Fast forward to 2017. Season three of Rick and Morty pops up out of the blue. Rick, the main character of the show, goes on over a thirty-second rant about the Szechuan sauce. Due to this, fans reignited the interest in the nearly 20 year old sauce.
Well…Youre hearing it here first folks ,Someone just traded a szechuan sauce for a car 🤣Also I heard these guys give away music festival tickets, drop a 'LIKE' 🎪🎉🎫⤵CC: Storm Group Entertainment

Posted by Justin Chiat on Tuesday, October 10, 2017
McDonald's, looking to score big, offers the sauce for exactly one day at select locations. Unfortunately, it severely underestimated Rick and Morty fans. With hordes of people descending on the golden arches screaming "I am Pickle Rick", the Golden Arches quickly ran out of sauce. Thus the market for trading sauce for items (or money) came into existence.
This is where a Macomb, Michigan women, Rachel Marie, comes in. After snagging some sauce she posted on the Pin Nation Facebook group hoping to swap the packet for some collector pins. Consequently, Duane Kimmel saw the post and offered up his GTI for trade, one to one.
After some apparent back and forth via Facebook, the deal was done. Kimmel had his sauce and Marie ended up with a decent VW GTI.
Looking at Autotrader we found the average price of the GTI to hover around $5,000. Assuming one packet equals that much cash, with only 46 packets of sauce you could afford a Ferrari 458.
Sure, the entire thing is a bit crazy, but it does show what lengths some fans will go to get their hands on some rather limited things.
More Posts On...