If you're anything like us you'll be glued to the television or radio this weekend for the 24 Hours of Le Mans.
It's already been an exciting weekend down in the west of France, with the fastest qualifying session ever recorded.
The track was in perfect condition throughout Friday. A Northerly wind gave the cars a push down the long straights, while increasing the efficiency of the wings back up the fast Porsche Curves. This lead to every lap record falling at one point or another.
After last year's last moment heartbreak, the fastest lap of all belonged to Kamui Kobayashi in the No.7 Toyota. His 3:14.791 is the quickest Le Mans lap since the Porsche 917 in 1971, but has the highest average speed ever recorded. He was joined on the front row by the sister Toyota, with which Kazuki Nakajima set a 3:17.128. The two Porsche 919s line up on the second row, with the defending champion car fourth.
In LMP2 too, the lap record fell. Alex Lynn set a 3:25.325 in his No.26 G-Drive Racing Oreca car. This just edged out Vitaly Petrov in the No.25 CEFC Manor Racing car. The No.38 Jackie Chan DC Racing Oreca sits third in class, just 0.6s away from the G-Drive car.
Even the GTE records fell. Darren Turner took the Pro class, with a 3:50.837 in the Aston Martin, while ex-Aston driver Fernando Rees set the Am benchmark. His #50 Corvette ran the circuit in 3:52.843. Notably, the entire 13 car Pro class is separated by just 1.8 seconds. GTE-Am is barely any more widely spread either, with 3.5 seconds between the cars 14 that ran all three sessions.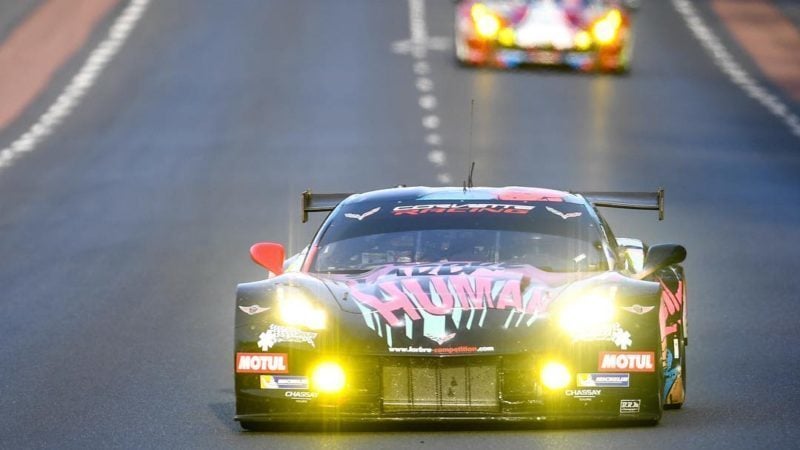 The race gets underway at 1300 UTC/GMT this afternoon, with new F1 supremo Chase Carey waving the French flag. There's a number of options for keeping yourself up to date with what stands to be a thrilling race.
Live streams
Defending champion Porsche will be streaming with on-board cameras on both of its LMP1 919s. Other cameras cover the No.91 and 92 LM GTE Pro 911s too. A live timing screen is also available.
Ford will stream the 24 hours from all four of its cars and its garage on its official Youtube channel.
Audio
The only place to listen to all 24 hours is Radio Le Mans, with the irrepressible John Hindhaugh. 'Hindy' and the team will provide commentary as only they can for the full race and several hours either side too!
Guides
Andy Blackmore has again created his indispensible Spotter's Guide. You can download this from his website.
See more articles on 2017 Le Mans 24 Hours.