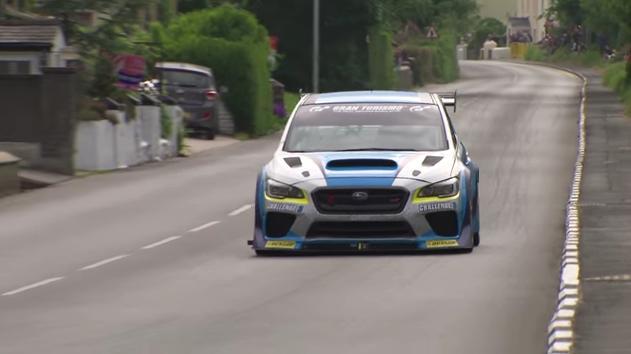 At the start of the month, Prodrive set an incredible new track record on the Isle of Man TT course. The record was set by the daunting 600BHP Subaru Impreza WRX STI, coming in at 17:35.139 on the 37 mile course. It's a run that Subaru and Mark are both incredibly proud of, and now thanks to the official Subaru Youtube channel you can watch the run in all of its awesome entirety.
The run itself is a terrifying, yet brilliant, view of how a professional time-trialist can push a car to ridiculous extremes – Mark throws the Subaru around the tight streets of the island like he's glued to the road (aside for some insane air grabs). The level of skill is nothing short of astounding and the Subaru itself impresses, reaching speeds of 160MPH and beyond. From an enthusiast's point of view, seeing the kind of pressure exerted on the brakes is particularly amazing as the car handles the track like it's a slow, Sunday drive – unfazed by the demonic driving of Higgins.
Perhaps the best clip of the video is watching Higgins take on Bray Hill – the famous downward stretch perhaps best known of all sections of the Isle of Man TT – at an eye-watering 170MPH.
The on-board cam shows the masterful control of Higgins as he takes his winning car to the line. The run also includes a HUD showing how Higgins reacts to the track as he's driving; measuring his heart-rate, respiratory rate and skin temperature. Elevation and G-force readings are also given in real-time. If you ever wondered how taxing on the body a record breaking run at the Isle of Man could be, wonder no more.
The run itself is pure motorsport magic: an example of what can be achieved when man and machine are in perfect harmony. After watching this, all we can hope is that one day the Isle of Man TT course makes it's way to Gran Turismo, hopefully the branding on Mark's car are a sign of things to come.
More Posts On...
The original comments for this post are no longer available.