Let's face it, this week hasn't been great if you're a fan of attractive cars.
Despite the LA Auto Show last week, two manufacturers waited to reveal their latest models in standalone events. The first, Lamborghini's Urus, was a little visually challenging to say the least — and if you haven't seen the rear door handles yet, we warn you that they can't be unseen. This was as nothing compared to the visual assault of the "McLaren Senna". Yes, it's really called that.
So if you were busy scrubbing your eyes with bleach this week, there may be one or two news items you'll have missed.
Coffee To Go
General Motors is rolling out an in-car, on-demand commerce platform it calls Marketplace. Over the next 12-18 months, owners of almost four million GM group vehicles will be able to not only find nearby fuel, food and drink, but make reservations and even pay, direct from their car's infotainment system.
Marketplace partners include Dunkin' Donuts, Wingstop, TGI Fridays, Applebee's and IHOP, nicely covering all of life's vitals. It means you can order chicken wings, pancakes and coffee while on the move, collecting from your preferred pickup location.
Of course there's also a variety of more ordinary partners — Shell, ExxonMobil and Parkopedia — to help with everyday motoring.
A Matter of Time
Where do old Mustangs go to die? It turns out that it's Denmark, and wrists around the world.
Danish brand REC Watches hunts salvage yards across the world for classic Ford Mustangs that are beyond saving and restoration. They then turn them in hundreds of unique wristwatches.
For some it may seem like sacrilege, but REC Watches only uses cars far beyond repair. It does its best to trace the history of any vehicle it uses, and creates a video to tell the car's story. Each finished piece includes the Mustang's VIN, and is designed to mimic the car's dashboard.
Some customers even donate parts of their Mustangs, and wearers include Vaughn Gittin Jr, who has a watch made from the carbon-fiber bodywork of his World Drift Series Mustang.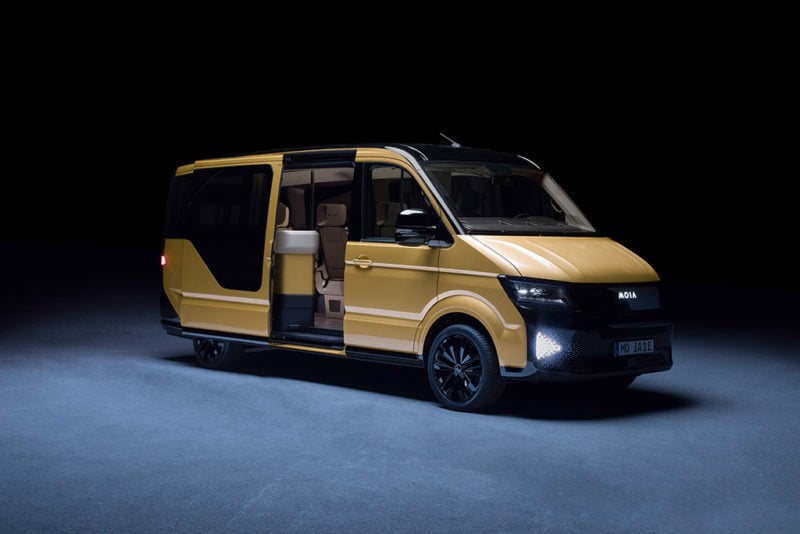 Living For the City
Volkswagen has unveiled a mobility concept to reduce traffic on the roads in major cities. The ride-pooling system, named MOIA, will start its operation in Hamburg next year.
It's part of a plan created 12 months ago to take a million cars off the roads. The MOIA car, a fully electric, six seat vehicle is the solution. It's designed so that passengers need not have contact with one another if they don't require it, with amenities like reading lights, WiFi and USB charging ports also available. There's space for luggage next to the driver.
Accompanying the car is an app, which passengers use to book and pay for a MOIA. The app groups together passengers with similar destinations to increase capacity and avoid detours, informing customers how much the ride will cost when booking.
And yes, that largely seems like a posh taxi to us too.
Births and Deaths
One of the most anticipated sports cars of recent years took a bow this week. The Alpine A110 represents a rebirth of the Alpine brand, under the Renault umbrella. Alpine announced a limited, 1,955 unit run of Premiere Edition models for delivery in March 2018, with a production run to follow.
No Mazda MX-5 is worth the name unless it has a staggering number of special editions. This week's announcement of the Z-Sport brings the fourth generation's special edition count to three. The Z-Sport includes a limited slip differential, BBS wheels, sand leather seats and a contrast cherry red roof.
At the other end of the scale, Ford has introduced a new version of its EcoSport small crossover. The original car didn't prove too successful in Europe, thanks to its origins in "emerging markets", but Ford has significantly updated the car for 2018. It now builds the car within Europe, for a start.
More Posts On...