If you wanted to get out some terrible news about your cars, this week was the ideal time to do so. Yes, it's motor show time, and there's been a non-stop flurry from the LA Convention Center about new this, concept that and electrified the other.
We've already had a look over the new production cars and concepts introduced at the 2017 LA Auto Show, so it's time to find out what's been going on elsewhere.
Lynk's In
What's the fastest-selling car in the world right now? Is it a Ford F-150? How about a Volkswagen Golf? Tesla's Model 3? Nope, it's actually the Lynk & Co 01.
Okay, so this is going to take some explaining. Lynk & Co is a new manufacturer unveiled by parent company Zhejiang Geely about 12 months ago. It's based around abandoning three basic principles of cars: trim hierarchy, dealerships and ownership. The models are based on Volvos, also owned by Geely.
In essence you subscribe to a Lynk & Co vehicle online. Simply browse through the "explorator" to find the "collection" (Lynk & Co's term for trim level) and subscribe to it. Yes, it all sounds weird to us too, but Lynk & Co is big on connectivity, vehicle sharing and urban mobility.
So how is it the fastest-selling car in the world? Lynk & Co's first online store, for the Chinese market, recorded 6,000 pre-sales in the two minutes after it opened.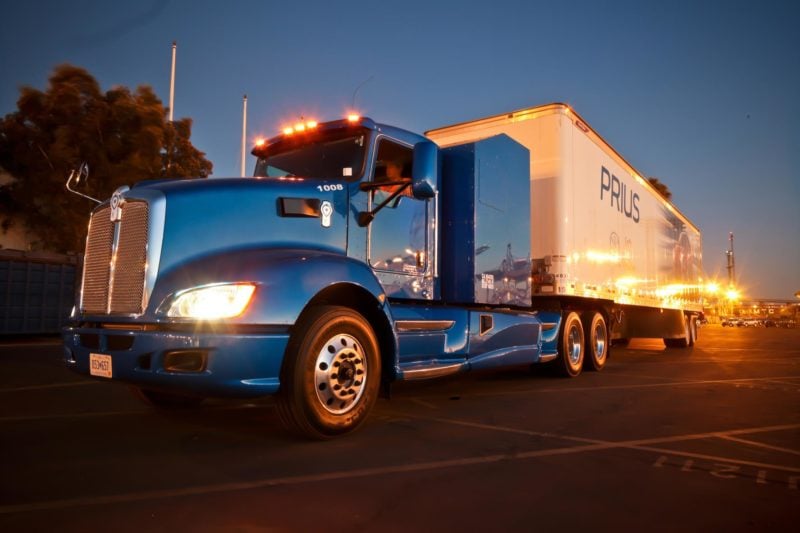 Toyota Steps Up the Power
There's a very short list of vehicles with over a megawatt (1,340hp) of power, and a Toyota is probably not the first thing that springs to mind.
But it's not a car, rather a power station. Toyota Motor North America is setting about building a 2.35MW power station at the Port of Long Beach, California.
Why? Well, the facility — known as Tri-Gen — will use bio-waste it sources from the agricultural industry in the state to generate 2.35MW of electricity, but also 1.2 tons of hydrogen every day. That hydrogen will feed into one of the largest hydrogen fueling stations in the world on the site, and supply all Toyota fuel cell vehicles coming through the port. This includes the Mirai and the "Project Portal" fuel cell truck.
The plant will generate enough electricity that it could supply around 2,500 homes, while fueling up to 1,500 vehicles a day. Take that, Tesla Semi.
ZR-Going-Going-Gone
Chevrolet will auction off the very first 2019 model year Corvette ZR1 at Barrett-Jackson in January. It will donate the money raised to the Stephen Siller Tunnel to Towers Foundation, for the Building for America's Bravest program.
The foundation, named for a New York City firefighter who died during 9/11, builds mortgage-free smart homes for members of the armed forces who have been seriously injured. Each home is built to help the individual live a more independent life, and they feature improved access for wheelchairs and a number of automated functions that can be controlled by a connected tablet. These include things like automated doors and lighting, lowering cabinets, counters and stove tops and smart heating and air conditioning systems.
GM employs around 6,000 veterans, and a further 50,000 retired GM employees are also veterans. The car goes under the hammer on January 20.
Births and Deaths
Perhaps the biggest casualty this week was Nissan's Juke. The B-segment crossover was always a bit of a challenge to look at, and there were SO many jokes about the name (including Joke), but ultimately all of us car enthusiasts were dead wrong. It sold by the bucketload, effectively launched an entire segment (although Suzuki will object to that) and lasted seven years with no major changes. Except that time Nissan turned it into a supercar. Nissan is replacing it with the Kicks, unveiled in LA earlier in the week.
One newcomer this week that flew under the LA radar was the FIAT 500L. It's a car that's actually been around for five years already now, and is an MPV based around the FIAT 500's looks… on a van chassis. FIAT's come up with a new one that's part facelift and part overhaul; 40% of parts are new, and the range now features a version called the Cross, with an off-road image. Given FIAT's track record, with the Renegade-based 500X and the Panda Cross, we expect to see that carrying seven people on an Antarctic crossing soon.
See more articles on Toyota.