There's a calm in the air at the moment as there's yet another motor show around the corner. The Los Angeles Auto Show will throw open its doors in two weeks, and we can expect a slew of new models and production-ready concepts.
That means that it has been a little quieter than usual this week. Not that it stopped Elon Musk from distracting the entire planet with plans for the quickest road car ever made. His 600-mile, second-generation Roadster has been stealing all the column inches — with some questions over whether Tesla can even make it given its existing production woes. It even shoved the fastest ever Corvette out of the limelight.
But there's still been time for a few other dribs and drabs of news this week. Here are the highlights:
Valkyrie Goes Pro
Aston Martin's already extreme Valkyrie, a tie-up between the manufacturer and the Red Bull F1 team it sponsors, is apparently not quite extreme enough. Well, according to Aston Martin, at least.
So the brand has decided to make 25 special versions of the car, dubbed the AMR Pro. Aston isn't saying exactly what makes the Pro even more ludicrous, but has given over a few clues. For a start, the 6.5-liter Cosworth V12 will produce more power (with no figures given for either how much, or how much more). It will also receive smaller wheels, to accommodate LMP1 specification Michelin tires.
Hardly heavy to begin with, the Pro uses lighter versions of the carbon-fiber body and suspension, a lighter exhaust system and polycarbonate windows. And as you've probably guessed, that lot all makes the Pro a track-only vehicle. However, should you find a track willing to let you on, what with modern noise restrictions as they are, Red Bull's simulator suggests the AMR Pro lap times will rival at least current LMP1 cars, if not F1.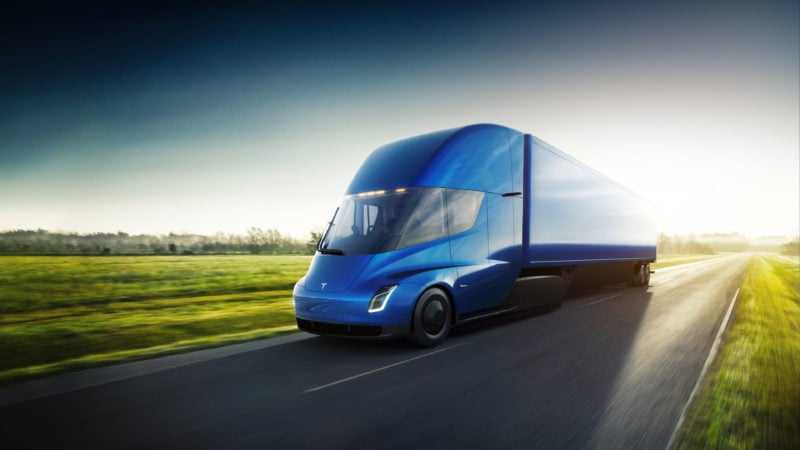 A Semi For Elon Musk
While the founder of Tesla was actually unveiling the headline-grabbing Roadster, he should have been revealing his Semi.
Seemingly already on top of the car game (ignoring the Model 3's problems), and space flight, and vacuum-packed trains, and mass transit tunnels, Musk turned his attention to trucking.
The scheduled star of the show was the Tesla Semi, a battery-powered big rig and trailer. Of course, the presentation focused on the advantages of the Tesla electric drivetrain, with a 500-mile range, 400-mile top-up in 30 minutes from new "Megachargers" and a bafflingly irrelevant 0-60mph comparison.
Also front and center is the autopilot system. This driving assist will, in theory, allow multiple Semis to travel in convoy autonomously behind a lead truck, while also making jack-knifing impossible. There were also a number of typically Tesla wild claims, such as the million mile drivetrain life, the 'basically infinite' brake life and the nuclear-explosion-proof windscreen. Yes, that's a real claim he actually made.
Geely Gets High
Hopefully you've heard of Geely by now, even if its full name — Zhejiang Geely Holding Group — is a bit of a mouthful.
If not, it's a Chinese automotive brand that has been busily snapping up other carmakers around the world in the last few years. It now owns the London Taxi Company (now called the London Electric Vehicle Company), Proton, Lotus, Volvo, Polestar and bizarre luxury rental car manufacturer Lynk & Co. You may also have seen its name on the side of Bloodhound SSC, as a key strategic partner.
Well, this week it added to its portfolio by buying Boston's "Terrafugia". If you're not familiar with Terrafugia, it's a company aiming to sell mass-market flying cars. With Geely's investment, Terrafugia hopes to get its VTOL model — the TF-X — off the ground by 2019.
Jaguar's Auto Cad
Jaguar Land Rover has become the first company in the UK to start autonomous vehicle trials on public roads.
The robo-Rovers will be trialled around the streets of Coventry, near JLR's home base, as part of a £20m project into autonomous driving in the UK. The aim is to test a number of different technologies, including car-to-car communication and information exchange with traffic signals, with a goal of replicating human behavior and reactions when driving, albeit it tinged with robotic infallibility.
Coventry joins eleven other cities worldwide in being test-beds for AI on the public roads. Let's hope it goes better than the experiment in Las Vegas…
Births and Deaths
Tesla aside, this week has mainly been about the tease.
Take Lexus, for example. It's talking about its new three-row version of the RX crossover. Officially called the RXL, it will be available as a RX350L or a hybrid RX450hL model — but we'll need to wait until the LA Auto Show to find out what it looks like.
Meanwhile across the pond in Woking, McLaren is talking about its latest Ultimate Series car. The brand has only made one such car before, the P1, with a second — a project named BP23, with a familiar 1+2 seating pattern — in the works. This new model is mooted to be the "most extreme road-legal McLaren ever", with an online reveal due at 00.01 GMT on December 10.
One car actually revealed this week though is the SEAT Leon Cupra R. This update of the brand's Cupra 300 includes a power boost to 306hp, a new steering system and suspension geometry and new braking and exhaust specifications. Still front-wheel drive, unlike its Golf R sibling, it should hit 60mph in around 5.5 seconds and be good to take back the Honda Civic's Nurburgring crown. Don't get your wallet out yet though, as SEAT plans to make only 799 of them, with just 24 going to the UK.
See more articles on Aston Martin, Red Bull, and Tesla.