This is a trip report from February 2020, before the global lockdowns began.
As a motorsport enthusiast, I have been incredibly fortunate to visit many of the world's great racing circuits. From Spa Francorchamps, to Laguna Seca, Silverstone, Circuit de la Sarthe, the Nurburgring, Circuit de Monaco, and Fuji Speedway, I always try to put racing landmarks on my itinerary when I travel.
Needless to say, when I learned I would be making my first trip to Australia for the Gran Turismo World Tour event last February, I began planning my visit to Mount Panorama.
I was happy to discover it was only a three-hour drive from Sydney, with plenty of interesting stops along the way. The road to Bathurst takes you through the Blue Mountains, a UNESCO World Heritage site full of vistas and hiking trails. You could easily spend days in the region, but I just stopped for dinner and picked up dark chocolate Tim-Tams at a local grocery store before continuing my journey west…
It was dark by the time I arrived in Bathurst, but I found it to be pleasant little town with a picturesque main street of shops and restaurants.
As for my hotel, well, there was really only one place I wanted to stay: the Rydges Mount Panorama Bathurst. You've probably seen it — it's the big, modern building at the end of the Conrod Straight. It's faithfully reproduced in Gran Turismo Sport and offers amazing views of the track.
Vacancy is scarce when there's an event at the circuit, but on this random Friday night in late February, I was able to book a room with a balcony and a view. I knew I was at the right place when I turned into the main entrance of the hotel, just under the famous red-and-white Liqui-Moly bridge.
I have a soft spot for hotels near race tracks: they know their clientele and decorate accordingly. The lobby was full of model cars and the artwork was motorsport-inspired. How often do you find dueling Ford and Holden paintings in your hotel room?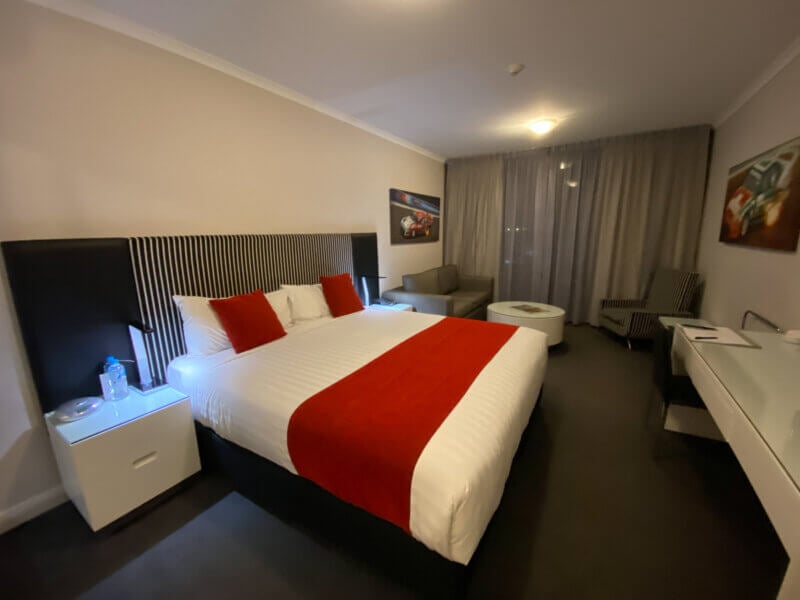 Waking up the next morning felt like Christmas. I knew that Mount Panorama was a "public road", but I was not sure what that meant, exactly…
Would it be littered with temporary dividers? Could you actually drive around the whole thing? Would it look like the Mount Panorama I've come to know and love from the countless laps I've turned in Gran Turismo?
Much to my surprise, the answer turned out to be a resounding "yes".
As I ventured out onto the circuit in my racy Nissan Qashqai, I headed down to Murray's Corner, expecting to be met with barricades. Instead, I found a race-ready main straight. As I rounded Hell Corner and made my way up the mountain, past Brock's Skyline and down the Esses, it started to dawn on me: I had one of the most famous racing circuits in the world all to myself.
The thing about race tracks is that even though they can be fun to look at, most are locked away behind fences and barriers. You may be able to walk on some parts of them, but driving is almost certainly out of the question unless you're enrolled in some kind of track day.
Mount Panorama is just the opposite: it's all there for you to explore. Among all the circuits I've visited around the world, I have never seen anything quite like this.
My first laps were a combination of excitement and sheer surprise. There was no toll to pay, no barriers in the road, and very little traffic. All of the landmark banners and billboards were exactly where you'd expect them.
I felt as if I had stepped through my TV into a virtual world I had visited to many times, but now, it was all very real. I've driven many of my favorite circuits from Gran Turismo in real-life, but the calm, quiet atmosphere at Mount Panorama made it feel uncannily similar to its virtual counterpart.
Of course, this is still a public, two-lane road, so as tempting as it was I could not stick to the racing line. No matter how many laps I drove, it was still jarring to see oncoming traffic headed the "wrong way" around the circuit! There is also a speed limit of 37mph (60km/h), strictly enforced by local police who are aware of just how alluring the wide-open track is.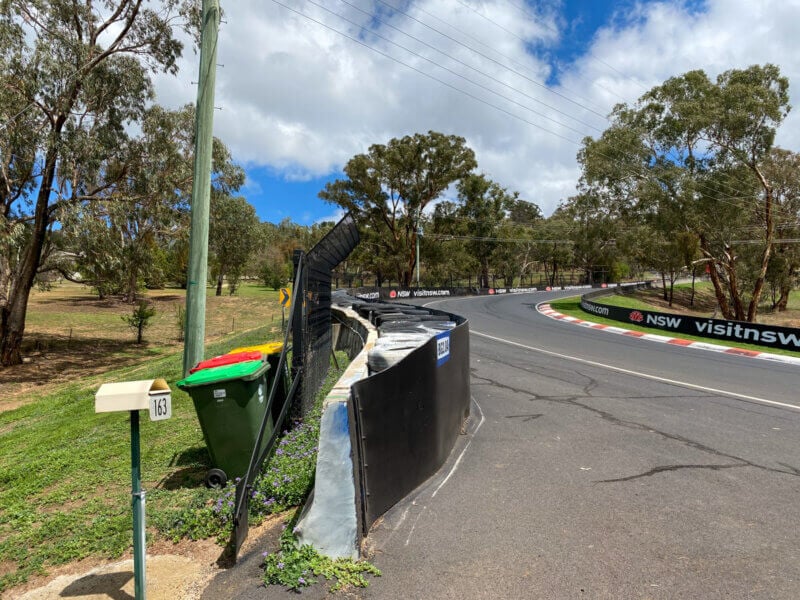 Another surprising aspect of Mount Panorama was just how many people live on the circuit itself. There are at least a dozen private driveways open to the track, mailboxes and all. I had to laugh when I found residents' private trash bins tucked behind the tire barriers of one of the world's most famous racing circuits.
The reality of Mount Panorama is that — aside from sturdy concrete walls and gravel traps — it's like any other country road in rural Australia. That's what makes it so charming to visit, and that's also what makes it so fun to drive.
As you might expect, the Esses is the most impressive part of the track. You've probably heard this before, but there is absolutely no way for any picture, simulator, or onboard video to accurately convey just how narrow and steep this section of tarmac really is.
After soaring past the panoramic (pun intended) views from the Brock's Skyline, the overhanging trees and imposing barriers make the road feel downright claustrophobic. Even under the speed limit, I instinctively felt the need to ride the Qashqai's brakes down the hill.
I spent hours exploring the circuit and lost count of how many laps I drove. Before heading back to Sydney, I finished the day with a stop at the National Motor Racing Museum, which sits just outside Murray's Corner.
It's an excellent little museum that has exactly what you'd expect: a collection of the best cars that ever tackled the Mountain. From classic V8 Supercars to modern-day GT3 machines and everything in between, the museum is a must-see.
My personal favorite was this 2001 Holden Commodore V8 Supercar which has a frankly ridiculous history. After surviving two crashes which nearly destroyed it during its racing career in Australia and New Zealand, the Commodore was taken abroad by Australian racing legend Mal Rose.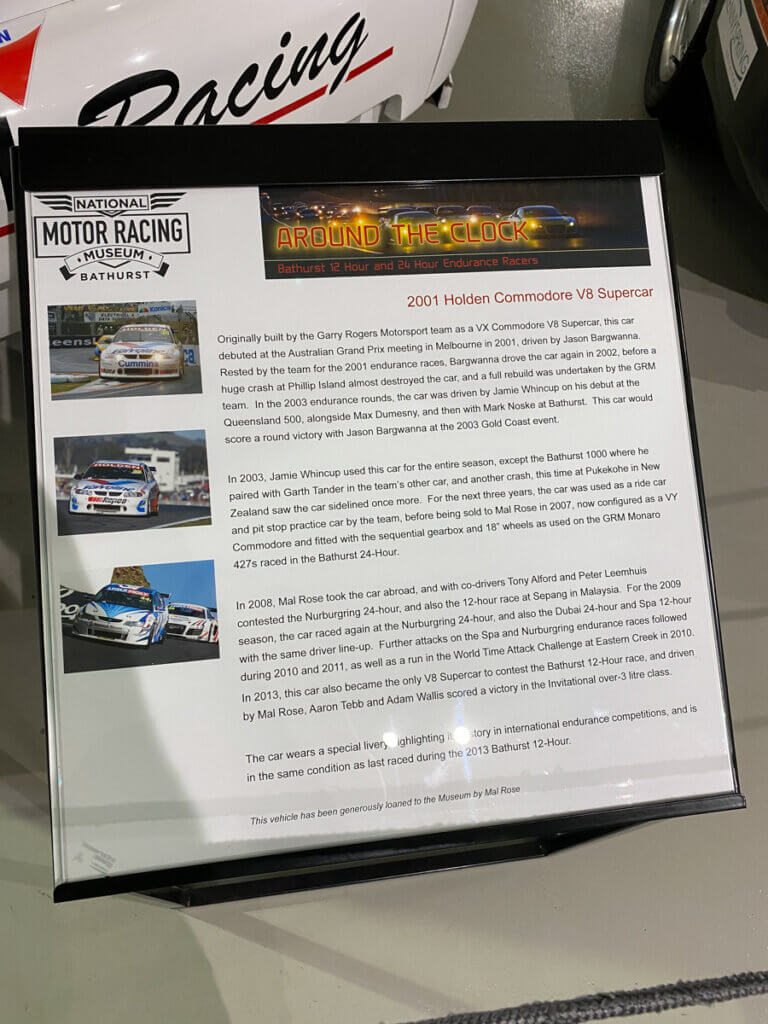 He would go on to race it in the Sepang 12 Hours, the Dubai 24 Hours, the Spa 12 Hours three times, the Nurburgring 24 Hours four times, and in 2013, it became the only V8 Supercar to ever contest the Bathurst 12 Hours, winning its class. Today, the car has earned pride-of-place in the museum, wearing a special livery that pays tribute to its globe-trotting past.
Only a few weeks after I returned home from Australia, the world turned upside down and the country closed its borders. It's difficult to think about travel now, but things will hopefully get back to normal soon and — if you're a motorsport enthusiast who finds yourself "Down Under" — do whatever you can to make the trip to Bathurst and Mount Panorama.
I always knew Mount Panorama was special, but having been there myself, I now understand what a remarkable and unique place it is: a one-of-a-kind gem in the world of racing circuits.
See more articles on Mount Panorama.