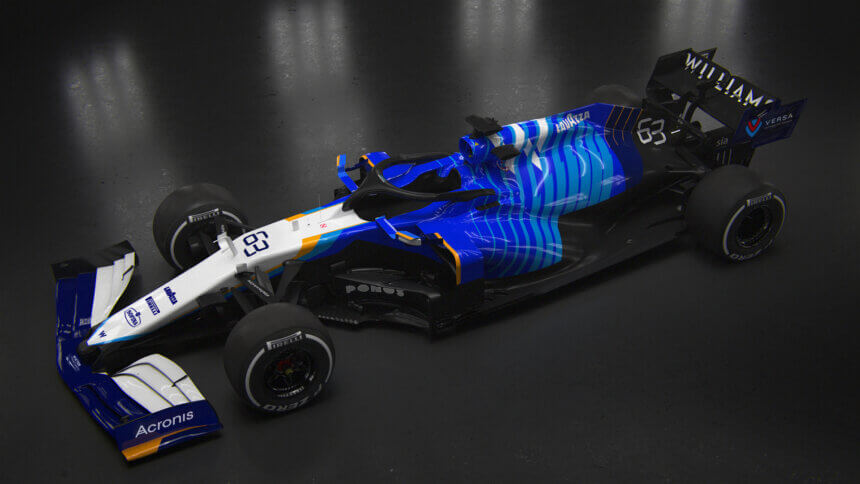 After a troubled recent history, the famous Williams F1 team is set to start a new era this season, and has unveiled the car it hopes will revive its fortunes this year. It's called the Williams FW43B, and as the name rather suggests, it's an evolution of the 2020 FW43.
That might seem like an odd starting place. The FW43 is the only car across the entire history of Williams to not score a single point, but it all comes down to that regulation freeze. Other than some changes to the rules aimed at reducing downforce, as the 2020 cars were approaching the cornering limits of the tires, 2021 is running to the same set of technical regulations, and this development of last season's car is something we've seen across all of the other seven car launches so far.
Despite the lack of points though, the FW43 wasn't an entirely terrible car. Towards the end of 2020 it was regularly trading blows with the Alfa Romeo and Haas machines ahead of it, and new owner Dorilton Capital will have good reason for some optimism this coming season.
Like some of the other launches we've seen recently, it's difficult to say exactly what Williams has updated on the FW43B, and thus far it hasn't explicitly shared any details. We can spot an unusual vane on the new rear floor which seems to form a channel to divide airflow into the rear wheel and inboard of it too, and there's an odd new shape to the engine cover. That latter detail is almost certainly a version of the "bump" we've seen on the Mercedes-AMG W12 and Aston Martin AMR21, and is related to the new "E Performance" Mercedes engine.
Williams has said that the 2021 car is lighter than before however, which will allow the team more freedom with ballast positioning for the minimum mandated 752kg (1690lb) race weight. That will enable the drivers to change the car balance depending on the track.
There's also stability in the driver line-up, as both George Russell and Nicholas Latifi return for 2021. Russell had been strongly linked with the quasi-vacant seat at Mercedes-AMG, and of course drove for the team in the Sakhir Grand Prix last year, so Williams will no doubt be glad to retain his services for this season. Neither driver has yet scored a point, though with the difficulties at Haas this season both will be hopeful that will change and lift the team from the foot of the championship.
With a week to go until the official Bahrain test, we're still yet to see either the Haas VF21 or the Ferrari SF21. Haas revealed the livery only earlier this week, and the car is likely to make its first appearance at day one of the test. Ferrari meanwhile is scheduled two days earlier, on March 10.
More Posts On...