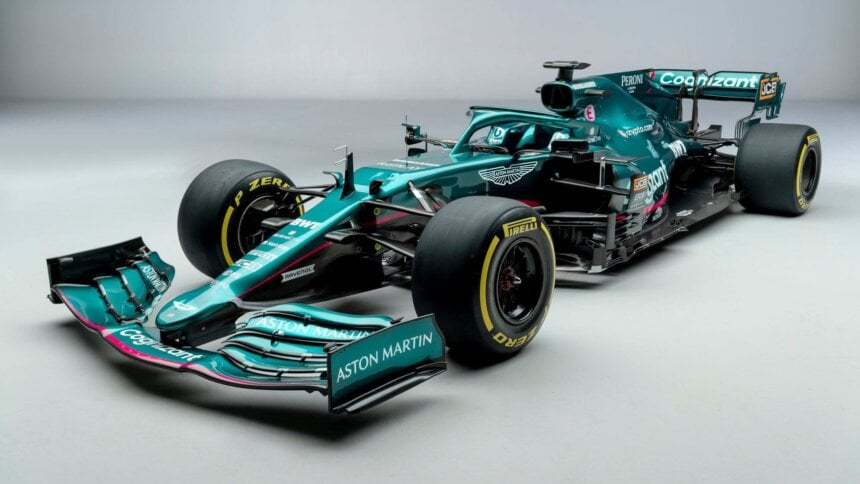 Aston Martin will be making its return to the F1 grid this season after 60 years away, and has today unveiled the car it will use for the 2021 season. It goes by the name of AMR21, and it has quite the weight of expectation behind it.
While the Aston Martin brand has been a title sponsor of the Red Bull Racing team in recent years, it's now taken charge of the former Racing Point team as a full manufacturer entry. It's a situation that's arisen as a result of Canadian businessman Lawrence Stroll rescuing both brands, picking up Racing Point in 2018 when the team — as Force India — ran into financial difficulties, and taking charge of a consortium which bought Aston Martin in 2020 during its own money troubles.
That means that the team isn't coming into the sport untested, but is picking up where Racing Point left off. Although the team finished 2020 in fourth place, it had enough points for third but an early season points deduction for an illegal brake duct kept the team from an overall podium finish. It even managed a race win, courtesy of departing driver Sergio Perez.
The AMR21 itself is an evolution of the RP20, with a few crucial changes. As a customer team of Mercedes, the rules allow for the team to update the 2019 Mercedes engine, gearbox and rear-end to 2020 specification components. We can also see, as with the other cars on the grid, the changes to the rear of the floor as the sport looks to reduce downforce, though the AMR21's floor looks to have several additional deflectors compared to other cars.
Interestingly, Aston Martin has spent its two development tokens on a new chassis for the car this season. That's very different to what we've seen elsewhere, with most teams opting to retain almost all homologated components — like the chassis — and address the change in rear downforce with some balancing work on the front wing. Team technical director Andy Green wouldn't go into the reasons behind this change however.
One other major change at Aston Martin is in the driver line-up. The popular Perez has moved over to the Red Bull team to partner Max Verstappen, and Aston Martin has drafted in four-time world champion Sebastian Vettel to replace him. Vettel will partner Lance Stroll, now in his third season with the outfit.
With Aston Martin revealing the AMR21, only three cars remain under wraps ahead of pre-season testing at Bahrain on March 12-14. The schedule for the last three unveilings is as follows:
March 4 – Haas VF-21
March 5 – Williams FW34B
March 10 – Ferrari SF21
More Posts On...