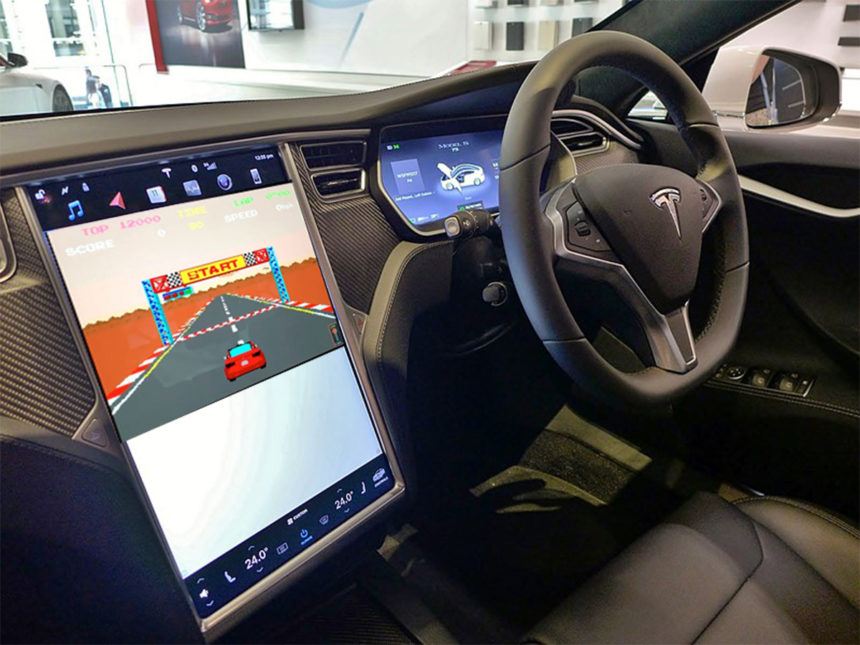 When it comes to sim racing wheels, you're presented with a ton of options. Now there's a new wheel out but there's a bit of a caveat… It only works for one game and you need to own a Tesla to get it.
It is Atari's Pole Position, updated with a Tesla twist. It comes via a firmware update that adds the game (along with a few others) to the Easter Egg menu in the vehicle's large touch-screen.
In the original Pole Position, you took control of a red Formula 1 car and set off to take on the Fuji Circuit. In Tesla's version, you're piloting a Tesla around a track on the surface of Mars. Unfortunately, it's a Model S instead of the Roadster (supposedly, the Roadster just hasn't made it to the red planet yet).
While the game itself is a neat little time waster, the real party piece is how you play it.
To maneuver the onscreen car, you actually use the Tesla's real steering wheel. To accelerate, you use the car's brake pedal and simply release it to slow down – as you do with Tesla's regenerative braking. When you want to shift from low to high gear, you simply use the scroll wheel as a gear stick.
To see how it all worked, we actually got behind the wheel of a Tesla Model 3 to check it out. It's a great deal of fun, but it's also rather difficult. But being able to say we've had a chance to use one of the world's largest video game controllers is worth it.
You can check out the video of our lap below.
In addition to the racing game, there are also two other nifty Easter Eggs in the update.
There's something called "Emissions Test Mode" which… makes fart noises. It also gives the driver the ability to "plant" a whoopie cushion for unsuspecting passengers. Or if they rather, they can turn the turn signal lever into a fart machine as well.
The other Easter Egg is just in time for the holidays. Enable "Romance Mode" and you're treated to a digital fireplace on the center display screen. The vehicle's heater even kicks on to make sure your toasty warm. It'll also prevent your Tesla from bursting into flames – probably.
If you happen to be with that someone special, you can also switch on some music. Do this and you quickly see where the romance part of the mode comes in. It's sure to make you want to snuggle up next to your passenger.
If you want to see the other Easter Eggs, you can check out the video below.
More Posts On...