After the unpredictability of Azerbaijan a fortnight ago, Austria put on a more mainstream affair as the likely suspects came out on top. The Red Bull Ring was not without its own surprises during the race, however.
Valtteri Bottas took his second win of the year ahead of the fast-approaching Ferrari of Sebastian Vettel. Some would say Vettel was lucky to even be on track in Austria after his Azerbaijan antics and subsequent FIA investigation.
It may not have been the win, but Vettel extended his lead in the Drivers' Championship over rival Lewis Hamilton to 20 points. Vettel has never lost a World Championship that he's led. Ominously, he's been out front in this title race since the checkered flag flew in Australia back in March.
Meanwhile, Hamilton worked his way up to fourth place after starting eighth due to an unscheduled gear box change. A change of gearbox in this fashion results in a five place grid penalty by rule. It's debatable as to whether this gearbox issue was as a result of Vettel running into the back of Hamilton's car in Azerbaijan.
Hamilton was in fact very close to finishing on the podium after catching and almost passing Daniel Ricciardo on the penultimate lap. Ricciardo has been in the right place at the right time but also driving brilliantly as of late. With today's result, he's currently on a run of five podiums in a row.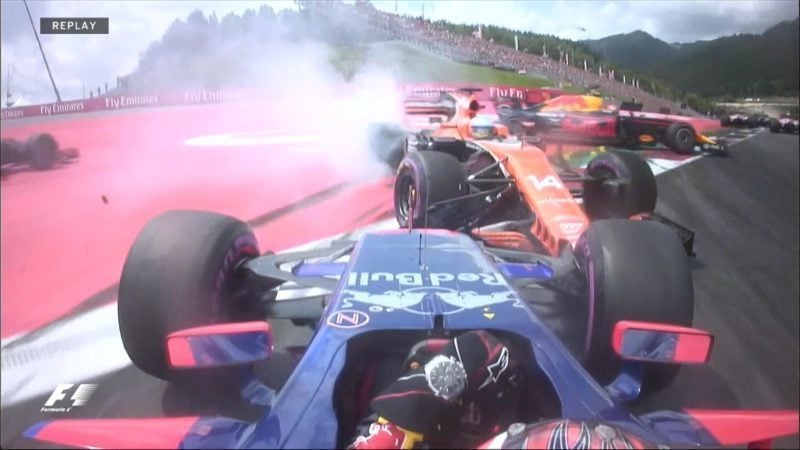 There was a bit of argy-bargy at the start of the race when Daniil Kvyat clumsily plowed his Toro Rosso into Fernando Alonso's McLaren. This forced Alonso to clash with the Red Bull of Max Verstappen. The Dutchman retired once again from a race — his fifth retirement in seven races. However, Verstappen's race was already under threat after a clutch failure off the start. Thus, he may have retired from the race regardless of the squabble into turn one.
Speaking of clutches, a man with a great feel for his clutch was Valtteri Bottas. There was a suspicion that the Finn jumped the start after his Mercedes seemed to get away from the line much quicker than those around him. Both Sebastian Vettel and Daniel Ricciardo both expressed this over the team radio.
Bottas' reaction time of two tenths of a second was considered humanly possible and no further action was taken. A reaction of less than a tenth of a second is regarded as humanly impossible. For comparison, Vettel's reaction time was three and a half tenths of a second.
Bottas went on to take the checkered flag by less than a second from Sebastian Vettel. With this victory, Bottas is right back in the title picture. It's beginning to unfold that this could be a three-way battle for the 2017 Drivers' Championship. Bottas is now 35 points behind leader Vettel, but only 15 points adrift of team mate Lewis Hamilton.
Performance of the day must go to Romain Grosjean who finished in sixth place for the Haas team. The Frenchman was even running in fourth place very early on, fighting with the Ferrari of Kimi Raikkonen. Grosjean's stellar qualifying performance paid dividends as he grabbed an important points haul for the American outfit.
The other Haas car of Kevin Magnussen retired on lap 31 after a suspected hydraulics failure. To those watching the race on TV, Kevin's frustration and subsequent profanity over the radio went completely uncensored.
We move on to one of the biggest races of the year next weekend — the historic British Grand Prix. F1's new owner Liberty Media has planned four days of festivities as it aims to provide the fans a better experience than years passed.
The British Grand Prix is of course Lewis Hamilton's home race. Nigel Mansell once said that the fans at the British Grand Prix give the British drivers an extra tenth of a second. Hamilton will need this if he has any hope of chipping away at Sebastian Vettel's ever-growing lead in the World Championship.
See more articles on F1 2017 Season.