As proven time and again, the 2017 F1 season's narrative is unpredictable. Following yesterday's qualifying, today's Malaysia Grand Prix went out in style — a fitting end to the final Grand Prix in the country for the foreseeable future.
Red Bull's Max Verstappen took a dominant victory in today's race. It's the second win of his career; a light at the end of an otherwise dark tunnel as the Dutch driver has suffered his fair share of setbacks this season.
For Verstappen, it's been a season full of strong results all undone by reliability issues and driver errors. Today it all seems to have finally paid off, and on the weekend of his 20th birthday no less. Lewis Hamilton tucked in behind for second, extending his championship lead by 34 points. Red Bull teammate Daniel Ricciardo brought the sister car home in third.
The Dutchman came into his own today. It was his best performance of the season thus far, not only fending off Mercedes' Valtteri Bottas, but overtaking Hamilton on lap four. Verstappen pulled ahead, building a seven second lead over the Mercedes driver. It was an unexpected turnaround on a circuit expected to play towards the Silver Arrows.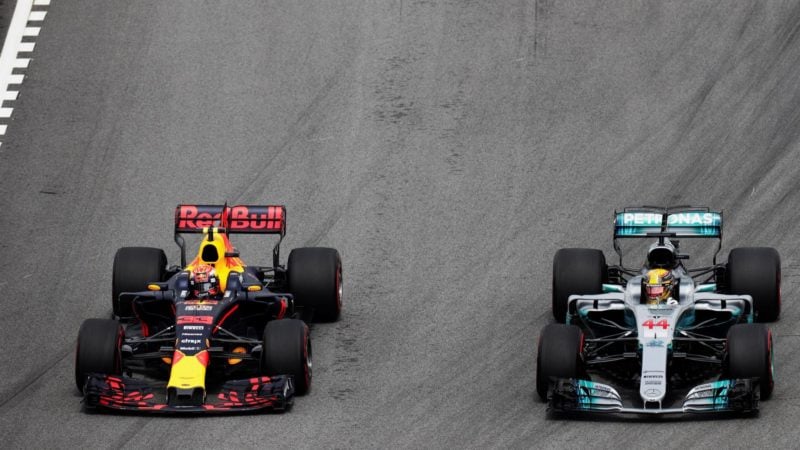 Those mindful of yesterday's qualifying results will no doubt notice something being off. Kimi Raikkonen qualified second for today's race with a strong result possible. Unfortunately, the cards just weren't in his favor. Like his teammate, he too suffered engine troubles — albeit on the starting grid.
The team wheeled his car back into the garage before the start hoping to repair the issue. As luck would have it, Raikkonen retired from the race soon after without ever turning a wheel. It was an unfortunate result by all accounts, as the Ferrari's pace may very well have turned the tides.
While Vettel was able to claw his way back to a fourth place finish, minimizing the damage done to his title hopes, it leaves Ferrari in an awkward position. Had both cars not fallen foul to engine problems, the duo may very well have secured a one-two finish. Following the disastrous result at Singapore two weeks ago, Ferrari has a lot on its plate. Five races remain in the 2017 season and it's only going to heat up from here.
Valtteri Bottas finished fifth for an otherwise lackluster performance by the Finnish driver. To be fair, the Red Bulls had a strong showing in today's race, much more so than expected. At the start of the race Bottas started strong, settling for third place in front of Ricciardo.
The two had a back-and-forth heading into Turns 1 and 2 before Ricciardo gained an advantage in Turn 4. While his teammate finished higher up, both men had to lick their wounds in the face of Red Bull's pace.
Behind Bottas was Force India's Sergio Perez in a comfortable sixth place finish. Behind him is McLaren's Stoffel Vandoorne, who continues to impress. The Belgian driver qualified seventh and ran fifth thanks to a fantastic start. Unfortunately, he didn't have the pace to hold off Vettel and Perez, settling for seventh. This is the first time Vandoorne has out-performed his more experienced teammate.
Speaking of Fernando Alonso, he spent most of the race behind Haas' Kevin Magnussen. Despite a late pitstop failing to switch the order, Alonso finally worked his way past the Haas driver on lap 39. The Spaniard settled for 11th place, more than 30 seconds behind his teammate.
The Williams of Lance Stroll and Felipe Massa took eighth and ninth, respectively. Force India's Esteban Ocon rounds out the top 10, despite a mid-race incident with Torro Rosso's Carlos Sainz.
But wait: it doesn't end there, at least not for Ferrari's Sebastian Vettel. During the slow down lap, he and Williams driver Lance Stroll collided with one another. The bizarre accident caused significant damage to the left rear of the Ferrari. Vettel hitched a ride with Sauber's Pascal Wehrlein as a result, a bittersweet ending to a soured race.
Vettel faces a potential five-place penalty next weekend should the gearbox need replacing — talk about putting a damper on things. If the Japanese Grand Prix is like the rest of the season, almost anything could happen on track at Suzuka.
More Posts On...