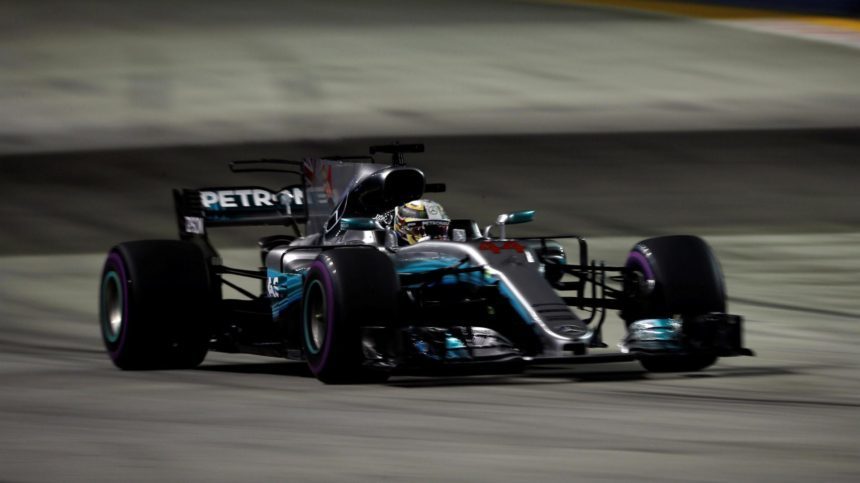 Qualifying for tomorrow's Singapore Grand Prix promised to shake things up a bit and it didn't disappoint. The narrative of Mercedes' dominance takes a backseat to their closest competitors: Ferrari and Red Bull. This comes as a bit of a surprise following the results of the Italian Grand Prix two weeks ago.
Ferrari's Sebastian Vettel sits up front, bouncing back from a disappointing performance at Monza. The German was only three-tenths of a second faster than Red Bull's Max Verstappen. As expected, the move puts Ferrari and Vettel in a prime position to reclaim the championship lead from Lewis Hamilton — a fantastic gesture for Vettel's 49th career pole.
Behind the Ferrari sits the Red Bull duo of Max Verstappen and Daniel Ricciardo. The two look to have fantastic pace for tomorrow's event, but getting past Vettel will prove difficult. While Verstappen edges his more experienced teammate, the two are more or less equal in lap times.
The sister Ferrari of Kimi Raikkonen takes home fourth also ahead of Hamilton, just under six-tenths behind Vettel. It will prove interesting whether Raikkonen can fend Hamilton off and challenge the Red Bull's ahead of him. Should the Finn be able to overtake both cars and keep the Mercedes behind, things will get interesting to say the least.
Mercedes' Lewis Hamilton and Valtteri Bottas sit on the third row — unfamiliar territory for the both of them. Mercedes lacks pace around Marina Bay's twists and turns as expected, with both drivers unable to challenge Ferrari or Red Bull. While unlikely, Hamilton will take solace in his advantage over Bottas who sits nearly seven-tenths behind.
Nico Hulkenberg secures seventh ahead of McLaren's Fernando Alonso. Teammate Stoffel Vandoorne sits behind the Spaniard in ninth, a surprisingly good result for the team despite the news of McLaren and Honda's divorce. Vandoorne continues to impress driving to position on a track he has never competed on. Assuming next year's package with Renault is a good one, all eyes will be on the Belgian driver.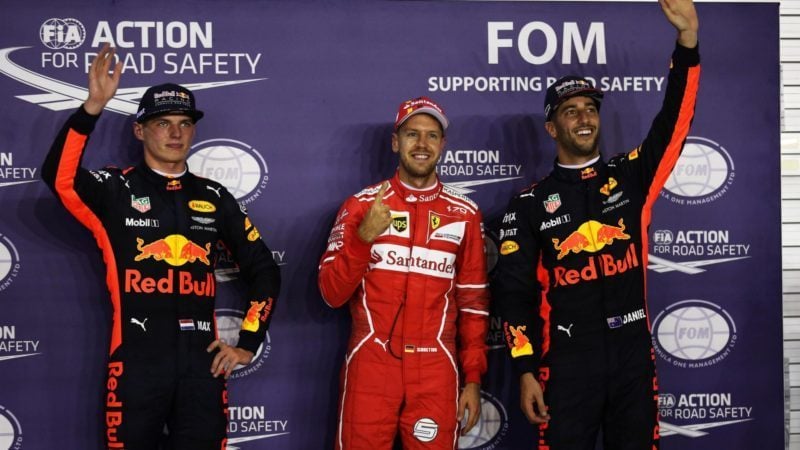 Carlos Sainz Jr of Torro Rosso rounds out the top ten, placing ahead of Renault's Jolyon Palmer by three-tenths. Aside from the surprising finish, the narrative of today's sessions appears to be close calls. Surprisingly, both Williams and Force India fell victim to relegation in Q1 and Q2, respectively.
Felipe Massa starts 17th following a difficult session during his final flying lap of Q1. Teammate Lance Stroll starts behind Massa, but ahead of Pascal Wehrlein of Sauber, who came into contact with the wall. Sergio Perez and Esteban Ocon had better luck, but only just. Starting 12th and 14th respectively, the teammates will no doubt move up the field but are unlikely to see similar results to Monza.
As ever, anything can happen tomorrow but as it stands Ferrari could take the championship lead back in commanding fashion.
More Posts On...