A lot of ink, both traditional and digital, has been spilled on the Alfa Romeo Stelvio Quadrifoglio. This will not be one of those reviews.
When there's a lineup topper so unanimously earning praise, there's the concern the magic might not spread to the cooking models. That's doubly the case with something like the Stelvio. A reasonably-sized crossover that isn't the top performance model? It runs the risk of blending into one the biggest, most competitive categories on the market.
That's why I've spent a few days with the Stelvio Ti Sport. Is it special enough to carve its own niche? Let's find out.
This review wouldn't have been possible without the kind folks at Alfa Romeo of Toronto. A big thanks to Sergiu for lending the Stelvio to us!
An Alfa Romeo crossover? Is nothing sacred?!
No — unless you're McLaren. The Stelvio arrived on the scene a few years ago. Just like the crossovers in other manufacturers' lineups, it pulls in a large percentage of the brand's sales, meaning, at least from a financial perspective, it makes a lot of sense. We've only recently welcomed Alfa back to this side of the Atlantic. We'd like it to stick around for a while.
Like others in its class, the Stelvio shares plenty of its bones with a more traditional car — in this case, the Giulia. That means the same all-wheel-drive chassis (rear-drive isn't an option in Canada) hooked up to a 2.0-liter turbocharged four-cylinder and an eight-speed automatic transmission. The little engine is good for 280hp and a steady plateau of 306lbft from 2,000 to 4,800rpm. Those are comparable figures to some V8 SUVs from less than 20 years ago, but it's a sign of the times that it comes across as merely adequate in 2019. Numbers can be deceiving however — more on that in a bit.
It's all wrapped up in a handsome package. Particularly so for our tester, which gets a deep, sparkly Volcano Black coat of paint and the bigger QF-alike 20-inch telephone dial wheels. There are some suitably Italian red highlights too: a little with the brake calipers, and a lot with the two-tone interior. It's a good-looking vehicle, not looking bulky like other crossovers, but still conveying an image of, well, utility. During our time with the Stelvio it received a healthy dose of approving nods, and no less than three people asking if it was for sale.
It's named after one of the world's best roads. Does it live up to the name?
The Stelvio is an insanely twisty road in the Italian Alps, featuring 75 hairpin turns. So it's important that Alfa's own Stelvio actually has an appetite for curves.
What strikes you first is the speed at which it gets to the twisty stuff. The Stelvio feels every one of its 280hp, with the plump torque curve, little turbo lag, and rear-biased all-wheel-drive shoving it down the road with a quickness. A 0-60mph time in 5.4 seconds is very quick for something tipping the scales at over 4,000lb.
What's more, it doesn't feel that heavy once the corners arrive. The wheel feels good in the hand thanks to thin, soft leather. And it's quick, so initial turn-in is positive, and the Stelvio follows that up with consistent weighting. It's balanced, never feeling aggressively front-driven even if the software decides to shuffle the power forward.
The eight-speed auto plays a big part here. The ratios are closely stacked, helping the Stelvio find the torque in the corners and yet waft around in top gear on the highway. You can leave the gearbox alone and it'll do a good enough job, but please, please use the column-mounted paddle shifters when you can. The long, slender, all-aluminum items are a tactile delight, not just to touch but to use. So many similar systems feel like glorified buttons, but Alfa's have more travel to them, giving a satisfying click with each pull. Pull! Pull!
Turn the DNA drive select knob to D — for "Dynamic", with "Natural" and "Advanced Efficiency" being the other options — and the Stelvio will hold gears for longer. The throttle pedal sensitivity increases too, and the steering gains just a hint more heft. This isn't a crossover that dabbles in sportiness: it's more of a bigger, heavier hot hatch, such is the enthusiasm the Stelvio displays.
It's a shame then that the noise coming out of its twin pipes doesn't quite match up. The turbo four is a bit of an enigma: on start-up and from inside the car it actually sounds quite good (if muffled), but can take on a bit of a dieselly note in the mid-range.
Okay, but is it really more useful than a regular car?
You'd be surprised. That stylishly curved rear means it's not as useful as something boxier, like a Volvo or Land Rover. But the volume (525 liters) isn't far off, and it stretches out with the second row folded nearly flat. Case in point: I helped my better half pack up all her hand-made soap supplies for a Toronto "shop local" market. (That must be the single most inner-city hipster sentence I've written in all my years here, but I digress.) The Stelvio swallowed everything, including her eight-foot table, with only a slight move closer to the dashboard for her and I.
Admittedly, if Alfa were to build a wagon version of the Giulia it could conceivably do the same. But the market would undoubtedly ignore it.
The added right height and standard all-wheel drive does give it more versatility than your average sedan. The former has other benefits too: ingress and egress are that much less stressful when the seat is right at hip level.
And that red interior?
I'll admit, I was worried it'd be a little too Tony Montana try-hard. But I'll be damned if the Stelvio didn't feel like a special event each and every time I got behind the wheel. The red isn't absolutely everywhere, so it sort of fades into the periphery. Plus, it's not quite as intense as pictures might make it seem. The leather feels as good as it looks, something most of the interior accomplishes; the cheap-feeling plastic around the shifter base is the exception.
The seats are aggressively bolstered for a regular model, and those of larger builds will not like it. I loved how the seats hugged me in place during spirited cornering. The driver's seat is massively adjustable too, including lumbar support, so at the very least you should be able to find a comfortable setup when behind the wheel.
The interior design is clean and understated. I'm a big fan of the integrated infotainment screen, which blends seamlessly with the dash and features a high pixel count. That said, it's cumbersome to use, with the rotary dial in the center console requiring lots of focus, especially as there's some lag to the onscreen menus. I stuck to Apple CarPlay for all music and navigation needs — which all came through crystal clear from the 14-speaker (!!!) Harman Kardon sound system.
While the infotainment might be behind the curve, the Stelvio features the full complement of modern safety features, including dynamic cruise control, lane departure warning, and cross-path detection.
Who is the Stelvio for?
Have you seen the number of luxury brand compact crossovers roving the streets? The Stelvio's looking to get in on that, trading on its emotive Italian sense of occasion.
Look for the upwardly mobile who value the badge on the nose just as much as what the rest of the car is capable of. That's not a slight: it's an acknowledgement of fact. In this arena, at this price, pure practicality is not the deciding factor.
What could they buy instead?
There are quite a lot of options, all well-established. The usual German trio for starters, in the shape of the BMW X3, Mercedes GLC and Audi Q5. All three offer a six-cylinder trim that comprehensively outguns the Stelvio to the tune of 70hp or more for what appears the same price. But to really match it spec-for-spec requires diving into the options list, and that can add up quick.
Stick with four cylinders and the Ti Sport, all else being equal, still costs more. It does feel comprehensively more sporty than any of them at this level, however. There's also something to be said for picking the left-field option.
The Stelvio's got some company out there too, with two Japanese members and a Swede. Infiniti's new QX50 boasts a trick variable-compression turbo engine, with nearly the same power figures as the Alfa but considerably better gas mileage. It does only come with a CVT, though. Acura's RDX is looking quite sharp these days, and for Ti Sport money the whole lineup is up for consideration. Then there's the Volvo XC60. It too features a 2.0-liter turbo, plus a supercharger in T6 guise. The hybrid T8 stretches well into the $70k range if you want even more power and fuel mileage.
Looking for something sporty? The Jaguar F-Pace and Porsche Macan are the non-QF Stelvio's sternest rivals on that front.
What's the conclusion?
Despite the claims of practicality — valid or otherwise — this isn't a car people will buy for its usefulness, at least not exclusively. From a sheer numbers perspective something like a RAV4 Hybrid does 85% of what the Stelvio does. It has the space, it's fast enough to handle any regular driving needs, and it pulls vastly better fuel mileage figures. All for two-thirds the price.
But none of that matters. People buy an Alfa Romeo because they want an Alfa Romeo. That used to come with the expectation of a temperamental, I'll-do-what-I-want-when-I-want attitude, but the Stelvio isn't that sort of car. It's for those that need a vehicle that puts more of an emphasis on utility without being a slave to it. It needs to make a statement: "I haven't given up on having fun."
Crucially, the Ti Sport accomplishes that. Sure, it lacks the headline-grabbing performance of big brother Quadrifoglio. But that's essentially a six-figure car at this point — a whole other world in terms of its mission statement.
In the mid-range luxury crossover battleground, the Stelvio stands out. It's a good-looking, strong performer with a serious sense of occasion — a colorful, punchy Caprese salad in a sea of schnitzel.
Verdict:
Alfa Romeo Stelvio Ti Sport
An SUV with a focus on that first letter. Pricey, but feels special in contrast to pretty much everything else.
Learn more about
how our rating system works
.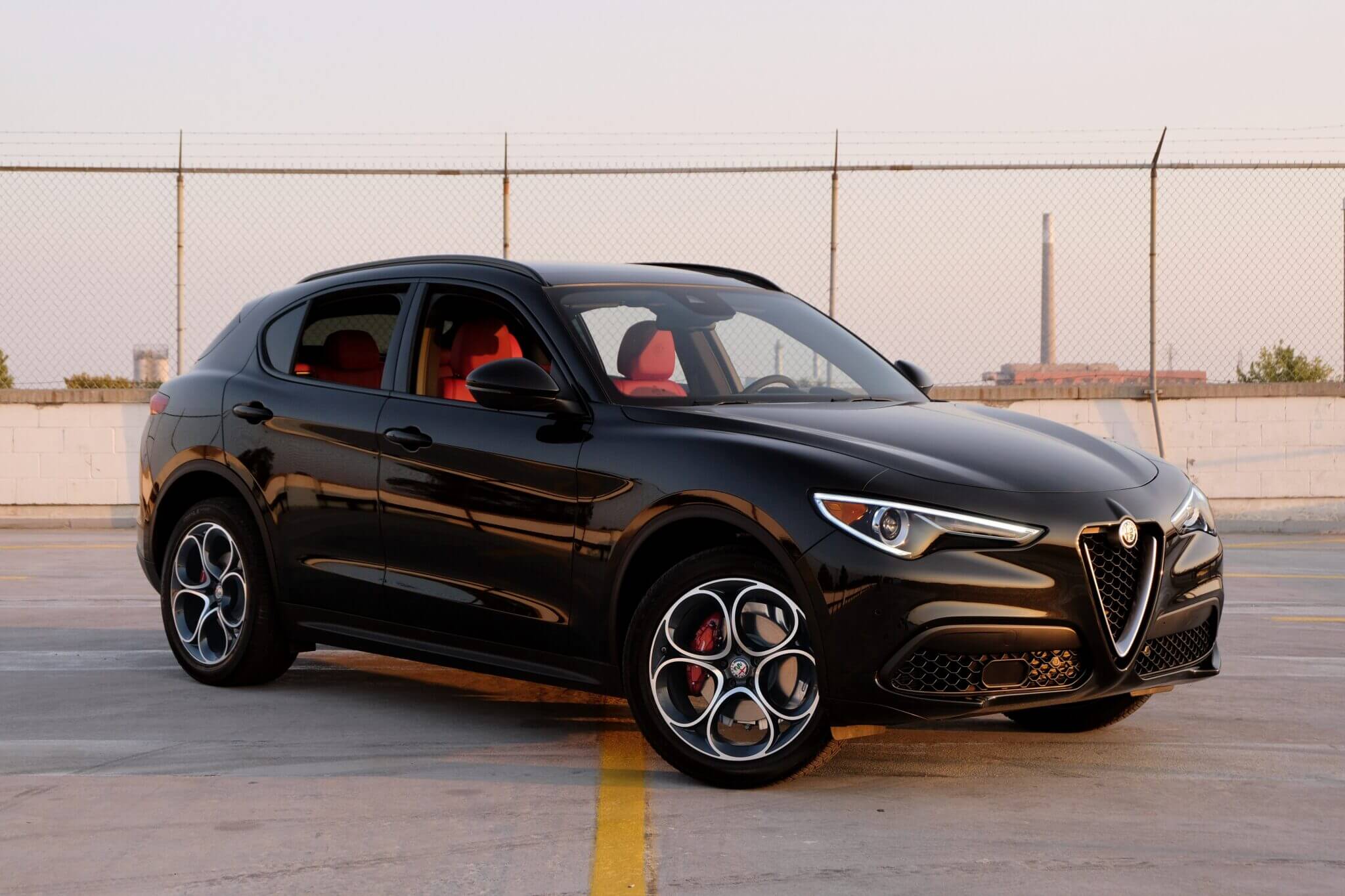 Quick Facts
Engine
2.0-liter petrol I4
Power
280hp (284ps, 209kW)
Layout
Front-engine, all-wheel drive
0-60mph
5.4 seconds (mnfr. quote)
Top Speed
144mph (mnfr. quote)
Price As Tested
$68,005 (CAD)
See more articles on Review and Road Test Review.