All eyes may be on the Geneva Motor Show this week, but Hyundai's brought a little bit of the spotlight to Seoul with this, the all-new 2020 Hyundai Sonata.
Yes, it's really a Sonata — and quite a departure from the conservative current model. Hyundai calls the new design language "Sensual Sportiness", a look it previewed last year at Geneva with the Le Fil Rouge concept. It harkens back to the sixth-gen Sonata, if not in design then in intent. When Hyundai released that car back in 2010, many praised it for its daring design. The new 2020 model should cause quite a stir too…
It starts up front, with the now-familiar chrome strip running from the headlights all the way to the side glazing. The headlights no longer run parallel to the strip this time however. Oh, and the chrome lights up.
Hyundai calls it Hidden Running Lamps. The front-most portion of the strip is chromic material, letting it illuminate with the rest of the DRLs when on, or blend in with the rest of the strip when off. The feature gives the Sonata a unique visage at night. The "Digital Pulse Cascading Grille" — Hyundai's words, not ours — also emphasizes the width of the car.
The new Sonata is genuinely wider than the car it replaces too, by just about an inch. It isn't bigger in every dimension though: width and wheelbase grow by 1.0 and 1.4 inches, respectively, but height is down over the last car by 1.2 inches.
Hyundai's adopted a coupe-like silhouette for the Sonata, extending the roofline far back in profile. The general shape may be Audi A7-like, but it retains a traditional trunk. Out back are taillights that share more than passing resemblance to the Honda Civic — though here, Hyundai's put the de rigueur full-width lamp below the boomerang-shaped lights instead of up top.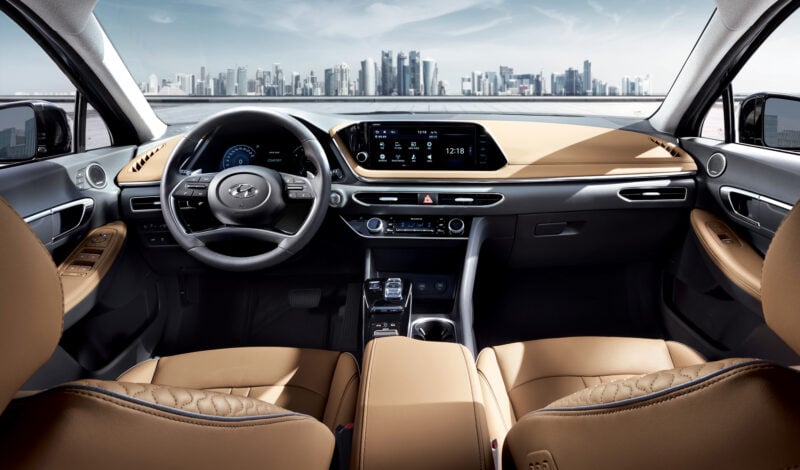 We've also got a glimpse of the new Sonata's interior. Hyundai says the instrument panel's winged shape is "inspired by a Stealth aircraft". How much that's obvious is up for debate, but it looks like a pleasant enough space to be in.
Hyundai hasn't revealed engine details yet. We expect the 2020 Sonata to largely mirror the current model, meaning a lineup of four-cylinder engines including turbo and hybrid options. Is it too much to hope for an N version?
The 2020 Hyundai Sonata will debut at the New York Auto Show next month. Expect more details on it there.
More Posts On...