The press days are over, the manufacturers have revealed all they're going to reveal, and now it's the public's turn.
Geneva's International Motor Show is open to the public for the next ten days. If you're nearby, the show is on from March 8-18, at the Palexpo center next to the city's airport.
With so many new cars on show, it'd be easy to get a bit overwhelmed. Showstoppers like the Ruf SCR, four-door Mercedes-AMG GT and Rimac C_Two take many of the headlines, but there's so much more besides.
With that in mind, we've put together this shortlist of nine other cars that should be on your schedule — plus one other car that you'll thank us for warning you about…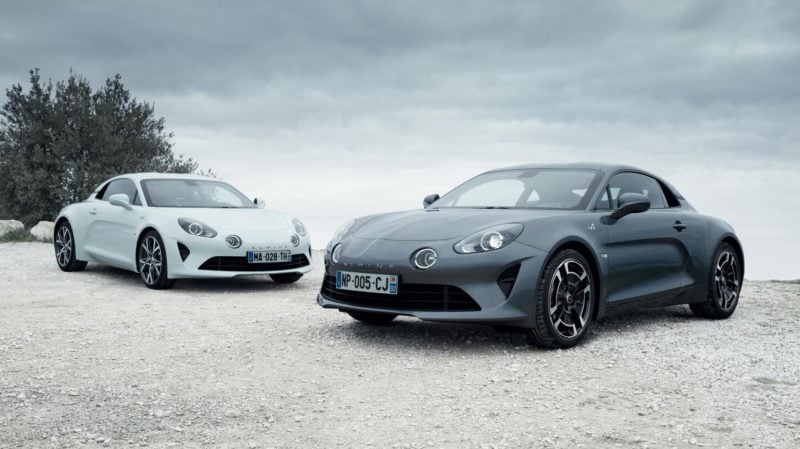 Alpine: A110
Alpine revealed the A110 at last year's motor show. The small coupe has made a bit of an impression — Gordon Murray, the creator of the McLaren F1 has bought one, and he knows a thing or two about good cars. Alpine has brought it back for 2018 in three new forms.
The first two are road cars. Each represents a slightly different aspect, with the Legende version more akin to a comfortable cruiser and the Pure model is more of a lightweight model. The Pure borrows a lot from the special Premiere edition, a run of 1,755 specials to celebrate the car's launch. This includes the lightweight sports seats.
The third flavor is an actual race car. Alpine and Signatech will campaign the A110 GT4 in eligible races this year, before making it available to customers in 2019.
Audi: e-tron
The e-tron name has been doing the rounds for a few years. It's always been a byword for Audi's steps towards electrification, but now it represents the brand's first all-electric model.
It's still a prototype for now, in an unusual camouflage not too far removed from the race livery of one of its sister brands, but it's close to a production bow. The $80,000, five-seater should hit the market later this year.
If you fancy something a bit more flighty, the Audi stand also hosts the Pop.Up. This collaboration between Audi, Italdesign and Airbus is part city car, part quadricopter. Yes, we know, but it wouldn't be a motor show without at least one flying car.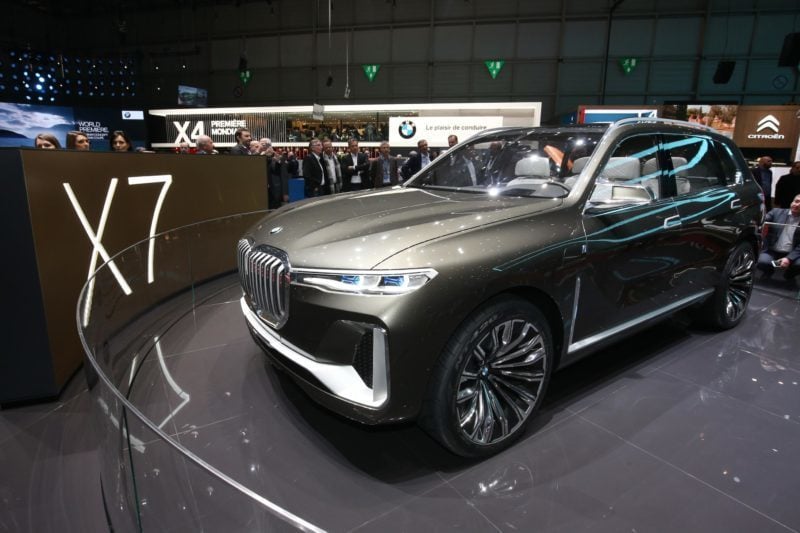 BMW: X7
It might not seem like it, but the X7 could be one of BMW's most important cars. Although the brand does a good line in SUVs, it's been missing a true, luxury, three-row model. The X7 should change all that.
Although the car at Geneva is a concept, production of the real thing is well underway, at Spartanburg in South Carolina. When it does come to market later this year, this behemoth will be a shot straight at the Mercedes-Benz GLS and Range Rover. Expect to see fleets of them carrying a diplomat's protection detail soon. And the staff car park of football grounds around the world.
Of course while you're looking over the X7, you've got a good excuse to slip over to the fabulous M8 Gran Coupe Concept.
Chelsea Truck Company: 6×6 Civilian Carrier
We like cars that do what they say on the badge. This particular vehicle is a six-wheel drive truck made in Chelsea and designed to carry up to nine people. It doesn't get much clearer than that.
Underneath, this 6×6 is a Land Rover Defender 110. The Chelsea Truck Company — and Kahn Design — adds three feet to the length and an extra axle so it's not all hanging off the back. Locking differentials allow you to use as many or as few of the wheels as you like, while you and eight friends ride roughshod over almost any terrain in relative opulence.
The whole thing will set you back $350,000.
Corbellati: Missile
You can't have a motor show without some niche supercar claiming other-worldly numbers. So, here's Geneva's: The Corbellati Missile. And the numbers? Well, the Missile has a nine-litre, twin-turbo V8, good for 1,800hp and a claimed top speed of 310mph.
If you're not familiar with Corbellati, it's a name better known for art, design and jewelry. The family is taking the principles of those disciplines into car manufacturing. It's certainly pretty enough, like a 1960s Le Mans car, and Corbellati claims it has spent months honing the aerodynamics for that impressive speed claim.
File under: We'll believe it when we see it.
Hyundai: Le Fil Rouge
Hyundai's rather cryptic name for this concept car hints at its purpose. French for "the common thread", the car is a design concept intending to show Hyundai's design language throughout the years, updated for today. Hyundai refers to the modern form as "Sensuous Sportiness"; set phasers to cringe.
In fact the brand has already used some of the design themes of the car on cars like the Kona, Nexo and updated Santa Fe. All three models are also at the show, fortunately alongside the i30N hot hatch.
Porsche: 911 GT3 RS
Since the GT3 RS leaked a few weeks ago, it's been a little bit overshadowed. Nevertheless, it makes an impressive — and colorful — centerpiece to Porsche's stand.
The 513hp, four-liter engine is the most powerful naturally aspirated mill Porsche has ever made. Paired with the lightweight GT3 RS chassis, the car will hit 60mph in three seconds, and run up to 194mph. It retains the rear-axle steering of its predecessor too.
Porsche is also showing off its Mission E Cross Turismo concept, which is worth a look for the giant blue wheels alone.
Ssangyong: e-SIV
Like many brands, Ssangyong is looking towards electrification. The e-SIV is a concept model for the brand's first full-electric car, due in 2020.
A petrol model is due first, in 2019, replacing the Korando. The electric model will show up shortly afterwards. The e-SIV concept at Geneva uses a 61kWh battery pack to drive a 187hp motor, with a 280-mile range. It also features autonomous driving features, to Level 2 — similar to current autopilot systems.
When it makes it to market, it will be the only battery electric vehicle in the hugely popular C-crossover segment.
Toyota: Supra
This may be a "Racing Concept", but Toyota's stand gives you the first glimpse of the next Supra. It's been in development a little while (and might look a little familiar to Gran Turismo players as a result), but it's not far off joining the GT-R and NSX as '90s JDM royalty reimagined for the present day.
The racing version shows what the Supra would look like with Gazoo Racing's expertise, possibly as a GT3 or GTE racer. The road car, codeveloped with BMW, will be a little while yet, with rumors of a late 2018 reveal. For now, you'll have to imagine the pumped-up bodykit away.
Less flashy, but no less important, Toyota also shows off the new Auris at Geneva. The last car wasn't all that interesting to look at, but the new one verges on pretty. It's one of Toyota's mainstream models in Europe, so may signal a new direction for the brand.
One to avoid…
This is the Sin S1, and to be honest we're not entirely sure what's going on here. Sin says it's a "modular" car, by which it means you can swap body parts in and out. Fancy a convertible? You can have a convertible. Prefer a coupe? You can change it into a coupe.
We can't quite shake the feeling that whatever body you choose, it's going to be a hot mess. Perhaps that's just down to Sin demonstrating every possible body panel at once…
More Posts On...