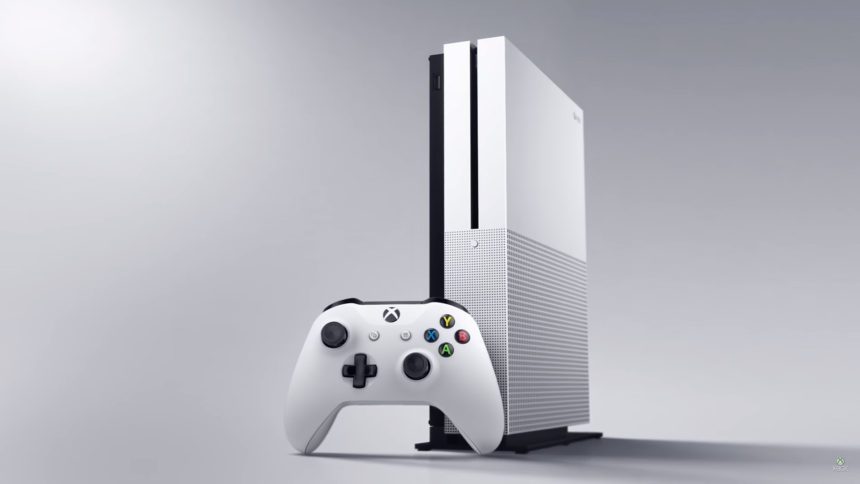 Microsoft confirmed the long-rumored slimmed down variant of the original Xbox One, named Xbox One S at E3 last month. Today Microsoft – more specifically Xbox Live's "Major Nelson" – have announced that the 2TB launch edition console will begin hitting store shelves in select regions on August 2nd.
The slimmer model will be 40% smaller than the original and will abandon the bulky 'power brick', opting for an integrated power supply. This is in addition to an integrated IR Blaster and vertical stand, finally giving the option of how to display the console. Keeping with the improved design, the USB port that was on the left side of the original console has been shifted to the front for easier access.
When the slimmer Xbox releases next month it will be the only console available capable of displaying movies in 4K Ultra HD with HDR (High-Dynamic Range). HDR support will extend to games as well, expanding the contrast ratio allowing a greater range of lights and darks, in addition to an improved color palette offering a more realistic, natural image.
Xbox One S will come bundled with the new wireless controller outfitted with textured grips, increased wireless range and Bluetooth connectivity. The addition of Bluetooth connectivity will allow the controller to wirelessly connect to a Windows 10 PC with the upcoming Windows Anniversary Update installed.
The controller can be purchased as a standalone addition for $59.99 USD and will also release on August 2nd. Users wanting a more personalized approach can opt to customize their own controller using the Xbox Design Lab, though the customized pads won't ship until September.
Stressed by Xbox Head, Phil Spencer, at E3 and again reiterated today, all Xbox One games, accessories and Xbox Live services will work with the One S, just as they will with Project Scorpio when it releases in Holiday 2017.
The 2TB launch edition Xbox One S releases on August 2nd for $399, and for those looking for additional storage options, there will also be a 500GB and 1TB console packages available at $299 and $349 USD, respectively. Details on the two will be made available at a later date.
More Posts On...
The original comments for this post are no longer available.