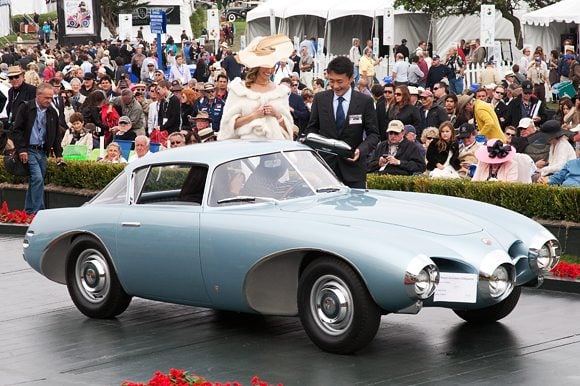 For the third consecutive year, Kazunori Yamauchi has been invited to the prestigious Pebble Beach Concourse d'Elegance to present the Gran Turismo Trophy – an award "to support those who make efforts to preserve irreplaceable, precious automotive culture for future generations to come". This year, it goes to the one and only 1952 Abarth 1500 Biposto Coupe in existence – an unusual, quirky, and significant car. From the official announcement:
Designed by master designer Franco Scaglione, working for Bertone at the time, the Abarth 1500 Biposto boasted not only a mix of strong character and unique style, but first-class aerodynamics as well. The eye-opening triple headlights and the carved out features of the front and rear fenders gave it its own unique look, while the shape of the rear featured hints of the coming of the popular tailfin design. The overall design later proved to produce superior aerodynamics in wind tunnel testing, thanks in part to Scaglione's previous study of aeronautical engineering. Scaglione was later credited for having "anticipated the flow of air" way back in the 1950s.

There was only one Abarth 1500 Biposto manufactured, and it was shown in the 1952 Torino Auto Show. After that it was purchased by Packard of the United States, and it disappeared from the public's eye. This historically significant car was restored to perfection by Chris Drake of the United Kingdom, and brought to the United States to appear at the 2010 Concours de Elegance in Pebble Beach where it took home the Gran Turismo Trophy.
Read more on the car's fascinating history right here – it was regularly used by its previous owner to pick up his children from school!
It is likely – though not guaranteed – this little Abarth will be coming to a Gran Turismo game near you. The 2008 winner – a 1967 Lamborghini Miura P400 Bertoni Prototype – was just confirmed for GT5 at Gamescom 2010. Last year's winner, a 1965 Alfa Romeo TZ2, has yet to be seen…