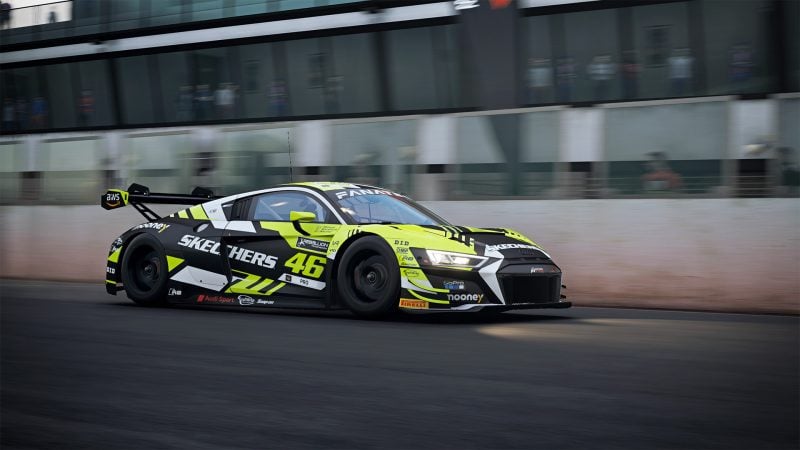 With console fans still eagerly awaiting the major v1.8 update for Assetto Corsa Competizione, which arrived on PC back in November 2021, publisher 505 Games has offered a progress report.
A blog post on the game's official site has detailed what's going on with the PS5 and Xbox Series version of the update — which will not be available for PS4 and Xbox One — and when fans can expect it to arrive.
The bad news is that it'll be close to a year behind the PC version, with September lightly penciled in as a target, and the DLC from March 2022 to follow on a couple of months later.
Ultimately, the issue with the delay comes down to the process of converting the significant detail changes in tire physics in 1.8 — one of its most important features — to the ported version of the game.
According to 505 Games, Untold Games is handling the conversion process, as it did for the ninth-gen console version of ACC. Fans may recall that d3t handled the eight-gen console port.
The process of implementing the PC physics update to the PS5/XBSeries console ports is seemingly not a simple task. In order to make sure each car behaves as it ought, Untold is assessing each car, each tire, each corner, and each surface individually.
That means it needs to take every possible car on every possible tire around all of the tracks, including run-off areas and curbing, in all weather conditions, to ensure the experience is consistent.
This surprisingly piecemeal approach adds significant development time, and the result is that it's difficult for 505 Games to provide a precise date for completion. At the moment, the publisher is estimating that v1.8 will arrive "by the end of Summer in September".
Untold is working on the core game first and, once that's finished, the DLC cars and tracks will follow. That means the Challenger Pack DLC currently has a ninth-gen console launch window of November or December 2022.
See more articles on Assetto Corsa Competizione DLC.