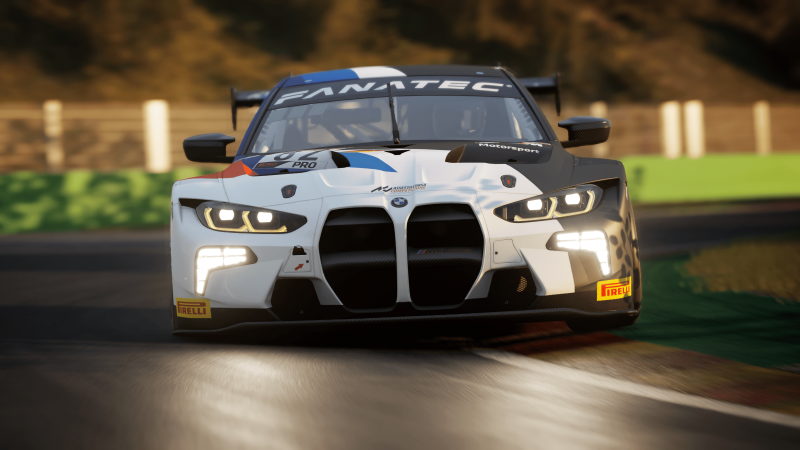 Kunos Simulazioni has confirmed update 1.8 for the PC version of Assetto Corsa Competizione will arrive Wednesday, November 24 and will include the 2022 BMW M4 GT3 as free DLC.
Coming in to replace the V8-powered M6 GT3, the new M4 is lighter and more powerful before BOP. Its turbocharged 3.0-liter straight-six engine delivers 590hp, 10 more than the outgoing V8, while it also saves 88lb (40kg) in weight.
Perhaps the coolest thing in the M4 GT3 though is the steering wheel. Developed in collaboration with Fanatec, it is the first of its kind able to work in both a race car and on a simulator rig. It's unsurprisingly a little on the expensive side, as the Podium Wheel BMW M4 GT3 costs an eye-watering $1400 but it does mean you get as close to driving the real car as possible without actually setting a wheel to tarmac.
For those who have a slightly less expensive taste in wheel peripherals, the update will also bring full native integration for Thrustmaster's SF1000 wheel. This replica of the wheel used in Ferrari's 2020 F1 contender sports a large, central LCD screen which displays in-game information, and update 1.8 will add ACC to the list of titles that the screen fully supports.
That won't be all that's included in the update though. Naturally, physics engine and tire model updates also make the cut, though there aren't any specific details on what's changed or improved at the moment.
However one particularly interesting detail in the update is support for Nvidia's DLSS (Deep Learning Super Sampling) and AMD's FSR (FidelityFX Super Resolution).
DLSS uses AI image reconstruction to produce image quality that's comparable to native resolution, if not better, all the while using less horsepower in the process. The result, as the video above shows, leaves players with a smoother, higher fidelity gameplay experience with no discernible loss in graphical quality, though to do so requires an Nvidia RTX 2000 or 3000-series GPU.
FSR also sets out to boost performance at high resolution, but goes about it in a different manner. It works by rendering the scene at a lower resolution and uses spatial upscaling to make the game look like it's running at a higher resolution. While not as good as DLSS, it isn't a proprietary format and doesn't require a specific GPU as a result.
Console players will have to wait a little longer for ACC's 1.8 update, though it looks set to only come to next-gen devices. The M4 GT3 will launch alongside the next-gen Xbox Series and PlayStation 5 versions of the game on February 24, 2022, likely with the Lamborghini Huracan Super Trofeo Evo 2.