Assetto Corsa Competizione players will soon have a new toy to throw around the track in the form of the Lamborghini Huracan Super Trofeo Evo 2.
The good news comes directly from the official Assetto Corsa website, which confirms the car's future appearance, while also revealing that some fans will get to have a preview hands-on with the car this weekend.
It comes as part of a celebration event hosted by Lamborghini itself, known as the Lamborghini Super Trofeo World Finals. This is a special festival dedicated to the Lamborghini Squadro Corse race team, as well as playing host to the final of the Lamborghini Super Trofeo series. It sees the drivers from the three different continental championships — Asia, Europe, and North America — race off to be crowned overall champion.
This year's event is the eighth ST World Finals, and it will see a guest appearance of sorts from the brand's own esports series, known as "Lamborghini The Real Race".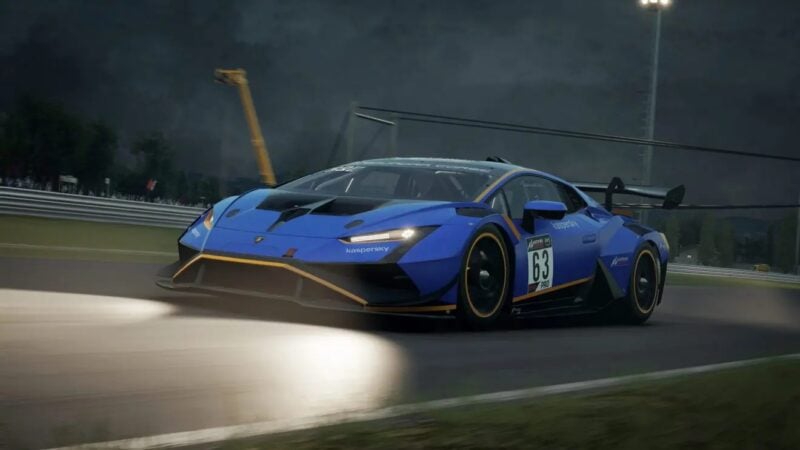 Invited guests and participants at the World Finals event, at Misano World Circuit Marco Simoncelli, will be set a challenge. They need to drive the Evo 2 car in a hotlap competition on a dedicated build of ACC as fast as they can, with the aim of beating the real drivers racing around the real Misano.
At the end of the day, the player with the best time can meet the driver and take a lap around the venue in the real deal.
Making its public debut on May 28 in Le Castellet, the Evo 2 has the same powertrain as the regular Huracan, receiving power from a 5.2-liter V10 engine sending 612hp to the rear wheels. However the reworked aero gives the car more of a sinister appearance over its Evo predecessor, and the new car will be sure to set venues ablaze when it debuts next year.
Kunos Simulazioni hasn't set a date in stone for the car to become available in ACC, however it has made specific mention only of the PC and PlayStation 5/Xbox Series version of the game — with no word on a possible PS4/XB1 release. That likely suggests the car will debut alongside the "next-gen" release on February 24, but we'll bring you more as we get it.