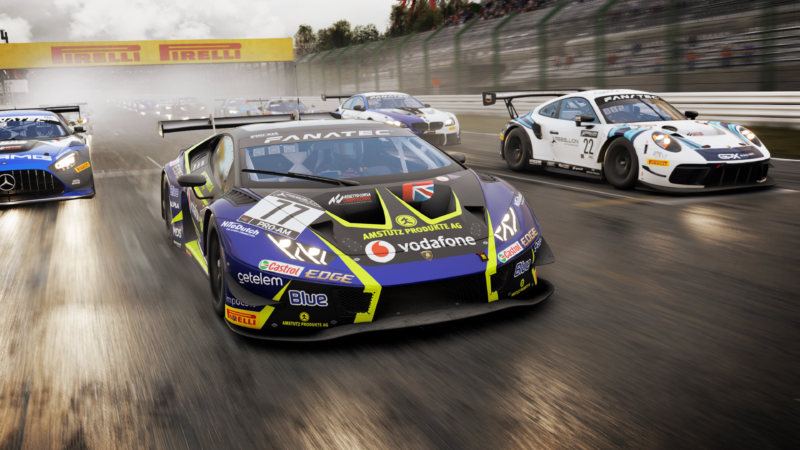 Assetto Corsa Competizione is to get a dedicated new-gen console upgrade version early next year, as Kunos Simulazioni brings the official game of the GT World Challenge to PlayStation 5 and Xbox Series consoles.
Available as both a digital and physical release, the "ninth generation" version of ACC will launch on February 24, 2022 — and there's some good news if you already own the title on eighth-gen machines. Both PlayStation 4 and Xbox One owners will be automatically upgraded to PlayStation 5 and Xbox Series respectively, free of charge.
In addition, you'll be able to take your existing game save and any of the game's DLC you've purchased with you when you upgrade — so you can pick up where you left off.
For players new to the console version, you can pick up the PS5/Xbox Series version as a standalone in one of two forms. Along with the base game there's also a Day One Edition which includes the 2020 World Challenge DLC pack. That adds the Ferrari 488 Evo and Mercedes-AMG Evo, the Imola circuit, and the Pirelli DHE tire model as well as the official 2020 liveries. The updated 2021 liveries are included with both versions.
As you'd expect, the new version of the game uses the additional graphical and processing power of the new-gen consoles to deliver a frame rate of 60fps, across all three consoles. That had been something of an issue with the PS4/XB1 versions, even on the more powerful Pro and One X machines.
Though the pre-release gameplay video above is running at 1080p, official notes say that ACC will run 4K resolution — we can't say yet what the resolution will be on Xbox Series S. However we can say that Kunos has definitively ruled out ray-tracing on the basis that it's not particularly noticeable while driving and reduces the frame rate significantly.
Players hoping for VR support to come to consoles will have to wait too, as the ninth-gen version won't support this feature either. However the pre-release gameplay videos you can see above do show an increase in the number of vehicles on the grid — up from 20 to 24.
In addition, console players will gain the ability to create their own custom private lobbies for the first time — a change that won't be reflected on the PC version.
One piece of good news that does apply across all platforms is the impending arrival of the BMW M4 GT3. This car, which notably uses a Fanatec sim racing steering wheel, will come free to ACC at some point towards the end of 2021 or early 2022.
In addition, Kunos has teased a new DLC pack coming at around the same time, featuring 6-7 "very different cars" which race "under the SRO competition umbrella". While that's not confirmed just yet, it would seem to suggest the cars of the GT2 European Series, which runs as a support series to the GT World Challenge Europe.
If that wasn't quite enough, Kunos also confirmed that it's looking at bringing at least one new track to the game from North America — joining Laguna Seca from the 2019 Intercontinental GT Pack DLC. Watch this space for more.
The ninth-gen console version of Assetto Corsa Competizione will launch on February 24, 2022, and is available to pre-order now.