Various alluring exotics from the automotive world have been presented at the ongoing 2017 Geneva International Motor Show, one of which is the gorgeous 2017 Alpine A110. The manufacturer already announced the car's presence at the show last week, but the next major step has now been taken with the reveal of the A110's technical specifications.
The A110 adopts a mid-engine, rear-wheel drive configuration. Using 96% aluminium bodywork resulted in a curb weight of only 2430 lbs. In spite of having its engine located behind the driver, the weight distribution hasn't shifted very far from the ideal balance, with a ratio of 44:56 mainly thanks to the fuel tank which has been installed at the front end of the car.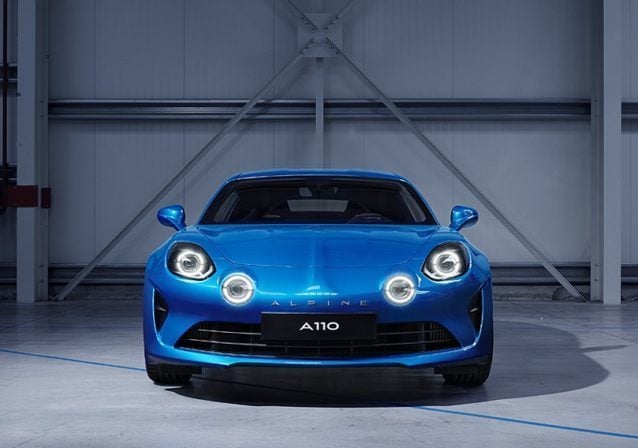 The A110 won't fall short of power either. Powered by a 1.8 litre turbocharged four-cylinder engine, it will muster 252 hp and 236 ft-lbs of torque via a seven-speed dual-clutch Getrag gearbox. These stout figures will allow the car to fly from 0 to 60 mph in 4.5 seconds, and hit a top speed of 155 mph.
Drivers will be able to tweak the car's characteristics through three modes (Normal, Sport, and Track). In order to keep the car planted, Alpine has fitted Michelin Pilot Sport rubbers wrapping 18-inch wheels (future entry models will have 17s as standard).
The A110 will be available in three colors (blue, white, and black). Prices will range from €50,000 to €60,000. A total of 1955 special "Premiere" editions assigned to the European market have already been spoken for. First deliveries should commence late 2017. Once it appears on the market, the A110 will battle with the Porsche Cayman and the Alfa Romeo 4C.
President of Polyphony Digital Kazunori Yamauchi attended the public unveiling of the Alpine Vision — from which the A110 is derived — last year in Monaco. Considering the close relationship Polyphony Digital has with Alpine, maybe the A110 is already on its way to join the pack of cars in Gran Turismo Sport (perhaps even as a part of the upcoming beta).
Stay tuned for more news from the 2017 Geneva Motor Show!
See more articles on Alpine and Geneva Motor Show 2017.