They say good news comes in threes. You've already read the headline, so here it is: a GT Sport beta is in fact coming, and soon too.
The big news comes from Kazunori Yamauchi himself, as posted just now on the PlayStation blog. It follows the one-two punch of the Fittipaldi EF7 Vision Gran Turismo and the partnership with Tag Heuer as the official timer of GT Sport.
There are some important distinctions to be made since a beta was first ear-marked way back at the initial unveiling of the game (and then quietly cancelled last May). Firstly, this will not be an open beta available to anybody with a functioning PlayStation 4: it will initially be open to select US PSN ID's only.
Those in other regions are urged to sign up for future updates. Sign up here if you're a US players, or click here for the EU, which will be part of Phase 2 of the program.
Why the about-face on the idea of a beta? In Yamauchi's own words, it's about getting the best sort of feedback for the development team:
"As with most BETA programs, in order for the development team to capture data in an optimal manner, the sample size needs to be increased gradually and in stages. While we begin to roll out the BETA, we have decided that the time differences across the U.S. are best matched to the development team in Tokyo."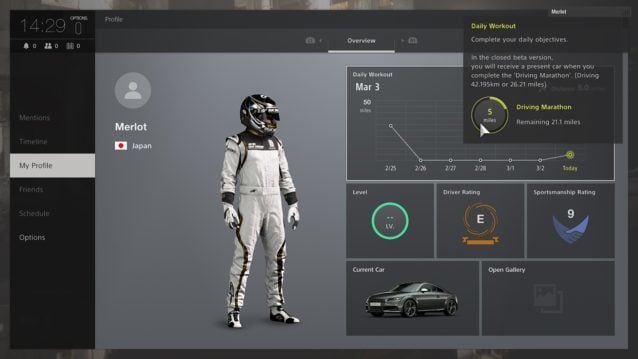 The beta will offer GT fans their first look at the Driver Profile that is integral to the game's eSports focus. The combination of Sportsmanship and Driver Ratings (detailed in our article here) will track player's behaviour and general skill level respectively, ideally offering balanced, close racing action no matter where you land on the spectrum.
Cars and events will be rotated out on a regular basis, offering players a variety of experiences. During the early stages, the beta servers will be open at specific times for those lucky participants. Polyphony Digital promises to share these times closer to the release, which is only a week away — so there won't be a long wait for that.
The teaser trailer gives away little: while it utilizes the series' classic "Moon Over the Castle", the accompanying visuals have cropped up in earlier videos. No word yet on what the beta itself will contain, but we anticipate a few surprises.
The beta is expected to grow in size as it develops, opening up to more people and regions. Phase two will focus on Europe, which has long been the heartland in terms of Gran Turismo series sales. Stay tuned for more details on what the beta will contain!
Gran Turismo Sport is scheduled to launch later this year on PlayStation 4.
See more articles on Beta Testing, GT Sport Beta, Kazunori Yamauchi, and Polyphony Digital.