Italians and Americans make some wonderful things together.
From the obvious food connections, there's great Italian-American actors like De Niro and Pacino, singers like Liza Minelli, and noted physicist Enrico Fermi. The Jacuzzi was invented by an Italian-American family of the same name which originally made aeroplane propellers. There, that's a thing you know now.
There's few things more American than Jeep, but even here the Italian influence shows. This week we've been driving a Jeep that's actually made in Italy, the Renegade.
It's made in Italy?
Yep. See, Jeep is now part of the large FIAT family, or officially "Fiat Chrysler Automobiles" (or FCA for short). This includes Jeep, Chrysler and FIAT, obviously, but also brands like Abarth, RAM, Alfa Romeo, SRT, Lancia and Maserati. It sort of includes Ferrari too, but these days Maranello is enjoying a bit more autonomy.
By and large, this doesn't affect much, but the Renegade is a bit of an edge case. It's a Jeep product, but it's based on the FCA "small wide" platform. That means it's pretty much the same car underneath as the FIAT 500X crossover, and relatively close to the 500L people carrier. It's built in the same factory as the 500X, near Potenza in southern Italy.
What's new then?
What's new? It's Jeep's first entirely new product line in over a decade.
It's the smallest Jeep currently available — it's a little longer than the Wrangler, but not as wide and far lower — and essentially hits the "city SUV" market.
As well as the European chassis, it has a range of European engines, straight from FIAT. That's 1.4 and 1.6-liter petrols and 1.6 and 2.0-liter diesels. They're even equipped with manual gearboxes, if you like that sort of thing.
But it's still a Jeep at heart. That means that four-wheel drive is available across the range, although our car is a "4×2". This seems to be Jeep (or FIAT) terminology for "front-wheel drive until you need four-wheel drive". It lowers the car's price and improves the fuel economy, but it does come at the expense of a little of that ability to get into the green stuff.
Okay, so how does it drive?
Firstly, you need to temper your expectations somewhat. This doesn't sound like a great start, but let's look at the evidence: the Renegade is a tall, boxy, SUV with a definite focus on its ability to get far, far off the beaten track. It's not a sports car, it's not a luxury car, and dedicated off-roaders can feel less than ideal when they're on the road, which is where you'll spend most of your time.
That said, the Renegade is something of a pleasant surprise. A lot of the UK's roads resemble rocky paths at the best of times, and around town the wee Jeep does a pretty decent job of keeping potholes and dodgy asphalt repairs away from your spine.
It's pretty relaxed on a good cruise too. We chalked up around 400 miles on the motorway and the Jeep dealt with it with ease. The only real weak spots were a bit of wind noise, and a slight fuss when it encountered a rippled road surface. We did notice less road noise than with the full-time four-wheel drive version we had last year too.
The Renegade is even a fairly nimble car. That's almost certainly down to the size; at a hair under 14 feet, the Renegade is the same length as a Volkswagen Golf. Again, it's a decent thing to be in around town, but it's not quite as good on an open road as some of its class rivals.
There is a certain uncertainty to the suspension as it initially loads up and it's not helped by wishy-washy steering about the center position. However, once the car has cottoned on to the idea of tackling a bend, it sorts itself out and grips well enough.
Jeep is famous for its ability off the road though. The Renegade certainly looks the part, with a ruggedized exterior and the classic seven-bar fascia (more on this later), but your experience will entirely depend on which version you get.
We've previously driven a full-time four-wheel drive Renegade, following in the wheel-tracks of a Wrangler over the Yorkshire Rubicon Trail, so don't doubt that this thing has some proper off-roading chops in the right form. However, this 4×2 model lacks the low range gearbox, assists like hill-descent control and the terrain selector. It also misses out on the extra half-inch of ride height of the Trailhawk models. If you're up for some weekend fun in the mud, you'll need to look up the range — and open your wallet accordingly.
The 4×2 system does bring benefits to the fuel economy though. When we drove a 75th Anniversary car last year, with the 2.0-liter diesel, it was just about ticking into 40mpg (Imperial) territory. The Limited we have here managed 54mpg, albeit with some longer drives in the mix. That's pretty impressive, but don't expect to match the official 64mpg rating.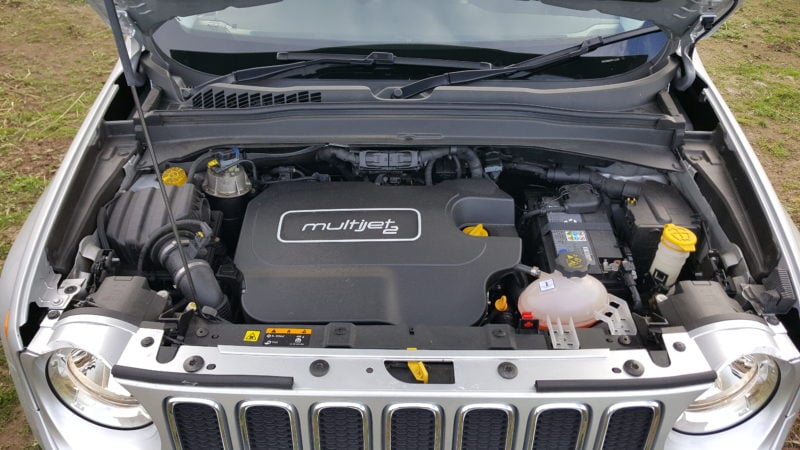 Is it similarly 'rugged' on the inside too?
For all of their joint achievements, one thing that the Italians and Americans tend not to do so well is low-end interiors. This Renegade may be £24k and change, but it definitely slots into that category, and it's a bit of a mixed bag inside as a result.
There are a lot of cheap materials in the cabin, on all surfaces. At least it's consistent, and one could easily argue that in a vehicle with such an off-road pedigree and focus, wipe-clean surfaces are several orders of magnitude more desirable than thick shag carpet and suede door cards. Again, it's a case of managing expectations; at the very least, the seats and steering wheel are leather and we have no argument about how comfortable they are.
Look past the cheap switchgear and you'll find plenty of toys to muck about with. We've got a standard FIAT Uconnect infotainment system, which includes a 6.5-inch touchscreen with navigation, DAB radio and Bluetooth connectivity. It's easy to use, but it very much feels like a last-generation device.
Sound comes out of a six-speaker beats audio system. Those leather seats are heated in the front — as is the steering wheel, which we love on our off-roaders — and you have dual-zone climate control. The seven-inch driver information display in the binnacle is one of the clearest units to read we've ever seen too.
On the safety side the Renegade Limited packs in forward collision warning, lane departure warning and correction, traction and stability control and six airbags. Cruise control is also standard, as is a trailer-sway damping system although in this form the Renegade is limited to 2,650lb towing weight.
There are some cool touches and nods to the Jeep's heritage in the cabin too. You'll find the seven-bar grille motif everywhere — we counted eight instances of it and probably missed a load more — along with little images of the Willy's Jeep in the window surrounds. You also don't have a red-line in the tachometer; it's a mud-splash instead.
Jeep uses the boxy dimensions of the Renegade well, and there's plenty of cabin and trunk space. Some cars of this type have a plunging roof line to make them seem more interesting, but the Renegade is unashamedly square and tall rear-seat passengers will thank you for it.
Who will buy the Renegade?
Judging by what we saw on the roads, pretty much everyone.
Although it's not up with the best cars in the class to drive and the interior is a little more old-school than the heavily tinseled norm, there's a certain charm and honesty to it that gives it a very broad appeal. Jeep's initial marketing saw a push at the suburban millennial sector, but if they want an off-roader they're likely to look at the immeasurably more fashionable FIAT 500X.
Instead the core demographic is likely to be older, empty-nesters and more particularly urban or rural owners. It stacks together city car charm and green-laning toughness with a relatively easy and comfortable drive. Garden centers, farmer's markets and antique fairs are certain to be packed with Renegades.
What are the other options?
The Renegade sits in a strange size category that's not quite a C-crossover, but too large to be a B-crossover. That keeps it out of the line of fire of popular choices like the Nissan Qashqai and Renault Kadjar, but might also make it seem too big for folk looking for an alternative to the Nissan Juke.
There are plenty of rivals nonetheless. At the time this car came out, the Skoda Yeti Outdoor would have been the perfect cross-shop, but Skoda has discontinued that car now. Other smaller SUVs would include the Mazda CX-3 and the Suzuki Vitara. The Vauxhall/Opel Mokka X is another firm alternative as, perhaps, is the slightly space-age Toyota C-HR — although that's around four inches longer.
If badge is more your thing, the MINI Countryman is broadly similar in dimensions but not price. If it isn't, there's also the SsangYong Tivoli. And the Honda HR-V. The Renegade isn't short of rivals, and even faces in-house competition from that FIAT 500X.
What's the conclusion?
Living with the Renegade will be something of a compromise. This is largely down to how Jeep has pitched the car and the brand itself. It's a vehicle designed around its solid off-road credentials.
That focus works well in those cars that have the off-road trappings, but this 4×2 is more suited to an occasional dirt track than rock-crawling over the Moors. As a result, the cheaper models are not quite as comfortable or as good to drive as alternatives. The "hardy" interiors, again emergent from the need to make it off-road capable, seem less inviting too.
But it's still an appealing vehicle. The exterior design is spot on and the lack of pretense on the outside leads to a spacious vehicle on the inside. Jeep has successfully reduced what a Jeep should be into this smaller format and made a genuinely likable car as a result.
We'll concede that it makes the most sense as a full-time four-wheel drive car, but most of us will rarely need to use proper 4WD. With a part-time system, this version costs less to buy and a lot less to run, and that's attractive all by itself.
Verdict:
Jeep Renegade Limited
It might prove too utilitarian for some, but the Renegade is a rare entry in the sector that has genuine charm.
Learn more about
how our rating system works
.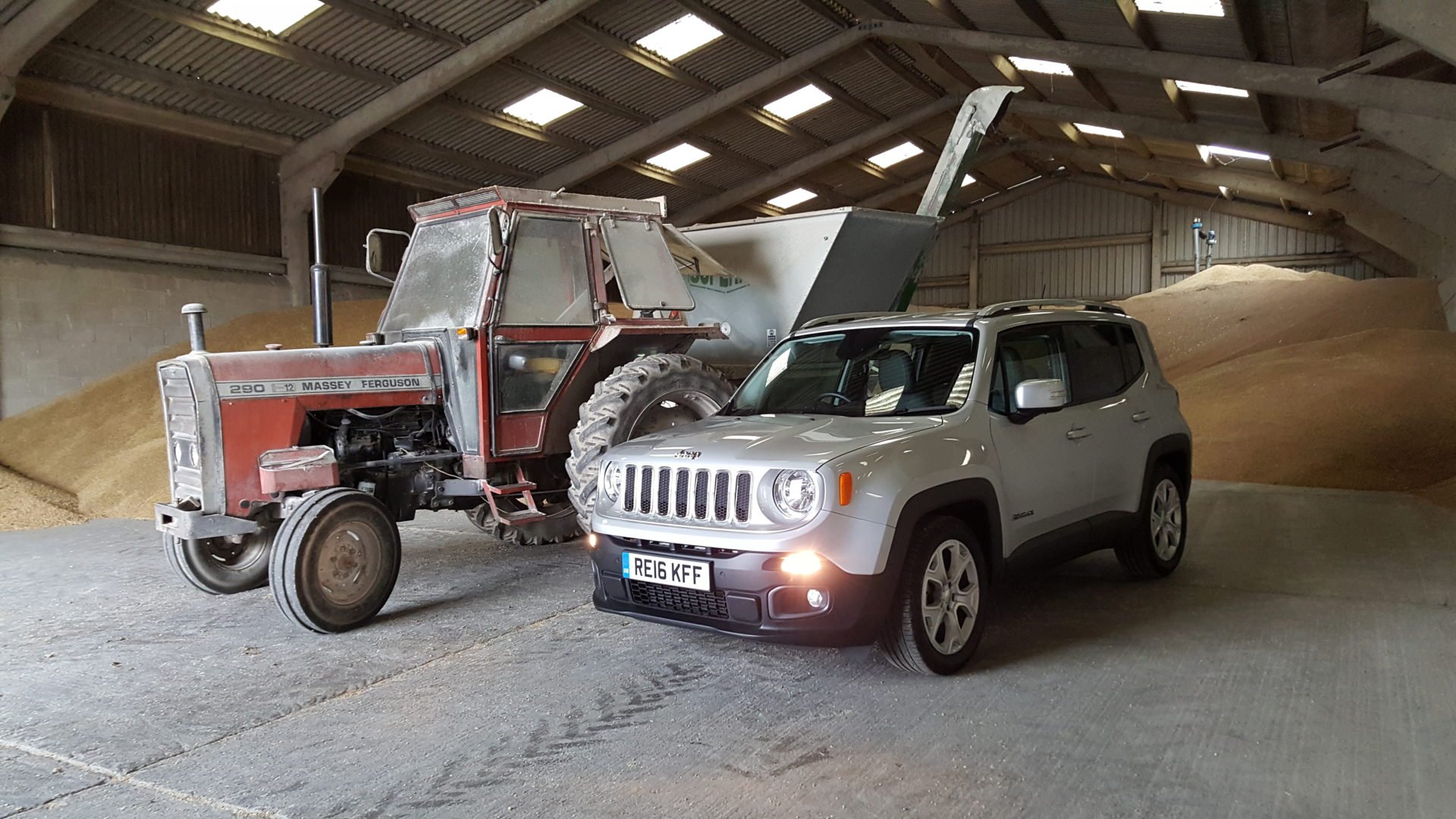 Quick Facts
Engine
1.6-liter turbodiesel
Power
118hp (120PS, 88kW), 236lbft (320Nm)
Layout
Front-engine, four-wheel drive
Top Speed
111mph (179km/h)
More Posts On...