2019 marks 50 years since Aston Martin's DBS grand tourer made its film debut. To celebrate the anniversary, the company has revealed a special, limited run of modern day DBS Superleggeras.
After the space-based perils and the secret volcano lair of You Only Live Twice, Sean Connery decided — very briefly — to hang up his Walther PPK as James Bond. That meant there was a need for a new actor for the role of the world's most famous spy.
The producers eventually decided to employ Australian actor George Lazenby, who played Bond in just one film: On Her Majesty's Secret Service. Along with the new actor came a new car, as Aston Martin's DBS replaced the signature DB5.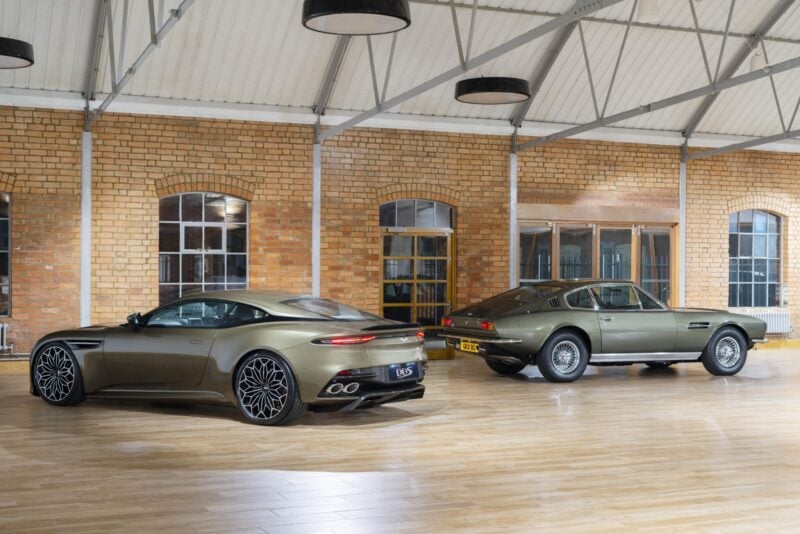 For the 2019 DBS Superleggera OHMSS, Aston Martin has kept as much of the original as it can. The most obvious carry-over is the car's external paint, with the Olive Green color being a close match for the 1969 version. Although not an exact replica, Aston Martin has chosen to simulate the original car's chrome grille with a modern version, featuring six horizontal vanes.
On the inside, the OHMSS Edition features black leather as per the film's car, with gray Alcantara accents. There's also red trim pieces throughout, as a nod to the glovebox in which Bond stored his Armalite AR-7 rifle.
Of course it's not all about mimicking the car we saw on the silver screen. The DBS Superleggera OHMSS Edition features bang up-to-date carbon fiber aerodynamic pieces, model-specific diamond-turned wheels and a flurry of commemorative plaques and highlights.
You can go full-Bond if you like too, with an optional drinks case. Designed specifically for the car, this goes into the trunk. Like the original's rifle case, this has a red felt-lined interior, and space for two bottles of champagne and four flutes.
The car is still a DBS Superleggera underneath too, so you'll still get the 715hp, 5.2-liter, twin-turbo V12. That's well over twice what Bond had underneath his right foot so he'd likely have been long gone by the time Blofeld took his revenge…
Aston Martin is limiting production of the DBS Superleggera OHMSS Edition to just 50 cars, with first deliveries towards the end of 2019. Pricing is pretty steep though, with the £300,007 fee representing a £75,000 (and seven) increase over the standard car, although that's still cheaper than the continuation Goldfinger DB5. Nevertheless, they'll likely all sell out in short order, so you'll need to be quick if you want one. You don't have all the time in the world…
See more articles on Aston Martin and James Bond.