You might recall a little while back that we covered a survey on the greatest movie cars ever. The cars on the list were… unusual to say the least, and GTPlanet's forum members were quick with alternative suggestions.
We agreed, and decided to do our own survey. Our forum users chose more than 70 cars across all eras of film and, by a single poll, picked 32 finalists. A random, seeded draw put those 32 cars into eight groups — just like football's FIFA World Cup — which we then put out for Twitter to vote on. Two cars qualified from each group, then knockout rounds whittled the list down to a single winner of The World Cup of Movie Cars.
In total, the polls received more than 7,000 votes. But after all of that, what came out on top? Well, the winner was obvious, but some of the other well-placed cars are not…
Didn't make the cut
The initial GTPlanet member longlist was interesting, and it's a surprise that some didn't make the final 32. Tom Cruise's "Mellow Yellow" from Days of Thunder just missed out — one of three Cruise cars selected, although none reached the first round.
Ronin features one of the greatest movie car chases of all time, but despite Reno and de Niro on board, the BMW 535i didn't get enough votes to get through either. Several other "chase" cars fell at this hurdle too: Thelma and Louise's T-bird, Mr. Hinx's Jaguar C-X75 from SPECTRE, and Death Race 2000's Frankenstein's Monster.
Despite being full-blown characters, most of the selections from Pixar's Cars failed to make the cut too. Only Lightning McQueen got into the groups, leaving even his best friend Mater behind. Nor did the adorable Benny the Cab from Who Framed Roger Rabbit? – heartless. In fact, all three of the taxis picked failed to get through, as Total Recall's Jonnycab and the Checker from Taxi Driver stayed at the rank.
Other car-characters not getting through included the Black Beauty, Greased Lightning, Bumblebee and Fury Road's Gigahorse.
First round casualties
We were expecting some big names to drop out early on, but we weren't quite prepared for how big. There were only three eponymous cars on the list and two ended up on the scrapheap in round one. Although that's probably not enough to get rid of Christine, she took Chitty Chitty Bang Bang with her.
Also knocked out were all three Batmobiles on the list. Adam West's original Lincoln Futura was the best of them, just ahead of Michael Keaton's way cooler jet-engined version. Christian Bale's Tumbler ended up 27th. Clearly GTPlanet's Twitter following is not big on Batman.
Perhaps the biggest surprise of all though was the Ghostbusters car. The Cadillac Miller-Meteor ambulance ECTO-1 ended up getting exorcised from the list alongside the Keaton Batmobile, although it was in a tough group with Lightning McQueen and the General Lee.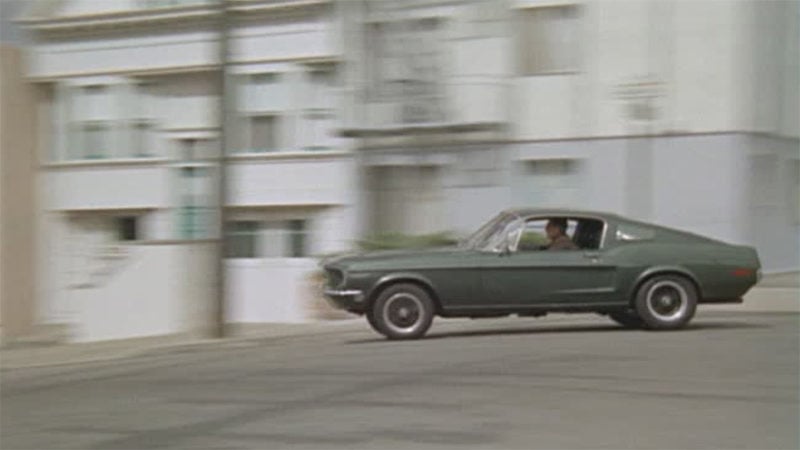 Knocked-out in the knock-outs
The shocks weren't done with the group stages either. With just 16 cars left, it was inevitable that some cars you might think could win the whole thing would end up going home.
Sadly, that included both of our remaining cars with minds of their own. Disney classic Herbie, the Volkswagen Beetle that did autonomous driving before it was cool, lost out to American muscle. Lightning McQueen, a more modern-day Disney property, faced a Ferrari (or rather a "Ferrari"; more on that later) and lost.
Among the top eight cars on the original GTPlanet poll, four fell in this round. That included two of the top three: Bullitt's Ford Mustang and Smokey's Pontiac Trans-Am. It wasn't a great week for V8s, as Mad Max's Ford Falcon Pursuit Special also fell.
Although not ranking quite so well in our forum poll, one car that could have expected to make the latter stages also got knocked out here. The Mini is almost inseparable from The Italian Job, but that wasn't enough to save it.
So close and yet so far away
The quarter final stages threw up some odd pairings, and even odder results. The General Lee, more famous as a TV car but qualifying thanks to the 2005 film, ended its run here. Joining it was another modern interpretation of a 70s original: Nic Cage's Eleanor, from 2000's Gone in Sixty Seconds.
Although not necessarily undeserving, the Ferrari 250 GT California Spyder from Ferris Bueller's Day Off didn't survive the quarter-finals any more than it survived the film. The car is actually a replica, known as a "Modena Spyder California", but its part in the film's plot is at least significant.
However, this round threw up the strangest and most contentious result of all. One car you'd think would be a shoo-in for at least the final got inexplicably taken down by a modified Datsun. The star of three bona fide classic films, Marty McFly's flying, time-traveling, century old DeLorean DMC-12 finally met its end — not through a diesel locomotive, but a Nissan Skyline.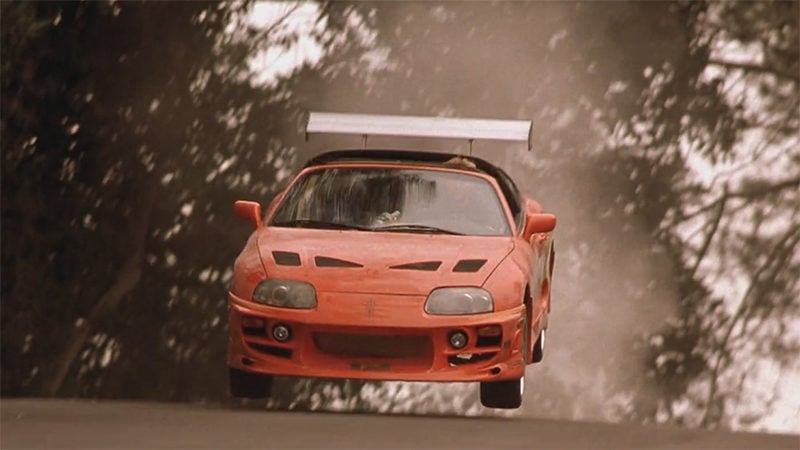 The final four
Making it almost all the way to the finish were two Fast and Furious franchise cars, a cult classic and one of cinema's most enduring vehicular icons. The original "Eleanor" did what the remake couldn't, and got to the semi-finals, but it ended up falling victim to the same car that knocked out its namesake.
Over in the second semi-final, the Skyline — Brian O'Connor's car in the first fifteen minutes of the second Fast and Furious film — was finally halted. Appropriately enough, given the car's silver screen ending, this involved some improbable gadgets…
That left two cars to fight it out. Brian's other ride, the inarguably iconic ten-second Toyota Supra had to face off with none other than James Bond's 50-year squeeze, the Aston Martin DB5.
In the end, having accumulated 12% of the total votes across the entire World Cup, the DB5 took the title, beating the Supra in a 52:48 split.
The Greatest Ever Movie Cars
1. James Bond (Series) – Aston Martin DB5
2. The Fast and The Furious – Toyota Supra MkIV
3. 2Fast 2Furious – Nissan Skyline R34 GT-R
4. Gone in 60 Seconds – Ford Mustang Mach 1 "Eleanor"
5. Gone in Sixty Seconds – Shelby Mustang GT500 "Eleanor"
6. Back to the Future (Series) – DeLorean DMC-12
7. The Dukes of Hazzard – Dodge Charger "General Lee"
8. Ferris Bueller's Day Off – Ferrari 250 GT California Spyder
9. The Italian Job – Austin Mini Cooper S
10. Bullitt – Ford Mustang
11. Smokey and the Bandit – Pontiac Trans Am
12. Herbie (series) – Volkswagen Type 1 Beetle
13. Mad Max (series) – Ford Falcon XB GT "Pursuit Special"
14. Cars (series) – Lightning McQueen
15. Taxi (series) – Peugeot 406
16. The Blues Brothers – Dodge Monaco "Bluesmobile"
17. Vanishing Point – Dodge Challenger
18. Cannonball Run – Lamborghini Countach
19. Speed Racer – Mach 5
20. James Bond (The Spy Who Loved Me) – Lotus Esprit S1 "Wet Nellie"
21. The Fast and The Furious – Dodge Charger
22. James Bond (Die Another Day) – Aston Martin Vanquish
23. Batman: The Movie – Lincoln Futura "Batmobile"
24. Batman/Batman Returns – Batmobile
25. Ghostbusters – Cadillac Miller-Meteor "ECTO-1"
26. Chitty Chitty Bang Bang – Chitty Chitty Bang Bang
27. The Dark Knight (series) – The Tumbler
28. National Lampoon's Vacation – Ford LTD Country Squire
29. Christine – Plymouth Belvedere/Fury
30. American Graffiti – Ford Deuce Coupe
31. The Wraith – Dodge M4S Turbo Interceptor
32. Spaceballs – Winnebago Chieftain "Eagle 5"