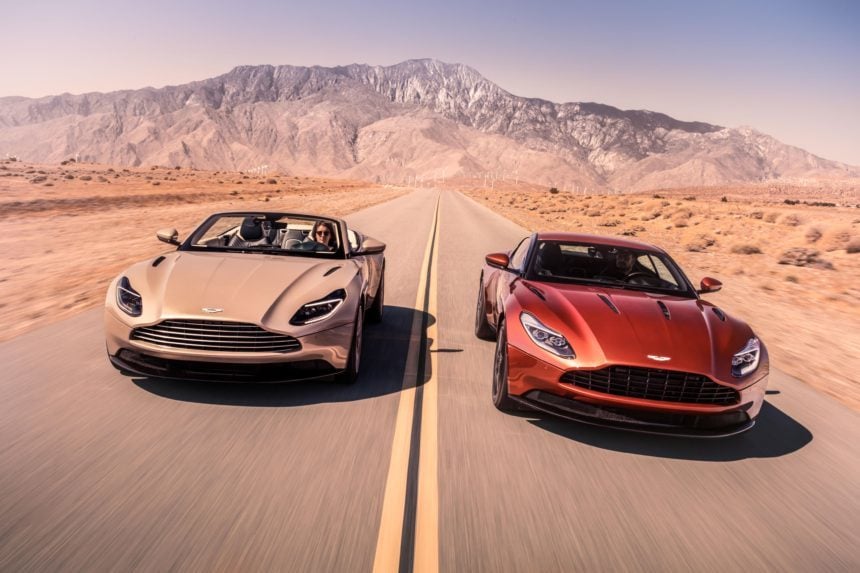 Aston Martin has revealed its new DB11 Volante convertible, to sit alongside the Coupe as the range flagship.
With first deliveries due in early 2018, the DB11 Volante finally replaces the DB9 version that's been with us since 2004.
The new convertible shares the bonded aluminum structure of the DB11 coupe. That means it's lighter and stiffer than the DB9 — around 60lb lighter — and also retains the four seat layout from the regular DB11.
It also shares the AMG-sourced 4-liter, twin-turbo V8. This lightweight engine provides 503hp to the rear wheels, through an eight-speed automatic gearbox. That's good for 0-60mph in four seconds and a top speed of around 190mph. Aston Martin has worked its magic on the engine note, so it sounds like an Aston should, rather than a mid-sized Mercedes estate.
But what of the V12? Rumor has it that the extra weight of the V12 — the V12 Coupe is 250lb heavier than the V8 — means its out of the picture for now. A convertible roof already carries a significant weight penalty, and Aston Martin may not want to deal with the emissions consequences of fitting the heavier engine too.
Central to the experience is the Volante's roof. This fabric hood has an eight-layer construction, using acoustic and insulating materials to minimize wind noise and heat loss. It lowers in just 14 seconds, and you can do this remotely using the keyfob for maximum posing power.
The roof will also operate on the move at speeds of up to 31mph. Aston Martin even tested it in the Arctic Circle and Death Valley, and put it through 100,000 cycles in weather simulation chambers.
Speaking at the live launch, on US news channel CNBC, Aston Martin president and CEO, Andy Palmer, commented:
For many of our customers, indeed many generations of Aston Martin customer, the Volante has always offered something very special: a unique combination of elegant style, innate sporting ability and sensory engagement that lifts it above other open-top cars. The new DB11 Volante captures those qualities perfectly and promises the kind of pleasure and enjoyment that can only come from driving an open-top Aston Martin.
Sold on the idea? Well, the DB11 droptop will set you back £159,900 in the UK, or $216,495 in the USA.
More Posts On...