Aston Martin and Red Bull Advanced Technologies have unveiled the latest round of upgrades to the Valkyrie hypercar.
Progress has been swift for what Aston believes will set new records for road-legal cars. The car was christened the Valkyrie in March, and we got a glimpse of it in near-production spec just last month. Now Aston has provided us with proper studio shots of the exterior and interior, proving the Valkyrie looks even crazier than the initial concept.
Downforce dominates the key changes to the Valkyrie, which Aston first teased last year. With new openings present between the cockpit and the front wheel arches help the car stick to the track better. Instead of traditional wing mirrors, the Valkyrie uses tiny cameras to reduce drag. Aston Martin required its designer to make these changes look as good as they performed.
Other exterior improvements can are visible in the Valkyrie's headlights. With an exposed aluminum frame and no cladding, the design takes inspiration from bare bones F1 components. This makes the lights a work of engineering art. It also allows them to be 40% lighter than any other light housing available to Aston Martin.
Attention to weight loss even extends to the Aston Martin "wings" badge on the nose. Engineers deemed the enamel badge too heavy, and went in search of a lighter alternative. Instead of going with a decal, Aston used a chemically etched aluminum badge only 70 microns thick. That is 30 percent thinner than a human hair and 99.4 percent lighter than a standard badge. Aston Martin dubbed the new badge the "lacewing".
Another unique feature is the center high-mounted stop light (CHMSL). At 5.5 mm wide and 9.5 mm high, Aston Martin claims it is the world's smallest.
Aston Martin focused on keeping the interior roomy yet small. The seats mount to the body tub to allow for the most space. They also keep passengers in a reclined "feet up" position. This style of seat is typical in F1 and LeMans Prototype cars. This unique setup keeps the occupants safe and comfortable. Aston Martin says that most adults can fit without issue.
Aston Martin worked to make the interior as clutter free as possible. Its goal being that the driver's focus should be on the road. All information displays on a single OLED display in the center of the dash. In race car fashion gear changes are done via paddles behind the steering wheel. Drivers can also remove the steering wheel for easier ingress and egress.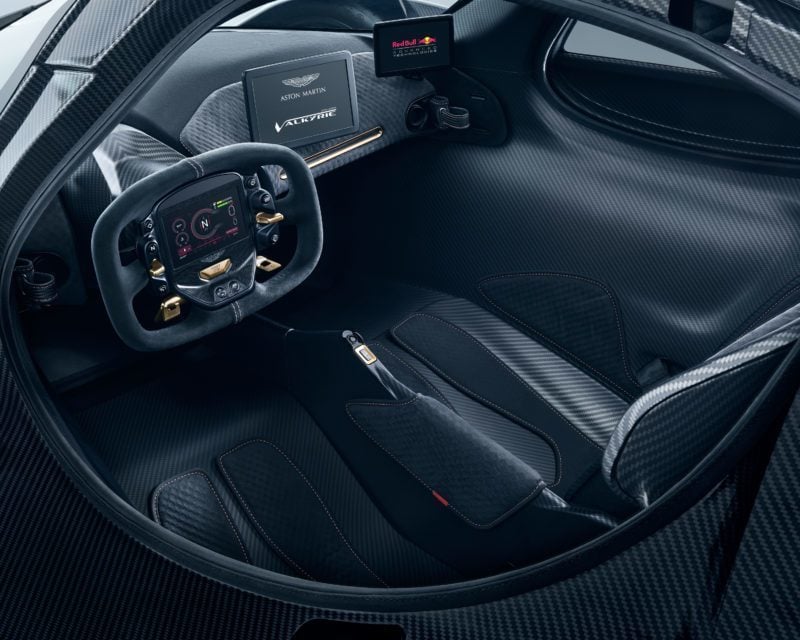 Miles Nurnberger, Aston Martin Creative Director of Exterior Design, says that the car is 95 percent complete. Details on the Valkyrie may continue to evolve as development continues.
The $3.2 million Valkyrie will begin production in 2018, with a maximum of 150 examples including 25 track-only versions.
See more articles on Aston Martin, Red Bull, and Valkyrie.